If you're anything like me, then exams are constantly on your mind. I mean January just started right, how is it March already? I feel like I just finished the fall semester, so how is it 3 months into the spring semester already? Lately I've just been going through the motions of life, and I don't know how long I can live like this.
It feels like this kind of thing just never stops. There's always a 10-page essay due on Sunday at midnight, 5 new assignments due each week, and 50-minute exams that can't possibly be finished on time. 24 hours just isn't enough, especially with the growing demand for more productivity while we're sitting at home in the middle of a pandemic. 
So really it seems that what I'm searching for is a miracle — something that I can hold on to for just a few seconds during my hectic days, that will remind me, "Hey, just take a breath!" And so I found myself searching through apps that send you reminders to get up, drink water, walk, etc., but eventually even those stopped being helpful and started being annoying. I nearly gave up until I came across the concept of the Shift by Komuso Design, (www.komusodesign.com) founded by Todd and Vanessa Steinberg.
As you may have guessed already, I am on the brink of a major panic/anxiety attack! Anyone who has ever been there before can tell you — breathing is the most important objective to calming yourself down. Enter in The Shift, a chic jewelry piece with a purpose that is based on an ancient eastern tool to help calm you down through guided breath.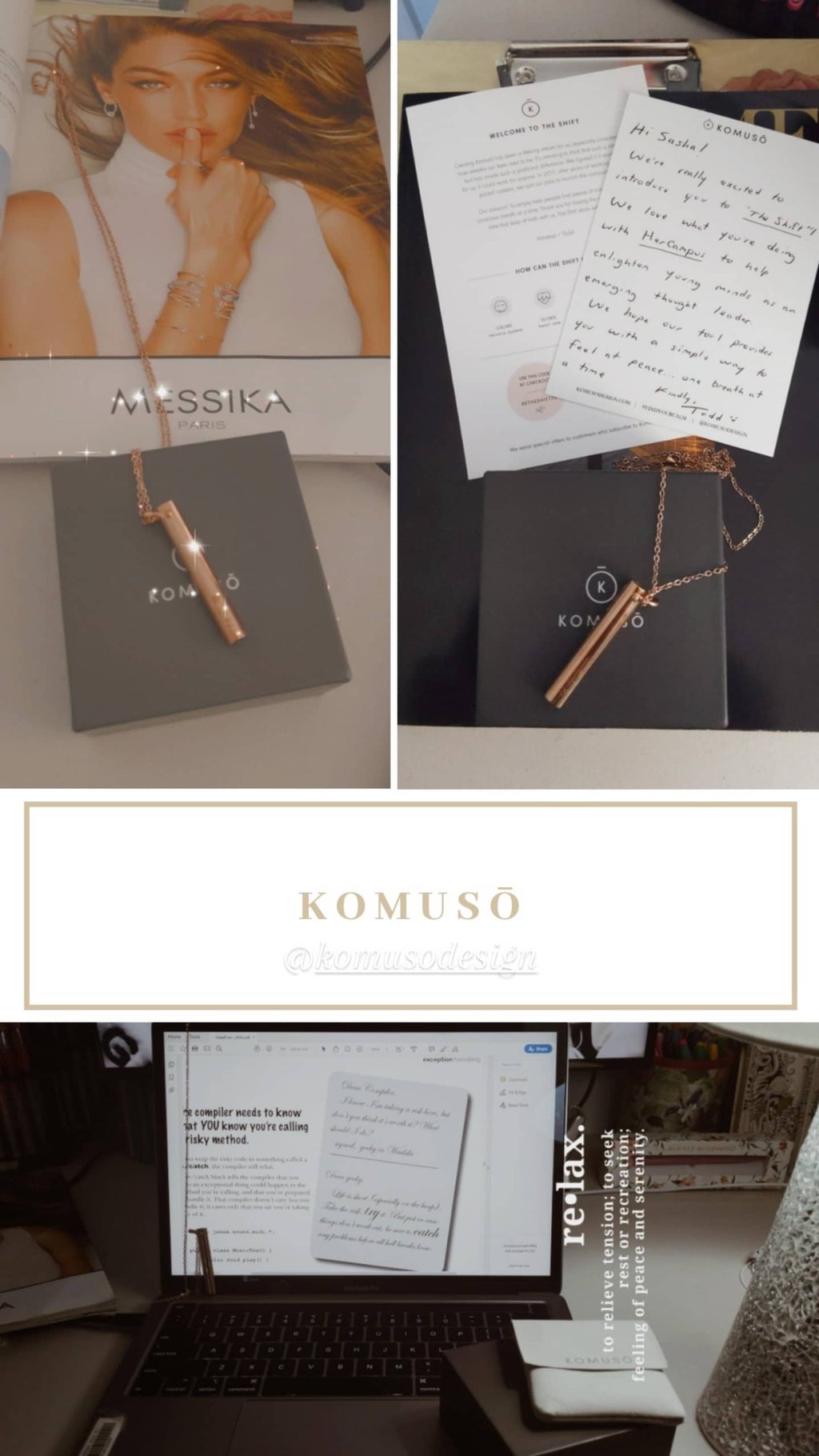 Komuso Design was an idea born out of something very similar to what we are all going through — the daily hassles of life and the constant stress. The brand was named after the Komuso Monks of Japan. These monks used bamboo flutes to meditate as their minds were redirected from their thoughts to their bodies. The brand was created to honor these monks and to inspire people to return back to a time when life was less complicated.
You may be skeptical at first because, well, it's a device that helps you breathe — don't you know how to do that already? However, what really stands out here is the idea behind it all. We have an average of 50,000 thoughts per day, and most of them are usually negative. The problem is that we tend to those thoughts take control — that's where The Shift comes in. We're built with a natural defense to anxiety which is the power of breath. If we can use a simple tool to unleash that power, we can regain control of our minds and consequently elevate the quality of our lives. 
This device may seem like it's made only for those trying to manage their stressful lives due to work or school, but it can actually be helpful in so many other ways. I follow them on Instagram and constantly see testimonials from those who were able to quit smoking, survive a rough breakup, or simply were able to fall asleep easier at night because of their Shift.
Komuso is providing people with a practical way to slow things down in their minds. When more people are calm, they become a better version of themselves. Todd and Vanessa believe that a better version of you can be contagious and therefore they want to change the world one conscious breath at a time. They believe that as you put out good in the world, it will inspire even better, thus giving rise to an endless positive loop of happiness and calm.
I wear my Rose Gold Shift around my neck on days that I know are going to kick my butt, and I know I'll need to find a few seconds to let go and breathe easy.