Working Out Has Been the Only Thing to Keep Me Sane During Quarantine
Location:
Canada
56° 7' 49.3176" N, 106° 20' 48.3756" W
CA
The opinions expressed in this article are the author's own and do not reflect the views of Her Campus.
There has been a lot to adjust to during this time, and finding a good workout routine has been difficult. I am an avid spin class-goer—and I love the atmosphere when you're in the studio. I also like being held accountable to paying $30 if I don't show up to a class, and my favorite part is that it's only 45 minutes of the day. So, needless to say, finding a new fitness routine that I enjoyed during this extended time inside took some getting used to.
Since I wasn't able to splurge on a Peloton, I took to the internet to try some good online classes. I did everything including Barry's Instagram Live videos, Y7 Yoga, and obé fitness. I figured why not try them all until I find something I like? If there was ever a time to try a new workout from the comfort of my home, now is it. I have always been too scared to go to a boxing class—and now I realize it's one of my favorite ways to exercise. I also discovered a new love for trampoline workouts, as they really get my heart rate going and are amazing for the lymphatic system.
The beauty of doing a routine from your living room is no one is judging you, no one is even looking at you.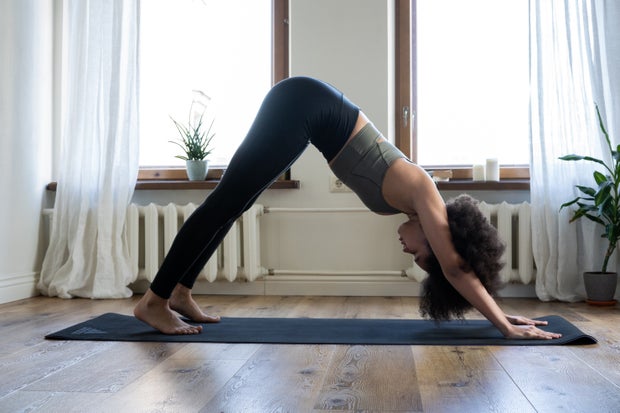 Photo by cottonbro from Pexels
During a normal week previously, I would probably go to a spin class three times and spend the rest of my days doing yoga or going on hikes. Now that I am staying indoors, I work out every day. I am a big fan of the obé fitness 30-minute sessions for the reason that they get my heart rate going. And, after about 25-minutes of an at-home workout, I can't help but feel a little bored. (While I love my newfound routine, I also can't lie about my excitement to get back inside a gym.)
Even my workout schedule has changed for the better. I used to be a person who exercise at night, but now with my morning commute gone and more time than ever, I work out every morning. This allows me to always start my day feeling refreshed and happy, able to sit through those many Zoom meetings. Sometimes I'll even add in a quick yoga session during a lunch break if I am feeling it.
If there was ever a time to get out of your comfort zone and try a workout that has made you a little fearful before, this is a great opportunity. I can't even begin to tell you how much better I feel after I do a simple trampoline class or a boxing session. I used to work out because I felt like I needed to, now I work-out because I love the way it makes me feel, especially in terms of staying grounded.