What I learned from Getting into Yoga During a Pandemic
Normally, if you're interested in yoga, the easiest way to try it out is to sign up for a yoga class - whether it be a drop-in one-time thing or a series of sessions. But, as we all know, the pandemic has taken away normalcy. Attending a yoga class hasn't been an option in the past months, so alternatives have to be found. Before I get into practising yoga at home as a beginner, let's learn a bit of background about yoga itself. 
When I hear the word yoga, I think of well-known poses, like downward dog. I'm sure other people do, too. 
But what really is yoga?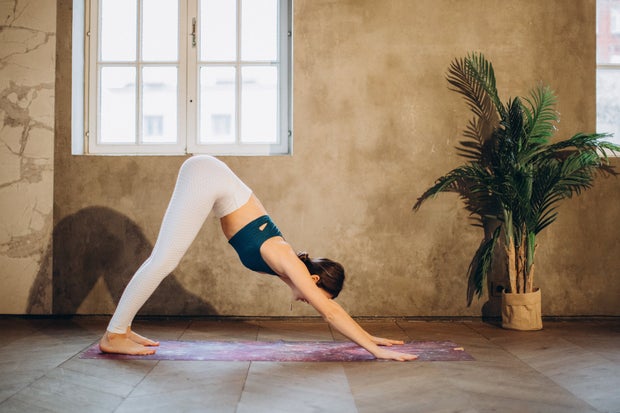 Photo by Elly Fairytale from Pexels Yoga is an ancient practise that focuses on breathing, flexibility and strength to increase well being through physical, mental and spiritual practices. It is thought to have developed in India over 5,000 years ago. Today's yoga, known as contemporary yoga, has been adapted for people of all ages and physical abilities. If you have ever doubted your ability to do yoga, there is no reason to, since anybody can do yoga.
Why do Yoga?
The benefits of yoga include flexibility, improved muscle strength, protection of the spin, increased blood flow and -- my personal favourite -- improved happiness. 
With one of the key focuses on yoga being breathing, one can learn to listen to their body. In our daily lives, we often don't stop to take the time to think about how our bodies are doing, and ask what can I do to support my body? Yoga is a time to do this. To breathe in and out deeply, paying attention to form and how your body is feeling. Yoga can be used to build a positive relationship with your body, regardless of weight or physical ability. 
Unlike other exercises, the main focus of yoga shouldn't be to burn calories. Instead, practising yoga is a time to focus on your body and getting away from all the noise of daily life that comes from work, school, relationships, social media, and so on. 
Doing Yoga at Home
There are a variety of ways that you can start practising yoga from the comfort of your own home. As long as you have a yoga mat (and sometimes even without one) and some space, you have the necessities needed to practise yoga. Being able to workout or exercise from home is great – especially during a pandemic. Doing yoga at home embraces the idea of what home is meant to be, a place of peace and comfort.
Graphics of how poses are supposed to look and a mirror to compare your form to said example are useful. However,  being told what to focus on when doing specific poses is crucial in beginner yoga. This is why, in my opinion, following guided yoga workouts done by experienced people is the best and most effective way to start off as a beginner from home. You can search up guided yoga workouts on youtube, or download an app like Nike Training Club, which is free and has a variety of guided yoga workouts to choose from. 
A reminder that yoga isn't about how you look - it's about paying attention to your body and following proper form for each pose.  Contrary to social media, there is no need to be dressed in a stylish athletic outfit or on the edge of a mountain top to do yoga. 
Related Articles
​Want more HCW? Check us out on social media!
Facebook, Twitter, Instagram, Pinterest
Subscribe to our newsletter!