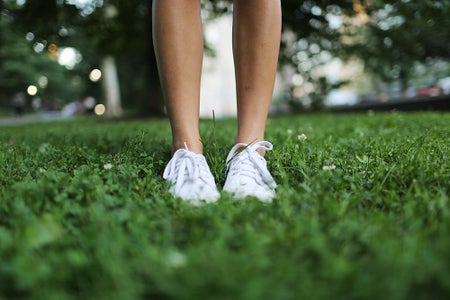 Edited By: Vlada Taits
There's a lot riding on our daily walks. 
For many of us, it may be our only chance to get out of the house. 
Our homes and apartments have become our whole worlds, and our private, school, and work lives have melded into one entity. 
We need some fresh air once in a while, and we need to move our bodies. 
One of my favourite things about living in Toronto is its walkability. On the right day, I can put on my running shoes and wander around for a few hours. There are so many neighbourhoods worth exploring, and I'd like to share some of mine because let's face it; life has been a lot of "the same" for the past year, and we need excitement, or at least functional optimism, whenever we can get it. 
There are so many spots and neighbourhoods deserving of your foot traffic in this city, and hopefully, I can inspire you to go out and find your own favourites! 
1.

Queen's Park, Trinity College & Philosopher's Walk

This scenic 3-in-one will bring you on campus, where you can admire a little bit of green space, as well as some beautiful buildings. 

They finally finished construction in Queen's park, so the orange barriers are no more. It's pretty and clean, and I really like to pass through whenever I can. Queen's park is essential U of T. 

You can exit the park on the west side, and walk up to the hustle and bustle of Bloor street. If you keep going west, you'll hit the gates of Philosopher's walk, right next to another gorgeous building, the Royal Conservatory of Music. Philosopher's walk is pretty and quiet, and there are a lot of black squirrels that hang out back there, and will probably expect you to feed them. 

At the end of philosopher's walk, you'll be by historic Trinity College, with its refined stone buildings and green copper roofs. This is another essential (and beautiful!) part of campus. 

 

Across from Trin is Hart House, one of my favourite spots. 

You'll walk under some stone arches, and hopefully find a moment of peace on the other side.

In the best of times, Hart House is a hub for athletes, artists, and academics alike. 

Closed in a circle, I'd say it's one of the more insular parts of the campus. There are trees, old stone, and even some cannons on the property - it's also a popular wedding venue, so you know it's pretty. 

I'm a sucker for ivy creeping up stone buildings, and you'll definitely find that here. 

Convocation hall is on these grounds. I'm graduating this year, and am sad to be missing out on this well-earned ceremony, but rest assured, I will be taking private photos at Hart House to commemorate the occasion, anyway. 

The Annex is a big neighbourhood, traditionally encompassing the area from Bloor to Dupont, and Bathurst to Avenue. The houses here are one of the main attractions for me. These are old brick homes, usually quite narrow, but tall. They are expensive, and the ones I've seen and been in are often gutted, and redone to be artsy, modern dream homes. 

I like to walk up Harbord, then branch out onto these small residential streets and dream about a perfect life in my annex mansion. Then when I get home, I can oogle at listings, and get a reality check from the numbers. 

School for Climate, a non profit group, has launched an exciting campaign, painting murals around the city, to advocate for climate solutions. Two such murals are in the Annex, at 192 Spadina avenue, and 224 Augusta avenue. 

Art with a mission; sign me up!

 

If you're into houses, Cabbagetown is another great neighbourhood for you to explore. Named for the Irish immigrants who settled there in the 1840s, it's a historic and interesting place to walk around. 

You'll find Victorian homes all over, which, much like the Annex, seem to be occupied by incredibly stylish (and wealthy) Torontonians. While the homes look similar, all lined up, spend some time looking and admiring, and you'll find each one has delightful quirks, and so much character. 

Cabbagetown is also home to Riverdale farm, where you can catch a glimpse of pigs, cows, goats, and more. After a leisurely stroll, why not walk to Parliament street for a treat? Parliament gives me "small town Main Street" vibes, and has bakeries and coffee, for something good, to go. I recommend The Epicure Shop, especially their lasagna and butter tarts, and Congo Coffee and Beignets, a Black owned, Congolese place with - you guessed it, coffee and beignets. 

Treat yourself, it's been a hard year. 

Another one of my favourite walks. 

When I think of Yorkville, it's wealth and charm come to mind right away. 

Yorkville was first annexed in 1883. You'll still find cobblestone streets in some parts, a piece of this history. Later, it became a hub for bohemians and artists, before aging into the bougie "mink mile" we know today. 

Unsurprisingly, there's some incredible real estate here too. You'll find more Victorian homes, as well as sprawling glass condos, just steps away from luxury shopping. 

Yorkville is stylish, fun, and close to campus. Especially in the evenings, this is a magical walk if you're a fashion lover. It's all lit up, and the gorgeous clothes in the windows and big names on the storefronts make for a perfect dose of escapism. You'll pass by Kate Spade, Chanel, and Prada, and some iconic restaurants, like Sassafraz and Hemingway's.