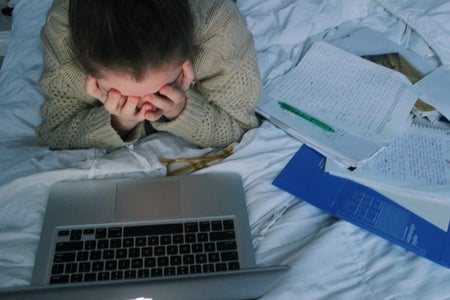 Anna Schultz / Her Campus
How to Combat Anxiety with Multiple Assignment Deadlines Approaching
With finals approaching faster than ever and a whirlwind of Zoom classes, it's easy to get caught up and forget to breathe. Most college students have anxiety about managing deadlines, but luckily there are some simple ways to manage this stress. By making a few minor changes in your daily routine and rewiring your thoughts, you are much more likely to succeed and keep a positive attitude.
1.

Carve out some time in your schedule for a workout or simply a walk.

Schenley park has plenty of trails to explore if you're in Oakland! Being outdoors is good for your mental health, and statistically speaking, your body and mind both need a break from studying. Workouts are great for stress and anxiety since your body releases dopamine and endorphins. Even if you're unable to map out a sweat session in your busy day, fifteen minutes of yoga can go a long way.

It is better to call it a night and get some rest than stay up cramming for your test. You will do much better if you start studying a week before and prioritize your body's needs. Trying to focus when you're lacking sleep is only going to slow you down. 

3.

Eat healthy food to fuel your brain!

Tessa Pesicka / Her Campus

If you are constantly going to fast food restaurants or feeding yourself overwhelming amounts of caffeine, your body will compensate by crashing. You are more likely to be productive and feel better about your stress if you're eating the right things. Try out Shake Smart, which just opened in the Peterson Events Center.

4.

Write about your stress.

Sometimes, writing down how you feel can instantly make you take a deep breath and feel better. Think about whether or not your thoughts are rational. Or, if journaling isn't your thing, take a break from your assignments anyways and listen to an interesting podcast and color in an adult coloring book. I love listening to Crime Junkie while I'm walking; it really takes my mind off my assignments when I am overthinking.

If you have anxiety about deadlines, it won't help to push them off to the last minute. If you can, plan weeks ahead by writing all your due dates from the syllabus in your planner. If you have an extra hour one day and you're feeling up to it, maybe start writing one of your final essays or thinking of some ideas for a project.

6.

Find virtual study groups.

If there's some people in your class that you'd like to get to know better, it might be a good idea to make a group chat and talk about your assignments. You'd be making some new friends and getting help with your class. Sometimes talking things out with others helps a tremendous amount with anxiety during finals week. Remember your peers are going through the same thing.
No matter how the semester is going, the end of the term brings stress to most students. Instead of letting yourself get caught up, find some healthy ways to cope that bring you joy. Remember, you'll get through this; even if your GPA isn't as high as you expected, you're a college student during a pandemic and you're doing an amazing job anyways.