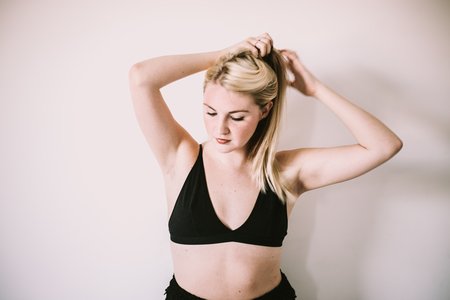 Arianna Tucker / Her Campus
Your Body Type, Defined: A Look at the Four Most Common Body Shapes
Ah, body types. There are so many different types, and they can be easily explained using fruit or actual shapes. You are sure to have heard of an "hourglass" figure, or maybe you know someone that considers themselves to be "pear" or "apple" shaped. If you aren't sure of your body type, you should definitely learn! 
So much of what we wear should depend on our body types. It doesn't matter if you are a size 4 or a size 14, our body type determines a lot of what clothing "looks" good on us. If you're wearing something that is totally unflattering for your body type, it can make you feel less than optimistic about yourself!  
Rectangle and Athletic
These two body types are very similar in that they are not particularly curvy. They are usually straight "up and down," as some people would say. People with these body types generally have their weight evenly distributed throughout the body -- so this means that waist, hips, and bust measurements are generally very close. The only slight difference between the two is someone with an athletic body type has a slightly narrower waist than someone with a rectangle body type.
What to Wear
Your clothing goal: Add curves! Accentuate waist!
Tops: fitted, scoop neck, v-neck, detailed collar, peplum, puff sleeves, halter top, tube top, racerback

Jackets: trench, duster, belted, vest

Pants: belted waists, flared jeans, straight, high-waisted, boyfriend

Skirts: A-line, tulip-shaped, cinched waist

Dresses: fit-and-flare, belted, ruched, puff sleeves

Other: bright colors, involved prints
Avoid:
Pencil skirts

Vertical stripes

Thick fabrics
Celebrities with Your Body Type
Nicole Kidman

Kate Hudson

Eva Longoria

Gwen Stefani

Cameron Diaz
Hourglass
Someone with an hourglass figure generally has bust and hip measurements that are very similar and a waist that's notably narrower. The hourglass figure features legs that are proportionate and shoulders that are rounded. It is also very common for hip or bust measurements to be slightly different. If your hip measurements are slightly larger than your bust measurements than you are a "bottom hourglass," and if your bust measurements are slightly larger than your hip measurements than you are a "top hourglass."
What to Wear
Your clothing goal: Accentuate your curves!
Tops: wrap, keyhole, v-neck, peplum

Jackets: moto, belted, cropped, longline belted

Pants: slim, high-rise, belted waists, high-waisted, wide-leg, chino

Skirts: A-line, pencil, maxi, wrap

Dresses: fit-and-flare, wrap, sheath
Avoid:
Low-rise jeans

Shapeless clothing
Celebrities with Your Body Type
Marilyn Monroe

Beyonce

Sofia Vergara

Kate Upton

Kate Winslet
Pear "Triangle"
The pear body shape features hips that are wider than both the waist and bust. The waist is probably small as well as the shoulders. This tends to draw more attention to the hips. With this body type, the important thing is to balance out your figure and accentuate the hips.
What to Wear
Your clothing goal: Balance your figure!
Tops: cropped, peplum, square-neck, cowl neck, boat-neck, puff sleeves, dolman sleeves, bright or flashy print

Jackets: cropped moto or blazer, patterned, textured, wrap, structured

Pants: boot cut, tailored / flat-front, high-waisted, slim, straight, 

Skirts: A-line, knee or ankle length, 

Dresses: A-line, fit-and-flare, wrap, v-neck, off the shoulder, 

Other: structured fits, thicker fabrics
Avoid:
Bodycon anything

Belts

Any flashy prints or colors on pants. Also avoid light colors on pants.

Tops with sloppy shoulders
Celebrities with Your Body Type
Kelly Clarkson

America Ferrera

Shakira

Kim Kardashian West

Scarlett Johansson
Apple "Inverted Triangle"
The "apple" body type features wider shoulders and larger bust measurements as compared to relatively narrow hips. Most of your measurements will be very similar, though, and your bust is probably very large. Your goal if you have this body type is to accentuate your womanly features and create a smaller waist!
What to Wear
Your clothing goal: Accentuate curves and create a small waist!
Tops: wrap, dolman sleeve, v-neck, peplum, loose-fitting, plain and/or dark-colored tops

Jackets: long vest, open-front, duster, long-lapel, single-breasted

Pants: flare, high-rise, skinny, straight-leg, bootcut, details and prints,

Skirts: short skirts, bias-cut, A-line, full circle, trumpet

Dresses: empire waist, shift, off-the-shoulder, wrap, belted, bias-cut

Other: vertical details, 
Avoid:
Chunky sweaters

Baggy pants

Tight waisted skirts

High necklines

Low-rise jeans
Celebrities with Your Body Type
Jennifer Hudson

Tyra Banks

Angelina Jolie

Elizabeth Hurley

Rosie O'Donnell
Helpful resources: 
https://www.trunkclub.com/womens-style/female-body-types