For months now we have been confined to our apartments and dorm rooms. This has led to exercise classes and social interactions becoming a thing of the past. Since quarantine began I have been searching the web to find the best yoga flow classes I can do at home. I needed to find some type of exercise to help my mental health because I felt like I was going crazy in quarantine and needed a release. 
For the past couple years I have used exercising as an outlet for stress and anxiety. It wasn't until the past couple of months that I became obsessed with yoga. I have always enjoyed doing yoga but I never did it consistently. Now I wake up and do it almost every single morning. No matter if I do a 15-minute flow or an hour long practice I always feel so much calmer and centered and the rest of my day is ultimately better. 
I have struggled with anxiety for years and yoga is something that has truly helped me so much both physically and mentally. Trust me when I say I have spent my fair share of time seeking out yoga flows to follow along with. I am currently in the process of becoming yoga-certified and over the past few months I have been prepping by doing as much yoga as I can. Below I have listed the top 3 best channels on YouTube for yoga!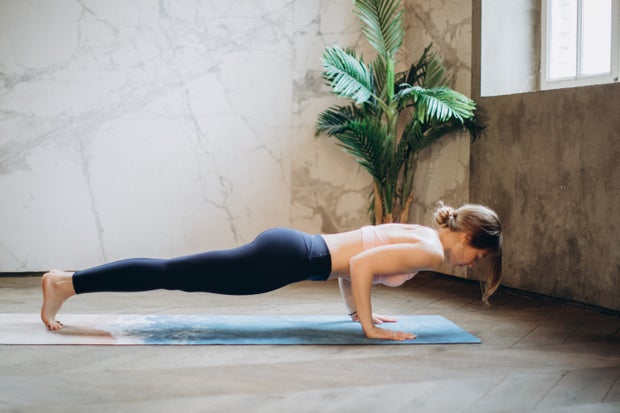 Photo by Elly Fairytale from Pexels
1.     Yoga with Adriene
Yoga with Adriene is a channel entirely dedicated to yoga practices and flows. New videos are produced on this channel every single week. My favorite thing about this channel is the variety of yoga you can find in one place. There are a ton of different videos to choose from, as well as playlists. There are 30-day breathing challenges, yoga for weight loss, yoga for uncertain times, yoga for busy people, videos targeting different body parts, yoga for gratitude and so much more. I have taken all sorts of classes from this channel and have loved them all. Adriene teaches in a calming and encouraging way without being boring or hard to focus on. She speaks clearly and really tells you how to do and feel each movement. 
2.     Alo Yoga 
The Alo Yoga channel is based off of the Alo Yoga brand. This channel consists of yoga flows, HIIT workouts, product videos and meditations. Mindful movement is something Alo focuses on and shines through in their videos. I have found that the majority of their flows are Vinyasa which is personally my favorite kind of yoga. I find that these flows are where I get the most physical benefits as well as mental benefits. Vinyasa is a full body workout for both the brain and the body. The videos are set in a simple and calming background making them very easy to watch. There is also a variety of instructors each with their own teaching style. If I could recommend anything from them it would be their power vinyasa flows. 
3.     Lululemon 
Similar to Alo, Lululemon created a channel based off of their brand. This channel has a similar mix of videos. Lululemon's channel has a wider variety of workout videos than Alo does including boxing videos, circuit workouts, HIIT and of course yoga. In addition to this there are meditation videos, product launches, holiday videos, and more. Lululemon was one of the first places I went when looking for yoga flows and I have stayed with them ever since. What I like about the yoga videos on Lululemon's channel is how simple they are. The instructor is usually in a room with white walls with nothing but him or herself and a yoga mat. The audio is extremely clear as is the instruction. Lululemon's channel also has a wide variety of different yoga classes, everything from morning yoga to power yoga to grounding yoga and more. Personally, my favorite instructor is Ally Maz. Every yoga flow I have taken with her is enjoyable, I have even repeated them multiple times. If you are looking to get into yoga there is a 30-minute yoga flow with Ally for beginners on their channel. (https://www.youtube.com/watch?v=3SJAfiNw-Cw)
While you may think yoga is only for hippies or soccer moms I really encourage you to try it. I used to only do circuit or HIIT workouts but I have truly fallen in love with yoga because not only is it great for you physically and will keep your body toned and healthy, it is amazing for you mentally. I truly see a difference in my days when I start them with a yoga flow versus when I don't. Definitely try giving yoga a chance!