Best Running Routes in Bristol
No one is unaware of the health benefits of running. From physical health to mental health, getting into a habit of running – or jogging or walking! – is a brilliant lifestyle to adopt during your University years. 
At University it is so important to look after your physical health, keep your immune system strong and give yourself the physical headspace to escape the University bubble and focus on accomplishing a personal challenge. Running (no matter how fast or slow!) can help you achieve all of these things. 
Whether you are a new student arriving in Bristol for the first time or you are returning to a city that you already know and love, here are some of my favourite running routes from over the years I've lived in Bristol: 
Stoke Bishop to the Downs – 4km 
This is the perfect route for First Years living in Stoke Bishop halls of residence, as you start and end at home! I ran this route a lot in First Year because it is also easy to adjust depending on how far you want to run on a given day. The loop up Parry's Lane and around the Downs once is around 4km, but obviously you can tailor your route to however long (or short!) you want by cutting across the Downs halfway or running around it twice. 
The route starts up the very steep uphill of Parry's Lane, but the positive way of looking at that is that your run always ends on a high as you can fly down the hill! I loved ending my runs on this downhill sprint as it always left me with a rush of endorphins. This is also a great route if you want to see a little greenery. 
The route: Start at Hiatt Baker Hall -> Run up Parry's Lane -> Run one (or more!) loop around the perimeter of the Downs -> End back at the top of Parry's Lane for that final sprint downhill if you live in Hiatt Baker, or if you're in Churchill or Badock end your run where the Downs intersect with Stoke Hill to end a little closer to home. 
Clifton and the Suspension Bridge – 5km 
This route is perfect for all you Second and Third years living in Clifton. If you live in Redland, the route is probably just around one kilometer longer – but you can always trim a kilometer off the other side of the bridge if you want to keep this to a nice 5k! This is one of the flattest routes I've found in Bristol, so it can definitely be enjoyed as a leisurely jog rather than a training run. 
The run through Clifton village is idyllic and a great way to feel like you are outside of the university bubble as you pass independent coffee shops and see locals about their daily business. 
The real highlight of the route, however, has to be the jog across the famous Clifton Suspension Bridge. You're not technically allowed to run across the bridge, but using it as a breather to slow down and appreciate the view always makes me feel so appreciative for the beautiful city of Bristol. This is definitely a feel-good route. 
The route: Start at the Victoria Rooms (or wherever you live in Redland/Clifton) -> Run up Queens Road (past the Bristol SU) -> Run through Victoria Square Gardens -> Head down Princess Victoria Street, the main street of Clifton Village -> Turn right at the bottom of the road, pass the White Lion and appreciate the view of the bridge -> Cross the Suspension Bridge -> Pass the Clifton Bridge Visitor Center and continue straight until you come to a fork in the road -> Turn right onto Church Road and around the beautiful little St Mary's Church -> Loop back towards the Bridge and head home the way you came! 
If you have it in you to run further than 5km, once you cross the Suspension Bridge you are right by Ashton Court golf course. You can add another few kilometers onto your route by looping round the green before returning over the bridge.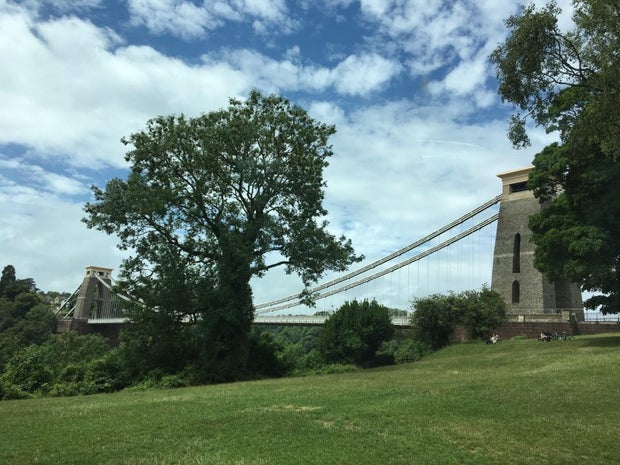 Original photo by Bethan Williams
View of the Clifton Suspension Bridge
Bristol Uni Gym to the Docks – 7km 
This is a great route if you want to work out after being at uni all day as it starts off right next to the library. If you have gym membership, you can even use the gym lockers to store your stuff while you run so there's no need to go home first!
It's also a great way to get to a different part of Bristol and escape the University bubble by running past the scenic docks. 
This is definitely a fairly challenging and hilly route but running this a few times a month will do wonders for your stamina. 
The run: Start outside the University gym on Tyndall Avenue ->  Run down Woodland Road -> Turn left onto Park Row -> Run down the Christmas Steps -> Run through Cabot Circus -> Turn right to run through Castle Park -> Run along the river to Harbourside -> Continue along the river until you get to the big roundabout -> Run up through Brandon Hill, past Cabot Tower (I did warn you this was a hilly route!) -> Either end your route here and have a cool-down walk past the University back to the gym to collect your bags, or finish off strong by jogging all the way to the finish 
Bristol 10k route – 10km 
This is more or less the route of the annual Great Bristol 10k. The Great Bristol run is a fantastic fun run and a way to feel part of the wider Bristol community, so if you're interested in running – or you just want a personal goal to work towards this year – I highly recommend that you sign up to run with some friends! The run is provisionally scheduled this year for 9th May 2021. 
The great thing about this 10k route is that even though it is on the longer side, it's a pretty flat route so if you're feeling strong you can really fly through it. 
The route starts outside Bristol Cathedral on College green and takes you past Avon Gorge underneath the Clifton Suspension Bridge, so you get fantastic views of the Bridge from a different angle compared to running across the top. 
The route: Start on College Green -> Run all along the Bristol Harbour until you get to Avon Gorge -> Run through the Downs then back along the river -> Cross over Avon Bridge to Spike Island -> Run back past the colourful houses along the dock front to end back at College Green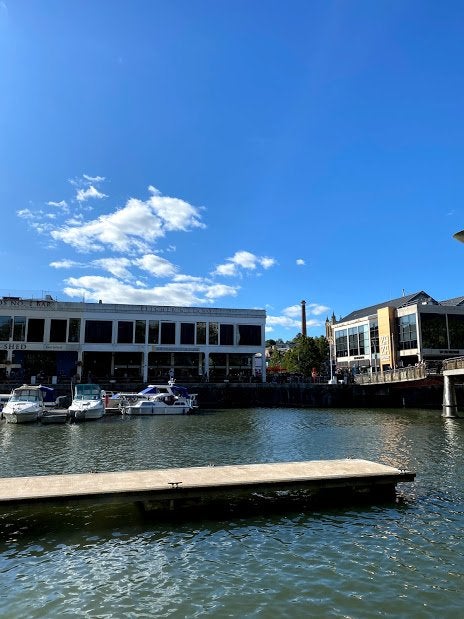 Original photo by Ellie Crabbe
Bristol Harbourside​
It is always essential to factor in your personal safety when planning runs. It is a sad reality that female solo runners can sometimes be at risk, so follow some simple rules to stay safe: always tell a friend that you are going out and what time they should expect you back, don't run after dark (especially around the Downs here in Bristol!) and consider running with a friend or a buddy when possible. 
If you do notice any incident – even the smallest thing that makes you uncomfortable – report it to University Services or the police immediately.
Best of luck, and get in touch to let us know your favourite running routes in the city!
This article is part of a themed content week exploring Bristol and welcoming new students to the city.