Asked & Answered: the Her Campus Community Shares Their Post-Election Day Feelings & Needs
Emotions are running rampant this week on all sides of the political spectrum. Days after the polls closed, the races still haven't been called in several states, and recounts in many of them are inevitable. In a world where we're used to instant gratification, the wait is excruciating. But no matter who you voted for, we're, in so many ways, all in this together.  
I think it's safe to say a lot of us have been feeling "stressy and depressy" as of late, even before Election Day, but we checked in to see how our followers on Instagram were feeling the day after the election and another feeling is resounding through many of us as well: hope. 
But whether the incoming results proved surprising, and whether our community members were feeling good or not, everyone could use a little light in the surrounding darkness. A support system during difficult times is an absolute must, and we're here for you. 
The current standings on the electoral map have many people disappointed, and a little surprised. 
"I'm too anxious. I thought it would be a land slide victory."
"Definitely expected more of a blue wave, but as long as Biden wins, I'm happy."
"Surprised that half the country wants four more years of suffering."
"Very shocked!! With everything going on, I could've sworn Biden would win by a landslide. It's making me sad about where our country is going."
"I didn't think America was this racist and selfish."
"Surprised by how many still stand by President Trump. 55% of white women, LIKE WHAT?!"
"Happy that white, college-aged women don't support him!!"
"Unsurprised it's this close, because we live in a racist country. We have to acknowledge that and do better."
"Maybe I'm naive, but tbh I didn't expect it to be so close."
"I'm not surprised! But I don't want to vilify the party I didn't vote for. We need unity."
"Not surprised, but pretty sad. We have lots of work to do!"
With such a tight race, anxiety and overwhelming feelings run rampant.
"I want to cry under my bed."
"I'm tired of the hate I see scrolling through my feed. This level of toxicity is exhausting."
"Exposing myself to social media isn't helping my stress, but I feel like I need to stay in the know."

"I'm stressed AF."
"I feel so, so bad."
"I'm scared for my rights, being a part of the LGBTQ+ community."
"I feel awful."
"I'm drained."
"Feeling anxious about the election and how angry people are getting."
"I ate cake for breakfast. It's fine, I'm fine."

"Better than yesterday, but it's scary not knowing how a person will react to a loss."
"Emotionally exhausted from this rollercoaster of an election."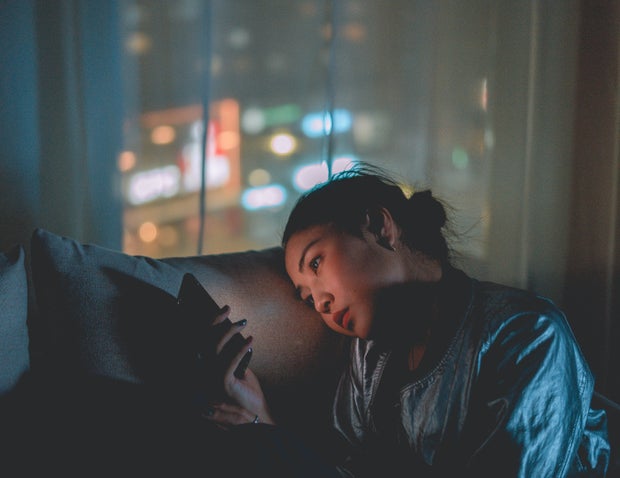 Photo by mikoto.raw from Pexels
But people are trying to remain positive, too.
"I'm overwhelmed, but making it."
"I'm fine."

"Okay."
"AMAZE BALLS."
In the face of uncertainty, sometimes remaining positive is the best thing to do. 
And we could all use some feel-good distractions.
But no matter who you voted for, and no matter how you're currently feeling, we could all use a little support right now. You told us what you needed, and we're delivering.
You asked for hopeful news. Here are ten election victories from around the country – with wins for the Black, Muslim, LGBTQ+ communities and more, 35 first-time voters on what voting this year meant to them, and ICYMI, Harry Styles is coming back to the big screen!
You asked for ways to deal with exhaustion. Here are five ways to ease election fatigue, seven therapist-approved tips for battling anxiety, and a few post-holiday de-stressing tips you can still adopt right now.
You asked for self-care tips. Here are four mindful techniques that'll help you ground yourself, tips for stretching and recovering for when you're freaking TF out, five yoga poses you should do every day, and four art therapy activities that can help your stress levels. You can also try taking a warm bath (it's scientifically proven to make you feel better!), or paying it forward for someone else!
You asked for distractions. Here are five classic novel retellings that you *need* to add to your book list, fourteen ways to distract yourself while waiting on the election results, a new special on the progress of the modern women's movement that you'll want to watch ASAP, four vegan alternative recipes from TikTok, and five YouTubers to watch if you're looking for some hardcore DIY décor inspo.
You asked for something fun. Find out the stories behind these college women's first tattoos, try out one of these ~tricky~ Halloween makeovers (because we all know Spooky Season is forever), remember all of the times that Nick Miller just *got* you, see which Taylor Swift song you are based on your Zodiac sign, pick a new show to watch based on your zodiac sign, or join Her Campus for Beauty School, a virtual event full of the latest tips and tricks.
Times are feeling especially tough right now. Take the time to check in on your people, and ask for help if you need it. We're all waiting for the final results with baited breath, and while fear certainly still exists, the optimism is contagious. 
Responses have been edited for length and clarity.