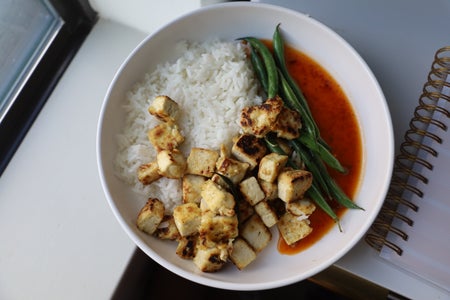 Original photo by Sarah Bradley
I Tried These Vegan TikTok Recipes So You Don't Have To
I'll admit, I've always been afraid of veganism. While I admired the benefits of a plant-based diet, I didn't think I had the guts to give up my favorite non-vegan dishes. I was afraid I'd never be able to go out to restaurants with friends, I'd never feel entirely satisfied with my meals, or I'd experience constant cravings for the foods I gave up. I eased plant-based ingredients into my lifestyle, such as almond milk and dairy-free cheese, but convinced myself that fully making the switch would be way too hard. 
However, TikTok has recently inspired me. While scrolling through my TikTok feed, I have stumbled across dozens of users that are sharing their tasty, vegan-friendly recipes. Tabitha Brown, Halle Burns, and Rebecca Leigh are only a few plant-based influencers who have made veganism seem a lot less scary. So, I decided to kick my fears and doubts to the curb, and officially declared myself a vegan. 
As I made the transition, I knew I'd need all the help I could get. To kick off my first week, I decided to make five recipes from TikTok that caught my eye and made my mouth water. Here's how it went. 
With only a few mishaps here and there, my five recipes turned out pretty well. Due to the positive online community that TikTok provides, my first week as a vegan felt totally seamless. Whether or not you aim for a plant-based diet, I'd highly recommend giving any of these dishes a shot. Thank you, TikTok!