Photo Courtesy of Pravieena Gnanakumar
8 College Women Share the Stories Behind Their First Tattoos
When it comes to tattoos, I often hear: "What if you have regrets?!" and "Imagine what that'll look like when you're all old and saggy!" That didn't stop me and or other college women from getting our tattoos.
My own tattoo was a fun and exhilarating experience. I had wanted one for about a year, and once my parents said it was okay, I went with my best friends. To this day, it's still one of the best days of my life.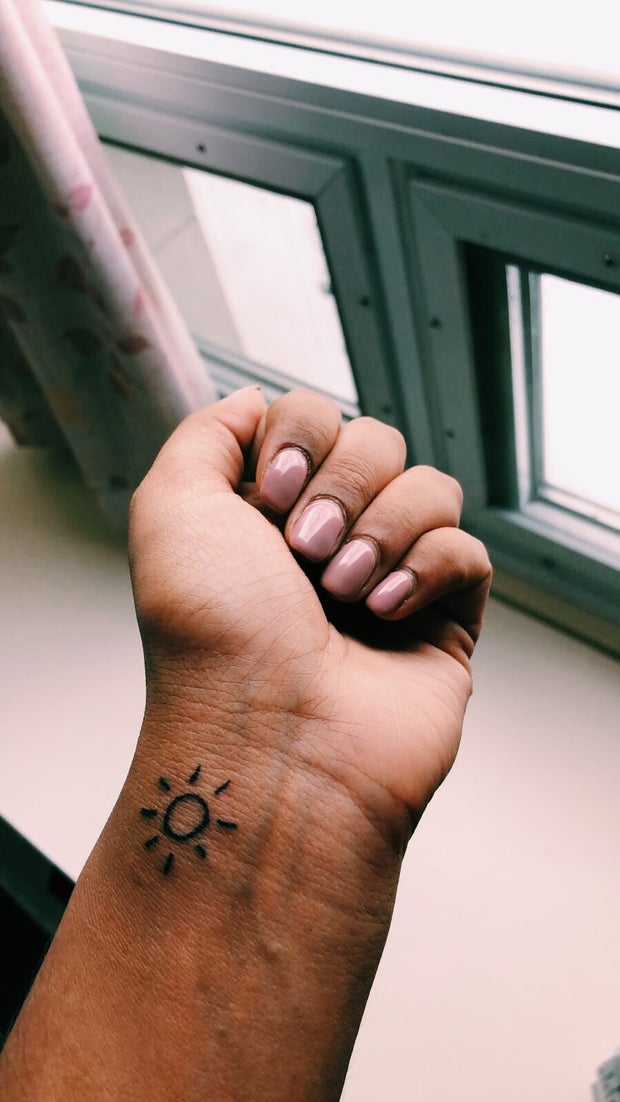 Photo Courtesy of Pravieena Gnanakumar
I knew there would be others who felt similarly. I asked eight other college women about their first tattoos and here's what they had to share.
Charlotte Spicer
Tattoo: A couple of forget-me-nots and a semi colon
Photo Courtesy of Pravieena Gnanakumar
I have some marks on my wrist that represent a hard time in my life, so I wanted to put something positive in the same space. For me, I wanted something to commemorate that period in my life. It's serves as a reminder that good can come with and from the bad, and to never forget how strong I can be. I went to get my tattoo by myself and without telling anyone, which is not something I would have typically done. The decision I made to get a tattoo on my own was kind of symbolic in itself; I realized I could count on myself alone and didn't need to rely on other people. This realization was really a big turning point for me and it's something I hope to remember for the rest of my life!
Alex Malaty
Tattoo: The word "fear" on the inside of my left wrist and "overcome" on the inside of the right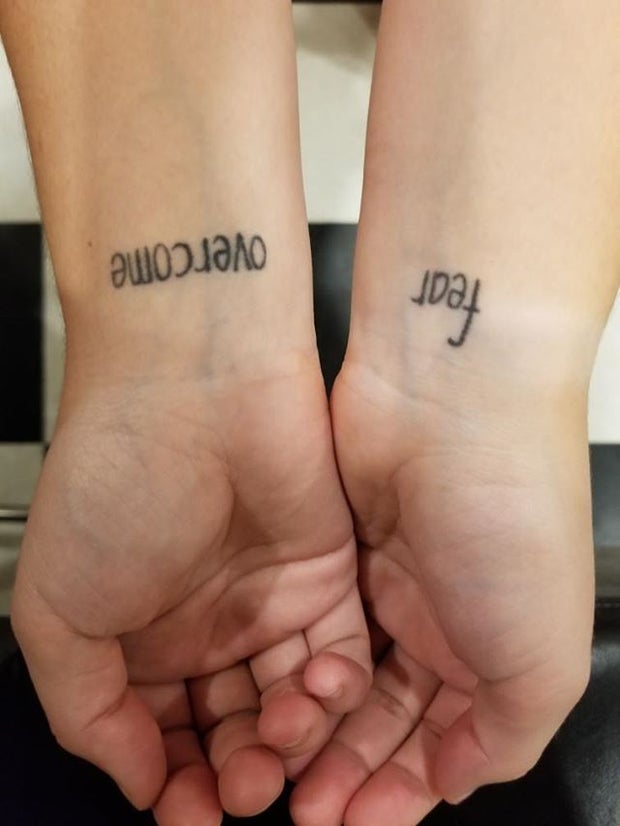 Photo Courtesy of Pravieena Gnanakumar
This experience was painful in a weird way that kind of stung, but not as bad as I thought it would be. Taking the second skin bandage off may have been more painful. My tattoo artist was very kind and let me bring my roommates to my appointment so that I had all of the support that I needed. He also did a little dot first so that I knew what the pain would be like before he did any straight lines. I think the whole rest of the weekend I was pretty giddy.
Cassidy McMackon
Tattoo: Flower on ribs and bird on inner arm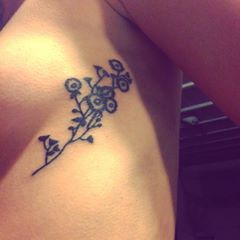 Photo Courtesy of Pravieena Gnanakumar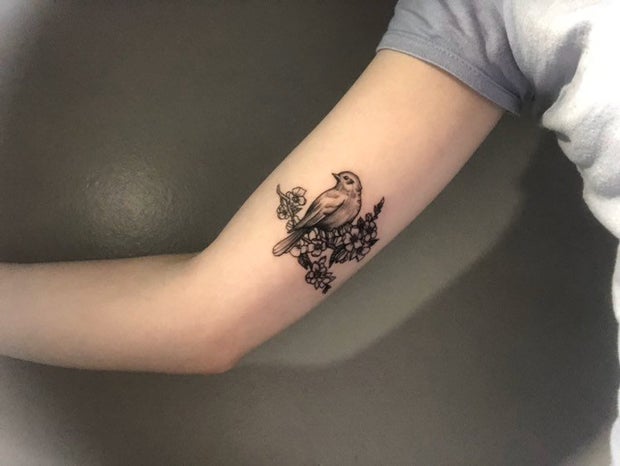 Photo Courtesy of Pravieena Gnanakumar
I have a stick-and-poke flower on my ribs that's really bad, but my first legit tattoo experience was in Amsterdam where I got a bird on the inside of my arm. For my ribs, I really just wanted to get a tattoo before I finished high school that I was able to hide from my parents. For my arm, I always liked the subtlety of the inner arm placement and found it to be the best place to get my first visible tattoo. I loved tattoos and wanted to have more control over my appearance. It's a fun way to memorialize important symbols or nice art that I love. 
Katie Allday
Tattoo: Little bouquet of flowers on ribs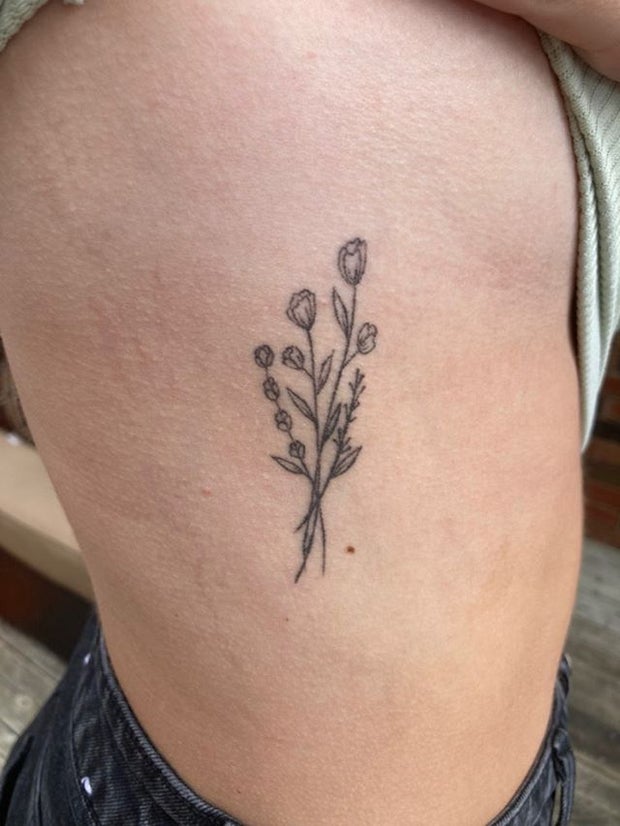 Photo Courtesy of Pravieena Gnanakumar
My tattoo is easy enough to show off if I want to, but it's also really easy to hide. I was a little scared but mostly excited when I got it. My parents aren't the biggest fans of tattoos, so I went in with anxiety about them hating it. The ribs are also apparently the most painful place to get a tattoo, so I was dreading the pain a little bit. I realized it wasn't actually as bad as I thought (don't get me wrong, it still hurt), so I was able to replace fear with excitement for the final result!
I wanted to be able to have a piece of art that I didn't have to worry about losing or wrecking! It's almost been a year and I still love it, and I'm hoping to get another one sometime soon.
Aysha Tabassum
Tattoo: Heart on upper back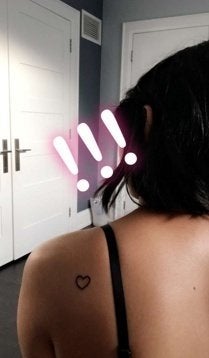 Photo Courtesy of Pravieena Gnanakumar
I really wanted a tattoo on my upper back because I thought that it would look cute! It's easy to hide for interviews and work, but still visible when I'd like it to be, without having to wear something super complicated.
I have the lowest pain tolerance of all my friends. It literally felt like getting a very long vaccine. I squeezed my ex's hand the entire time and clenched my teeth so hard I might have chipped something. I had just turned 18 and thought it would be really liberating to do something like this without needing my parent's permission. It also felt like I was finally able to take ownership over my own body after being told for a really long time, at home, how to dress and wear my hair and present myself.
It ended up being kind of uneventful. We got bubble tea afterwards. I thought I'd feel like a different person, and it's something cool to pull out at parties because no one ever expects me to have a tattoo, but sometimes I forget it's there!
Alice Kim
Tattoo: Olive branch on ankle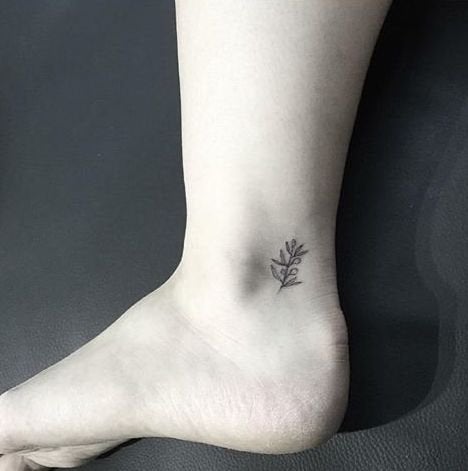 Photo Courtesy of Pravieena Gnanakumar
I chose the ankle because I can hide it with a sock and escape judgement from conservative Koreans at my church. I was scared because I have the lowest pain tolerance imaginable. It was indeed painful – very painful.
Madeleine Smith
Tattoo: David Bowie's Aladdin Sane lightning bolt tattooed on right arm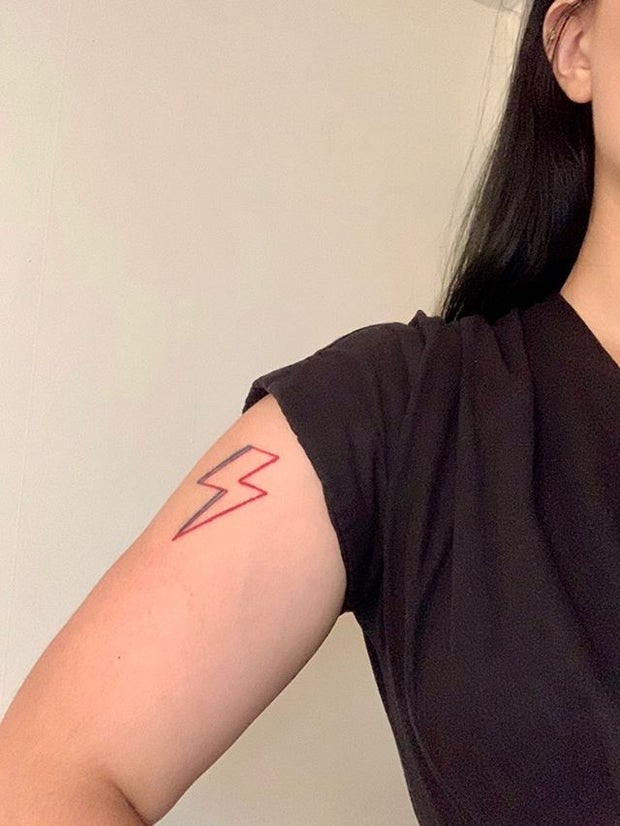 Photo Courtesy of Pravieena Gnanakumar
I wanted my tattoo somewhere that was visible, but also easy to hide. It's on the front of my arm, but high enough that most t-shirts cover it! I had always loved looking at tattoos and watching videos of people getting tattooed, but I didn't know what I would want on my body forever. I have always been inspired by Bowie, and when he passed away in 2016, I knew that I wanted this tattoo to honor my favorite artist.
It wasn't as painful as I expected! I was nervous about the pain because I can definitely be sensitive and squeamish, but it was just a mild discomfort. Sometimes I regret getting such a recognizable symbol instead of something more obscure or personalized, but most of the time, I look at it in the mirror and still think it looks pretty cool. 
Vipra
Tattoo: Lotus on left forearm
Photo Courtesy of Pravieena Gnanakumar
I really loved the meaning behind the lotus so I wanted to get something to remember it. I was pretty excited. I was pumped to be getting one, but also nervous for the pain. Honestly it felt so normal, like someone was drawing blood.
If you're wondering whether or not to get a tattoo, remember that it's your body and your choice! Make sure you go to a reputable and clean parlor, and do it for yourself. And who knows, it' could easily be one of the best and memorable days of your life.