Drop Everything, Because Harry Styles is Returning to the Big Screen
The opinions expressed in this article are the author's own and do not reflect the views of Her Campus.
Like most Harry Styles stans, I was super skeptical of news surrounding a role in a new movie – especially after last year's Prince Eric fiasco. To be honest, I'm still recovering from that one; we were robbed of the Disney prince of our dreams! Yet as more details began to unfold, eventually leading to confirmation from director Olivia Wilde herself — I slowly found myself coming to terms with the fact we will be seeing Styles on the big screen next year. *swoons*
Giphy
After his 2017 film debut in Dunkirk, the Watermelon Sugar singer has landed a lead role in Wilde's latest film, Don't Worry, Darling, replacing Shia Labeouf after he had to exit the project due to scheduling conflicts. According to Deadline, after wooing Wilde and his co-star Florence Pugh during an initial meeting, the feeling was mutual to get Styles casted in the movie.
Due to personal reasons, I will be passing away after we witness Styles and Pugh's onstage chemistry. Also crossing my fingers that those audition tapes surface...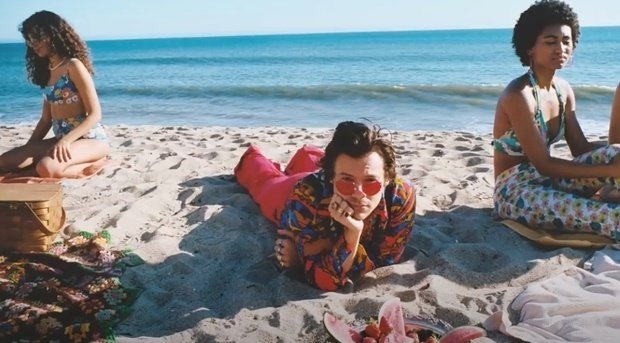 Columbia
In 2019, Wilde came out swinging with her hit directorial debut Booksmart, a critically acclaimed coming-of-age comedy. Her newest film takes place in "an isolated, utopian community in the 1950s California desert." Florence Pugh is set to play an unhappy housewife who starts to question her sanity when she sees strange things starting to happen in their neighborhood, according to Collider. Styles will play the role of Pugh's "picture-perfect" husband, "who loves her dearly, but is hiding a dark secret from her." With a year as awful as 2020, this thrilling plotline is definitely what we deserve. 
Collider also mentioned that Chris Pine is set to play the role of the head of a mysterious worksite, and Dakota Johnson will play Pugh's neighbor. Consider me completely invested in this all-star cast already.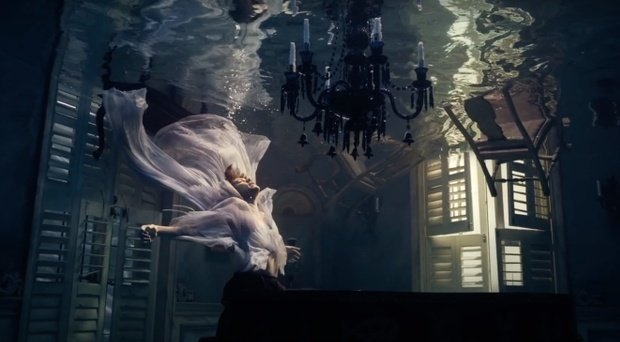 Columbia
Even with impeccable investigation skills, Styles' fans, or Harries, haven't been able to uncover much more than that about the film. Wilde confirmed on social media that Styles and Pugh will be playing the characters Jack and Alice, and shortly after the news broke, so did stan Twitter.
One Twitter user made a thread of Johnson and Styles, citing "the power" the two of them would have in a movie together. Another posted a 1950s-esque photoset of Styles in black and white photos, only further solidifying he was destined for his role as Jack.
Some fans went as far to reminisce (and joke) about Harry's real acting debut — an episode of iCarly.
harry really went into his meeting with olivia wilde with a resume that said:
1. dunkirk
2. icarly

— abs!³ ☻ (@stylesgetsme) September 11, 2020
Other fans, like Kellyn, began hypothesizing the logistics of the movie. Retweet, Kellyn. Retweet.
THE MOVIE IS SET IN CALIFORNIA... IN THE 50'S...
SO WE'RE GONNA HEAR HARRY'S AMERICAN ACCENT AND THE MOVIE IS GONNA HAVE THE OLD HOLLYWOOD AESTHETIC PROBABLY IM DSKHFRDVJKV

— kellyn ♡s eyeshadow harry (@CAR0LINAKISSY) September 11, 2020
Wilde herself seemed to get a kick out of it as well, liking one fan's hilarious tweet about auditioning for a role, likening this video of Billy Porter from the Grammy's red carpet to their own audition to be a lamp to see Styles and Pine together.  
Even Styles' mother, Anne Twist, was eager to share the news perhaps a little *too* soon, and ended up deleting her initial tweet and replacing it with a less obvious one. 
We're taking to the air on 8th Oct for @ParkinsonsUK don't worry darlings @Harry_Styles @GemmaAnneStyles I'll be fine!

— Mama Twist (@MrsAnneTwist) September 11, 2020
It's almost been a year since the release of Styles' sophomore album Fine Line, but Harries have not let up on their dedication to Styles. Last month, stans got his hit single Watermelon Sugar a #1 spot on Billboard's Hot 100, an incredible feat considering it's a nine-month-old song! Harries now have a lot to look forward to next year with a world tour, including the much anticipated Harryween and this soon-to-be blockbuster hit.