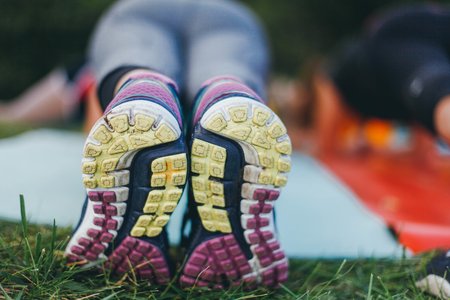 How to Use the Quarantine To your Advantage: Strive Towards a Healthier Figure
As a female college student, I have always struggled with balancing health, fitness, happiness, school, friends, etc. Through self-reflection over the years I have diagnosed myself as a perfectionist.  The achievement of a certain physique or the maintenance of a healthy diet, have consistently been my top priorities This is especially hard to do and keep track of when you are at university and no longer on a sports team. One of the most important parts of trying to stay healthy and fit in college, is realizing that you might have to "let yourself go" and "not care as much" about your fitness in order to succeed in other aspects of your life.
When I heard the news about not returning to school for the remainder of the semester I was deeply saddened, but also excited to know  I gained a greater window of time to invest in myself and my health.. Here are some tips and guidelines to follow that have actually made me see results in my eating, fitness, strength, and overall well-being.
1. Find your inspiration-
I always need motivation to push myself in order to see change. My favorite YouTuber, Sophia Jayne, has an incredible body/mental health transformation story and I constantly am going back to look at her old videos.
2. Heal your relationship with food - MEAL PREP!
 I don't know if it's  just me, but my eating habits at school are so different than when I am at home. At university, I don't have 3 steady meals at the same time everyday and I find myself constantly snacking and unsatisfied. It also comes along with feeling like I am eating too much, which results in limiting my caloric intake. To heal my unusual , restrictive, and unhappy relationship with food at home I started to meal prep. Meal prepping can sound very intense for some, but it is quite simple if you start out slow. I recommend just meal prepping one meal a week. I usually make overnight oats and chia pudding for breakfast which is very simple and healthy. For lunch, I like to prepare chicken, rice, and beans ahead of time so I can make a range of salads or just eat those 3 things together. For me, dinner is always different and usually involves what the rest of my family eats. I allow myself to eat whatever for dinner because I know that I ate healthy during the day.
3. Eat clean
 I am the kind of person that enjoys working out and because of it I get a workout almost everyday. However, for the past two years despite the constant effort I put into getting that movement I did not see much change and was confused with the state of my body.  But then I realized that working out everyday requires more than just sweat.  What you eat and drink, from the nature of the food to where you bought it affects how you look and how you feel.  In order to see results, you have to change what you are eating and how much of it. "Eating clean" is going to be the best way to do that. My personal tips, ones that I practice daily, are to limit processed food, drink lots of water, and have proper rest.  If you are someone who loves processed foods, try and restrict yourself to one processed item a day or even better, get a healthier alternative. If you have a sweet tooth get some dried or fresh fruit, a guilt free snack, nature's dessert. . See how it goes and eventually you will be able to cut it all out. Everything takes baby steps. Going "cold turkey" doesn't work because it doesn't last. You have to train your body to love eating clean and eventually it will be the reality.
4. Workout if you want!
Working out does not correlate to the manifestation of a healthy lifestly, but rather being active!  Like I said, it doesn't matter how much you are working out if you don't eat clean. I personally have to sweat everyday or else I feel anxious and lazy. Being at home and not having a gym has been hard, but there are so many active things to do! Go for runs, walks, or do a home workout  that can be easily found on YouTube. One of my favorite workouts lately have been the Peloton workout videos. They have a free 90-day trial during this quarantine and their workouts range from dance to strength training.
These are just some tips and suggestions that you can do to see actual changes in your physique and your relationship with food. Use this time to be the best version of yourself!
Julia Clarke
Edited by Sonia John