If you're as bored in quarantine as I have been, maybe you've been picking up a few new hobbies or binge-watching new shows. For me, my new obsession has been the YouTube channel Bon Appétit where they have a multitude of cooking videos filmed by chefs and food editors ranging from how-to recipes, wine reviews and drink mixing, and fun cooking-show bits like It's Alive with Brad Leone, where he makes simple and very delicious dishes, and Gourmet Makes with Claire Saffitz, where she recreates brand name foods with a gourmet take. A fun, comedic take on cooking shows, this has been all I've been watching. 
Since watching this web-series, I've tried to improve my own cooking skills using the recipes on their website. So, I've compiled a list of some of my favorites according to myself and some friends who have also tried their recipes.  
Breakfast – Flatbread with Avocado and Scallion Salsa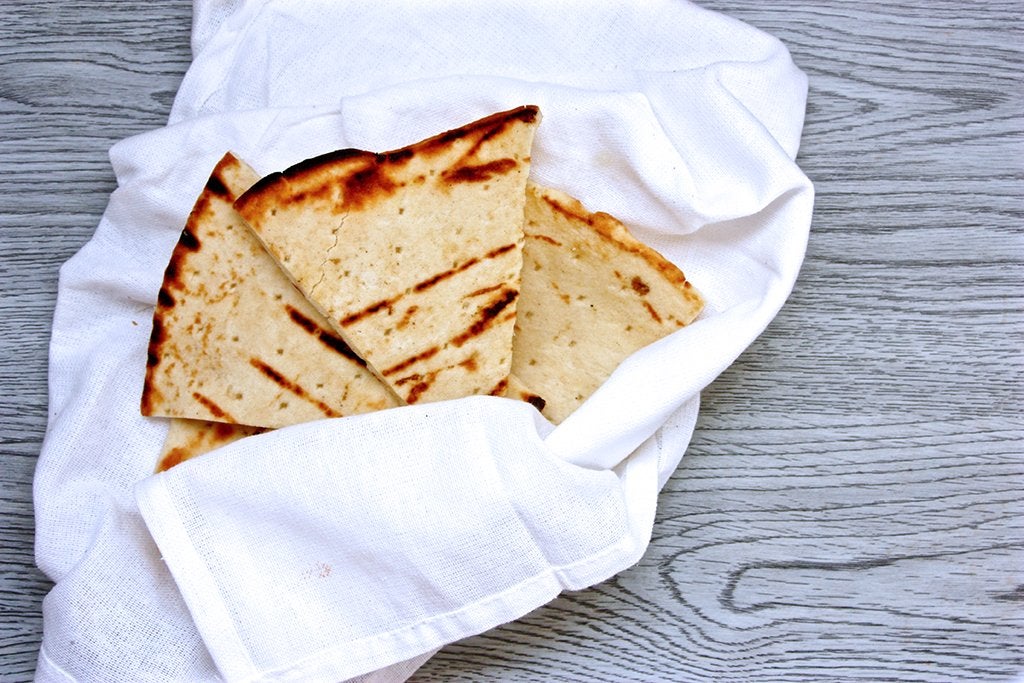 Dough Ingredients (you can buy flatbread if you don't feel like making your own) –  
tsp. sugar 

1 ¼-oz. active dry yeast (about 2¼ tsp.) 

2½ cups all-purpose flour 

½ cup whole-milk plain Greek yogurt 

2 Tbsp. extra-virgin olive oil 

2 tsp. kosher salt 
Stir sugar and ¾ cup warm water into bowl and sprinkle in yeast. Let it sit for about 10 minutes or until foamy. 
Add flour, oil, yogurt, salt to mixture until dough forms. Cover with damp towel and let it rise for an hour. 
After the hour, divide dough into 8 pieces and roll out into 6" flatbreads. Adding oil to a skillet, place flatbread onto skillet and cook over medium-high heat until bubbles form then flip onto other side. It should be about 1 minute on each side. 
Salsa Ingredients –  
2 tsp. ground coriander 

2 tsp. ground cumin 

8 scallions 

4 Tbsp. plus 1 cup extra-virgin olive oil, divided, plus more for brushing 

1 red or green chile (such as serrano or jalapeño), finely chopped 

1 cup finely chopped parsley 

1 lemon 

4 medium avocados, pits removed 
In a skillet, put in scallions and 1 tbsp of oil and season with salt. Turn occasionally until deeply charred (about 4 minutes.) Finely chop scallions and mix in a bowl with coriander, cumin, chile, and parsley. Grate some lemon zest into mixture and squeeze half the lemon into mixture as well. Add 1 cup of oil and mix well. 
Once everything is cooked and prepared, lightly spread oil over the flatbreads and spread avocado salsa mixture onto bread. 
Lunch – Pasta al Limone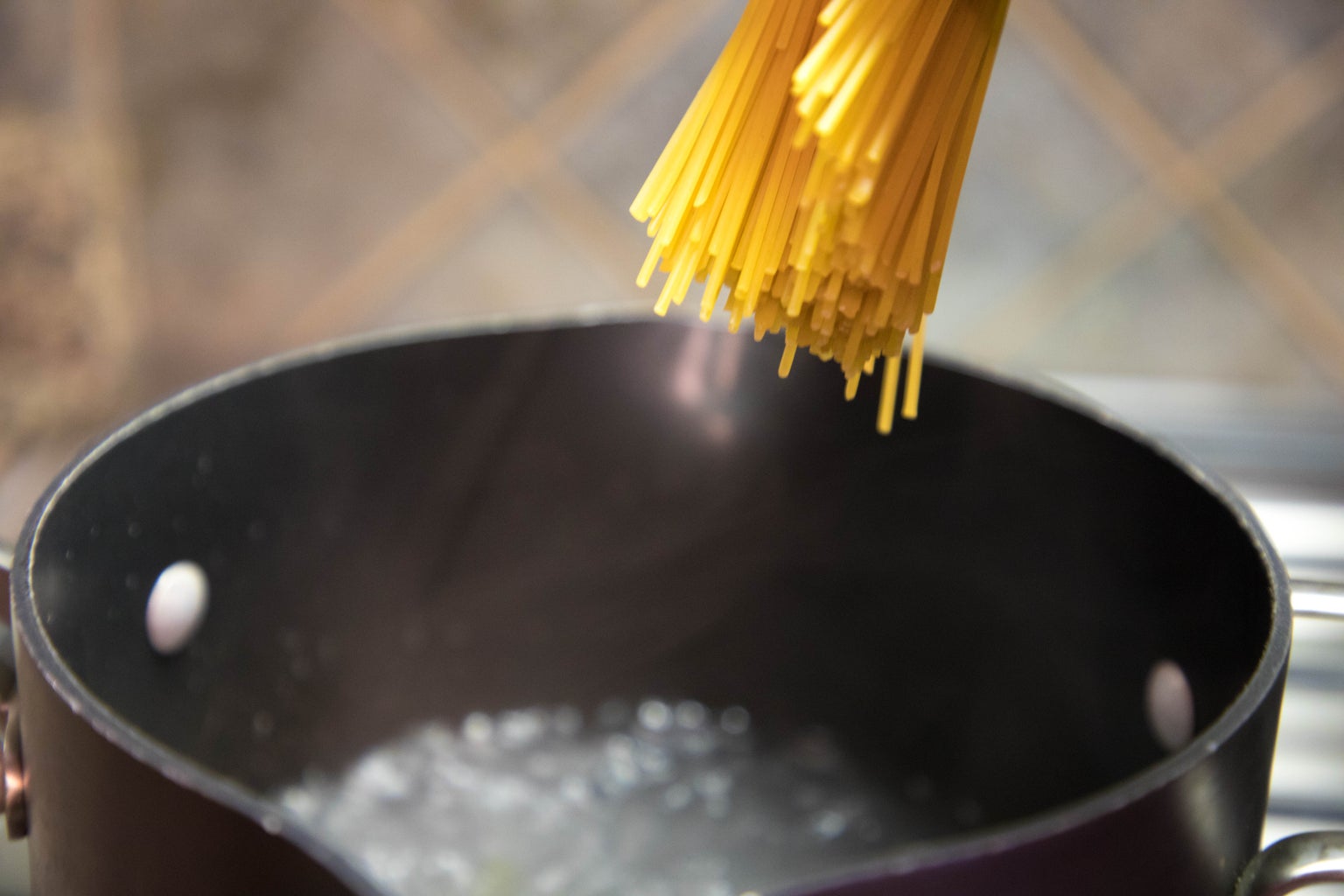 Ingredients –  
1 lemon 

12 oz. spaghetti or other long pasta 

Kosher salt 

¾ cup heavy cream 

6 Tbsp. unsalted butter 

3 oz. finely grated Parmesan (about ¾ cup) 

Freshly ground black pepper 
In a large pot, cook pasta until al dente. 
Peel lemon zest into 2" strips and then slice lengthwise into long, skinny strips (set aside for serving.) Grate remaining zest into another large pot and squeeze half of the lemon into a separate, small bowl. Add cream to pot with zest and cook over medium heat until it begins to simmer. Whisk in 1 tbsp of butter until melted and sauce is creamy and remove from heat. 
Take ¾ cup of pasta water and add to cream mixture and put back on medium heat. Transfer spaghetti noodles into cream mixture and cook, tossing often and adding parmesan little by little so it all melts (about 3 minutes.) Add another tbsp of pasta water if sauce looks tight. Stir in remaining lemon juice and salt/pepper if needed. Add lemon zest strips when serving. 
Dinner – Grilled Chicken with Lemon and Thyme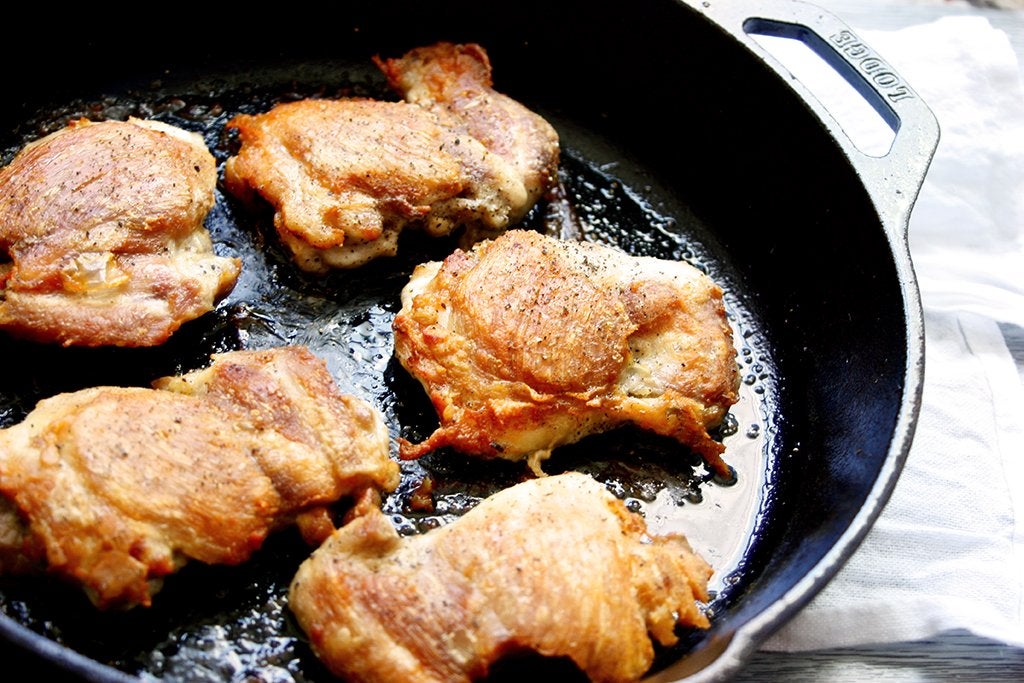 Ingredients –  
3 Tbsp. plus ½ cup extra-virgin olive oil, divided, plus more for grill 

4 boneless chicken breasts (about 3 lb.) 

Kosher salt, freshly ground pepper 

2 lemons 

4 garlic cloves, crushed 

3 large sprigs thyme 

1 cup torn pitted Castelvetrano olives 
Pat chicken dry and generously season with salt and pepper, let it sit on a baking sheet at room temperature for 30 minutes to an hour. 
Thinly slice one lemon into rounds, removing seeds. Place half of lemon rounds into a bowl, add garlic and 1 tbsp of oil, season with salt and pepper and toss mixture. Set aside other half of lemon rounds for serving. Slice other lemon in half and squeeze juice into a small bowl. 
Pat chicken dry again and rub with 2 tbsp of oil. "Grill" oiled lemon slices in a skillet until there are charred parts. Transfer lemon to a plate. "Grill" chicken on skillet until browned and turn to other side. Transfer to cutting board when chicken is cooked, let it sit for 10-15 minutes. 
Slice chicken and place on plate. Scatter thyme, olives, grilled lemons, and reserve lemons over chicken. Season with more salt and pepper. Drizzle reserve lemon juice and ½ cup oil over chicken. Let it sit for 15 minutes to an hour before serving. 
Dessert – Brown Butter and Toffee Chocolate Chip Cookies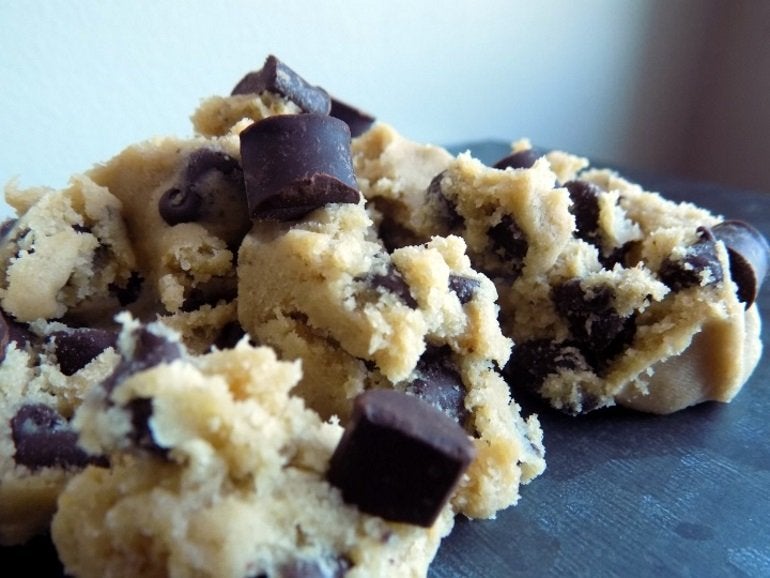 Ingredients –  
1 cup (2 sticks) unsalted butter 

2 cups all-purpose flour 

1 teaspoon baking soda 

¾ teaspoon kosher salt 

1 cup (packed) dark brown sugar 

⅓ cup granulated sugar 

2 large eggs, room temperature 

2 teaspoons vanilla extract 

2 1.4-oz. chocolate toffee bars, chopped into ¼-inch pieces 

1½ cups chocolate wafers  

Flaky sea salt 
Cook butter in saucepan over medium heat until it foams, then browns (about 5-8 minutes.) Scrape into large bowl and let cool for 10 minutes. 
Whisk flour, baking soda, and salt into medium bowl. 
Add brown sugar and granulated sugar into browned butter. Beat with electric mixer. Add vanilla and eggs and beat with mixer until it lightens and begins to thicken. Reduce speed to low and add dry ingredients mixture. Stir in toffee pieces and chocolate wafers with a spatula. Let dough sit for at least 30 minutes. 
Preheat oven to 375°F. Portion dough into ping-pong sized balls and place 3" apart. Do not flatten. Sprinkle with sea salt. Bake until edges golden brown but center still soft (9-11 minutes.) Let cool for 10 minutes on sheet before transferring to plate or cooling rack. 
If you want more options for baked goods (as a lot of us are in a baking frenzy,) I highly recommend checking their YouTube channel and website for more content and recipes!