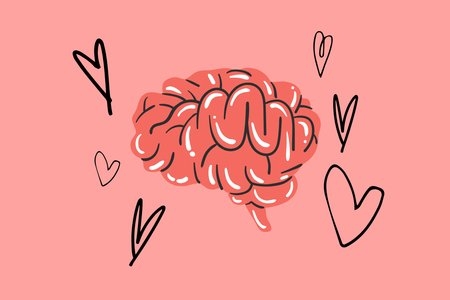 Original Illustration by Gina Escandon for Her Campus Media
3 WAYS TO STAY MENTALLY AND EMOTIONALLY HEALTHY THIS QUARANTINE.  
3 WAYS TO STAY MENTALLY AND EMOTIONALLY HEALTHY THIS QUARANTINE.  
I am aware that the last couple of weeks have been excruciating for many, including myself. Things have – and continue to- changed dramatically day by day. The words "social distancing," "quarantine, " and "stay home" are now printed in our minds. Many students, like me, are now studying from home. Even some employees have to make their living room their new office. I understand how seeing these big lifestyle changes happening all at once can be very overwhelming and detrimental to our mental health, as many of us find peace and plenitude in things like going for a run, catching the sun, or simply walking your dog around the parks. Things that are now forbidden in many places to promote global welfare. That is why I decided to write an article about some of the things I have been doing to stay positive, calm, and, most importantly, mentally healthy during these hard times.
SHAKE IT ALL OFF (SAFELY)
My closest friends know that I am a very active person. I love walking around the university's campus, running in the park,  and going shopping with my friends. I am also a big fan of going to the gym with my mom to work out and do yoga. I find each of these activities to be extremely calming and liberating, especially in times of stress. Of course, due to the current situation, I am no longer able to do many of these things, at least not in the way I used to do them, but that does not mean that I can't find alternatives that allow me to stay active while still being safe. So, I created a list of my favorite at-home workout videos that have kept me feeling like ME for the past couple of weeks. I also included the Instagram accounts of a couple of the most amazing and motivating ladies that I follow for daily workout routines, meal ideas, and other tips.

Lean legs workout
Arm workout 
Abs workout 
Stretch Routine
Instagram accounts I follow:
UNLEASH YOUR INNER ARTIST
One of my absolute favorite things to do is creating. I love drawing, painting, and, if it was not obvious, WRITING. Having the power to take two or more ideas, words, or art supplies, and putting them together to create something new is truly mesmerizing. However, many times, due to school or job responsibilities, we do not find the time to let our creativity fly. The past few weeks, while very overwhelming, have represented a re-awakening to many of my passions. For example, I started painting again, which is something I had not done since I started college almost 2 years ago. I have also become more active in writing, my biggest passion; in fact, I am considering resuming my novel, which I started in the fall of 2018. Keeping my mind occupied in such positive activities has been extremely helpful. Many of my friends are unleashing their inner artists, too; we often send pictures of our creations to each other.  It is very fun, you should try it, too!
PURSUE YOUR DREAMS. LEARN A NEW THING.
This one has been my favorite thing to do so far! Last semester, I had one of those existential crises where I felt like I was not doing half of the things I wanted to do. I started to think of all my goals and dreams, like traveling the world, play an instrument, and speak Italian so that one day I can live in Verona, and how I wanted to see them all come true in time. So, I took my keyboard to College Station and started taking online piano lessons. It was going well. Within a week, I knew how to play the majority of "Victor's Piano Solo" from the movie The Corpse Bride. I also signed up for an Italian-learning program, and I did learn a myriad of phrases. However, due to the heavy workload in all my classes, I ended up postponing both of my passions. Now that I have to take online classes as a safety measure, I have a little bit more free time, which I am using to resume my Italian and piano lessons. So, if you are feeling a bit bored at home or are running out of things to do, you can always practice a new language, learn to play your favorite instrument, or, who knows, maybe even become the new greatest singer!
I know that things are very hard right now. I know we all want our lives to go back to normal. I know you want to enjoy the sun, go out with your friends, and explore the world. But at least for now, our greatest adventures will have to take place in our kitchen and living room. Remember that safety is first and that change begins with you. Please stay home. Take the time to do one -if not all- of the things I mentioned, or, if you want, find your own. There are plenty of HerCampus articles with ideas of how to make these days easier for all of us. I promise that when brighter times come, -AND THEY WILL COME- you'll be happy that you used this time to discover yourself.
STAY SAFE. STAY HOME. STAY POSITIVE.