Easy Self Care Routines to Try at Home
While we're all in quarantine, there is a lot of stress waying on us all regarding health and safety, job security and finances, and feeling lonely or missing your friends and family. To help you practice self care here are 5 routines you can do at home that might help relieve stress and aid your mental and physical health. 
1. Exercise outdoors 
Obviously all gyms, local tracks and fields are closed due to social distancing and contamination reasons. But that doesn't mean you can't work out right in your neighborhood. Try doing a walk, jog, or run around your block, street, cul de sac, whatever. The best thing you can do during this time is to get your body moving and don't let yourself become lethargic. Now more than ever we need to focus on bettering ourselves and staying healthy. Even getting out of the house and walking for 30 minutes is known to increase lung function and release happy endorphins.
2. Do an at home face mask 
My favorite at home face mask to do is the Aztec Secret Indian Healing Clay face mask, I get it from Amazon. This face mask is insanely easy to make, you mix equal parts apple cider vinegar or water with equal parts clay, apply to your face and take it off after 15-20 minutes. I use this mask 1-2 a week and it has helped to clear up my acne immensely. It is a bit of a messy clean up so be sure to use a disposable cup when mixing the clay, and have a washcloth ready for when you remove the mask. 
3. Meditate with the Calm App  
I use the calm app to meditate every day during my yoga routine. The app offers different nature sounds to choose from, bedtime stories, songs, and guided meditation. There is a free version of the app and a premium version also available. I use the free version and find it immensely helpful when I'm stressed or anxious. I recommend using this app in the morning when you first wake up and at night before you go to bed, or as many times during the day as you see fit. 
4. Soak in a hot bath  
A bath is an inexpensive and relaxing way to unwind and destress. To create the ultimate self care bath routine, first create ambience. I do this by gathering my favorite candles and lighting them all around the bathroom so I am surrounded by light. I then set up a side table with essentials, my book, a drink, either lemon water or a cup of tea, some music (most likely nature sounds from the calm app). Next add a conservative amount of bath salts, my favorite kind to use is Dr. Teals. Then add some bubble bath, I use "everyone head, knees, and toes" soap, it doubles as a hand wash and a bubble bath. Gather your favorite products to use, shampoo, conditioner, body wash, an exfoliant, any facial tools like brushes or a scrubber, and a loofah. And enjoy! 
Giphy
5. Primp  
It always makes me feel good to do some primping when I feel stressed or run down. Try doing your nails, applying a foot or hand mask, doing your hair care routine, using some teeth whitening strips, or doing a lip scrub.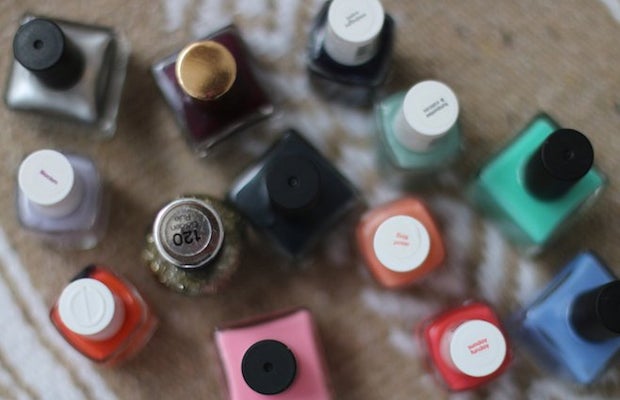 Her Campus Media
During this time of quarantine, although the hours and days seem like they go by so quick and all mesh into one, I have found time to take care of myself and you should too. I hope these suggestions help you create a relaxing self care routine and everyone is staying safe and healthy during this tough time.