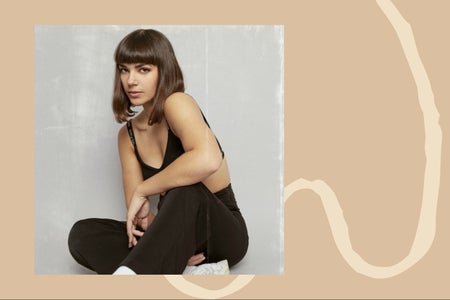 Ayelle's Favorite Self-Care Books that You Need to Add to Your List ASAP
As we accustom ourselves to the new normal, we face different struggles, including taking care of ourselves while in quarantine. We're looking for ways to help us get through a unique time — and it's okay not to be okay. Be more gentle and patient with yourself right now.
Ayelle is a firm believer in treating ourselves better and allowing ourselves to take a break, as she shares in a piece for She Said So. Using her platform, she advocates for self-care and mental health as a way of life. She has written op-ed pieces, shared her recent guided mediation, hosted yoga live streams, and she continues to do more.
[Listen to Ayelle's "Quarantine Care" playlist on Spotify.]
Polly Hanrahan The singer-songwriters releases "NOMAD (Mixtape)", featuring the self-care anthem "Fast Life". Her latest single reassures us that there's nothing wrong with doing less while in quarantine, or rather take this time to learn more about ourselves. 
"I've always been a bit of a bookworm. I like staying in most weekends reading and drinking tea instead of going out. It's my form of self-care and 'Fast Life' is all about that — making time for yourself to slow down and conquer FOMO," Ayelle revealed. 
If you're in search of some new reads, here are Ayelle's go-to books for self-care along with her personal thought for each one. 
1.

Seven Spiritual Laws of Success by Deepak Chopra

"This book is my ultimate self care practise tool. It covers everything from gratitude, karma, giving and receiving, least effort, intention, and desire to potentiality and dharma (purpose in life). It's a quick and beautiful read, around 100 pages, and there's even a condensed pocket book for the main highlights, which I read out of every morning because it's just that good."

2.

The Power of Now by Eckhart Tolle

"One of my all-time favourites. This book is all about your relationship with the now, and it explains it better than anything I've ever read. So well in fact, that when I first read it this book yanked me out of depression and became the catalyst for a whole new mindset and way of seeing the world."

3.

Big Magic by Elizabeth Gilbert

"By the same writer who wrote 'Eat, Pray, Love,'  I would argue that this book is maybe even better. The sense of freedom and inspiration I felt whilst reading this was something else. She talks about creativity with such a fresh approach that it truly turned my life upside down, in the best of ways."

4.

Akata Witch by Nnedi Okorafor

"Think Harry Potter but set in Nigeria with a female protagonist. Oh and magic is called juju. Nothing like a little juju to make you feel better. It's amazing."

5.

29 Gifts by Cami Walker

"Cami was diagnosed with multiple sclerosis at age 33 and after great suffering stumbled upon a medicine called the 29 gifts — giving a gift every day for 29 days. This book is an incredible testament to the power of giving."

6.

The Universe Has Your Back by Gabrielle Bernstein

"In times like these, this book is a great tool for developing your faith muscle so you can feel supported even when things might seem bleak."

7.

Embracing Uncertainty by Susan Jeffries

"Building upon the last suggestion, this is a great book for practising surrender to the moment and letting uncertainty inspire rather than hold you back."