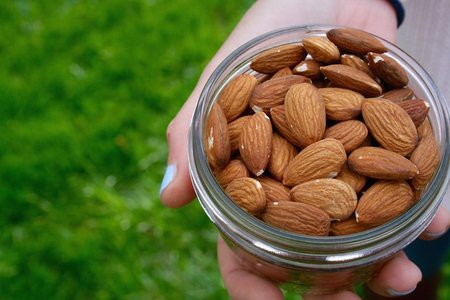 Hey, collegiettes! Almonds have a special place in my heart and I adore them. I was raised hearing my mother telling me to eat a handful the morning of important exams, encouraging me to take a handful after some light workouts and rub almond oil at the ends of my hair as a leave-in conditioner. They will nourish your mind and body and fill your stomach in just a few bites. 
Let me tell you why almonds are so personal to me and show you a few ways you can benefit from these amazing nuts.
Growing up, I would struggle to get my proper nutrients from different foods. I had anxiety that translated into trouble eating foods with strong textures, tastes and smells. However, my mother would roast almonds with salt and I would munch on them all day long. This supplemented my protein, fiber and different vitamin intake, which allowed me to focus on my schoolwork and be physically active and involved. 
Almonds are also so versatile! You can eat them plain, roast them with so many different seasonings (like chips), use them as toppings and even use their flour to make unique desserts. I personally get swollen lips and a scratchy throat when I eat unroasted almonds (or any tree nut) so I love roasting them with salt. It only takes about 20 minutes, and all you need is a large pan, stove and any spices you would like. Paprika, chili powder, even taco seasoning enhance the flavor of the almond and can make them easier to consume in large numbers if you are not a fan of them plain. Additionally, the key ingredient of macarons is… almond flour! I was personally so shocked to figure this out, but apparently that, along with the work that goes into making them, makes them pricier than most desserts.
Roasted chopped almonds make for a great topping on almost anything, especially desserts, like puddings and ice cream. More commonly, too, is almond butter that can be spread on toast, on ice cream or eaten out the jar like peanut butter.
Also, rubbing almond oil onto the ends of your hair as a leave-in conditioner has been in my family for generations. It is similar to using coconut oil or olive oil. Additionally, it can be used to moisturize dry spots! Just make sure the oil you get is safe for topical use.