6 Ways to De-stress During Midterms
It's that time of the year again: midterms week, one of two of what I like to call the "hell weeks" that happen here at Florida State University, or at any college for that matter (the other one being finals week). As all your work begins to pile up and all of your textbooks are glaring you in the eyes, begging you to study for your tests, here comes the onslaught of stress.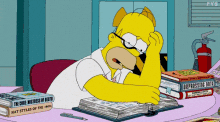 Courtesy: Giphy
1. Make yourself laugh.
Laughing is a unique and easy way to reduce your stress during a chaotic week. I personally suggest turning on one of your favorite comedies on Netflix and grabbing the perfect snacks to satisfy your sweet tooth. A few of my personal recommendations include The Office (a classic) or if you want to branch out, anything from John Mulaney (my personal favorite is the Kid Gorgeous at Radio City special on Netflix).
2. Put down that phone.
You don't have to unplug from your technology for too long, that can be harder than it may seem. Just take a little bit of time out of the day, maybe 30 minutes, to focus on yourself and your goals. Without the distraction of social media and technology in general, you're more likely to find yourself in a happier place mentally.
3. Write it down.
Journaling has been my savior this semester. Anytime and every time I felt even the slightest bit of anxiety from school, I wrote down my thoughts. Sometimes you don't want to complain to other people about what you're feeling, and writing it all down allows for some moments of relief.
4. Get a massage.
An easy way to literally feel the stress leaving your body is to get a massage. A pro tip, from a massage connoisseur herself, is to check Groupon for any massage coupons in Tallahassee. I can't tell you how many times I've saved $10+ by checking the website before I went to get a massage. College students are desperate to save money anywhere they can, and Groupon is definitely an easy way to do so (#NotSponsored, but I wish it was).
5. Take a class at the Leach.
Of course, everyone knows that exercising is a typical way to relieve some stress. There are so many free classes offered at the gym that you'd be crazy not to try one out. From kickboxing classes to cycling classes, there's a choice for everyone. And it's free! There's nothing better.
6. Relax in the hot tub.
A lot of people don't know this, but there is a hot tub located in the Leach that's open to use by all students. After taking a class at the Leach, you can hop right into the nice, hot water. It's a perfect way to relax your muscles after a good workout and also relax your mind after a long day. All you need is a bathing suit and a towel.