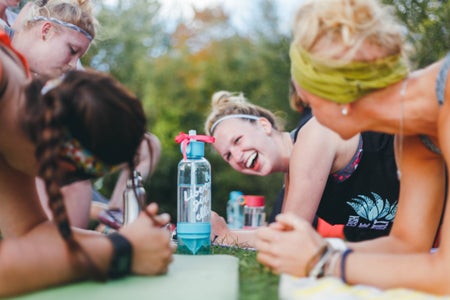 8 Small Changes That Make a Big Difference in Your Overall Wellness
While it's always important to look after your health, it is especially important this time of the year. I don't know about you, but I've gotten sick for one too many finals and am taking extra steps to not get sick this year. The best part? These changes aren't a complete overhaul of my usual routine, just slight adjustments that have been making a big difference! From taking my vitamins to getting in my daily exercise, here are all of the ways I've been staying healthy this semester.
1. Take the stairs
 If you're like me and don't make time have time to go to the gym as often as you'd like, take the stairs whenever possible. Even getting your heartrate up for a little bit every day is better than nothing.
2. An apple (cider vinegar) a day…
I am slightly obsessed with apple cider vinegar. I buy the Trader Joe's Cucumber & Mint Drinking Vinegar and take a shot of it every night before bed. ACV is great for your digestion, helps with weight loss by speeding up your metabolism, and is full of antioxidants! 
3. Take all the vitamins
My mom got me hooked on taking vitamins every single day and they have seriously improved my overall health - I rarely ever get sick anymore. I take Zinc, Vitamin A, and Vitamin C every day. 
4. Emergen-C 
Emergen-C is my flu season secret weapon. I drink it every day - sometimes even twice a day - to build up my immune system. It's packed with Vitamin C for your immune system, Vitamin B for energy, and antioxidants. 
5. Juice shots 
Trader Joe's Mighty Turmeric Juice Shots are my latest obsession. At only $1.99 each, these juice shots are way more affordable - and just as good for you - as their more expensive counterparts on the market. Turmeric has anti-inflammatory properties, helps in wound healing, and combats depression. It is also great for the skin and fights cancer. I try to take them a few times a week.
6. Lysol everything
I become a bit of a germaphobe this time of year. Especially with finals coming up, the last thing I want is to get sick. Armed with my Lysol disinfectant, I spray every doorknob, handle, and lightswitch in my dorm a few times a week to fight germs. 
7. Drink lots of water
There's a reason everyone stresses the importance of drinking lots of water. Not only does it help to keep your skin clear, it also flushes toxins from the body and gives you energy. It is recommended that you drink at least half of your body weight in water per day. For example, if you weigh 150 pounds, you should drink at least 75 ounces of water per day. Just be sure that water is not all you are drinking or you risk flushing important nutrients out of the body. Mix in some juice, tea, or kombucha to your beverage intake once in a while.
8. Wash your hands
This may seem like an obvious one, but washing your hands frequently is an often overlooked step that is so important in staying healthy. Especially in New York City, wash your hands more than you think necessary to combat sickness. 
Being healthy doesn't have to come from some crazy diet or exercise regimen. Taking small steps towards your health can make a big difference. With these small adjustments to your routine, you can decrease your chances of getting sick and increase your overall wellness.