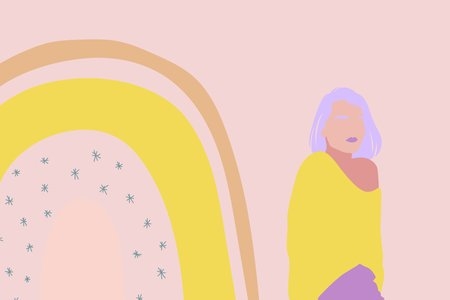 Original Illustration by Gina Escandon for Her Campus Media
Tips for a Guilt-Free Quarantine
There's no way of sugar-coating what we're all going through right now. Life during a pandemic is a frightening thing and things aren't getting any easier anytime soon. The world has been put on pause, but life goes on and we've all had to make adjustments around COVID-19. However, with all this newfound free time on our hands, ideas have begun circling on how to make the most out of quarantine. The truth is: There is no ideal quarantine! These are uncertain times and the guilt surrounding how we should be spending our time indoors is exactly what we don't need to add to our anxieties. I've compiled a list of tips to help you avoid the quarantine guilt so you can make social distancing as stress-free as possible.  
Kristen Bryant / Her Campus

I'm sure you've all seen the lists of things to do during quarantine which have been circling around social media. Of course, those ideas are great for passing the time or curing boredom, but not so great for a racing mind or an anxious heart. We've been programmed to think that if we aren't being productive then we aren't using our time wisely. This way of thinking can put unnecessary stress on us to be constantly squeezing ourselves dry. The truth is that rest and relaxation are just as important as the work we get done. Sometimes, the best thing we can do for our mental health is to give our minds a break. That can mean sitting outside and taking in the sunshine, doing a face mask, or taking a much-needed nap. If mindlessly scrolling on your phone for a couple of hours helps you get your mind off of everything, do that. Like all things, moderation is key with social media, but distractions don't always have to be a bad thing. You don't NEED to be doing anything during this quarantine but taking care of yourself, and looking out for others. 

 

Tessa Pesicka / Her Campus

I've noticed a few "Quarantine Workout Routines" on my feed to help combat what I like to call the "Quarantine Fifteen." It's no surprise that when we're stuck indoors with much less to distract us, we tend to eat a little (or alot) more than usual. I cannot stress this enough: gaining weight is not an inherently bad thing! Our bodies and minds have been under an immense amount of stress while we're adjusting to all the changes. It's more than normal if that stress has led to putting on a couple of extra pounds. Bodies change under different conditions. Weight fluctuates! It's nothing to be ashamed of and certainly not something you need to worry about during a global pandemic. If it's something you're really bothered by, try intuitive eating. It's listening to your body's needs and eating only when you're hungry and stopping once you're full. Your eating cycle will be back to normal in no time. Make sure to fill up on the healthy foods you need that will give your body the nutrients to deal with stress and everyday responsibilities. Most importantly, stay hydrated! 

I don't mean you should start a new intense workout routine unless, of course, you want to. But it is important that you get up and move around for at least thirty minutes every day. This doesn't have to be painful, it can be cleaning the house or organizing your room. You can put in your earbuds and have a dance party or just do some stretches on the floor. There are plenty of ways to loosen up your muscles at home that will do wonders for your body and mine if you're dealing with cabin fever. Better yet, taking a walk outside will help you get in some Vitamin D and breathe the fresh air. Not only will getting in some light exercise distract you from everything going on, but it has shown to lessen feelings of anxiety and depression. Just remember to stay six feet away from others, just to be safe. 

If you're anything like me, you go a little crazy when you can't do something meaningful with your day. This doesn't have to mean catching up on class work, either. If you're up for it, why not try something new to distract yourself from the things making you anxious? Paint. Read a book. Do some sketching of the view outside your window. Write a poem. Whatever you do, do it simply for the enjoyment of doing it. Don't worry about the end product. Let your mind go and enjoy the process of using your imagination like we did when we were kids. For once, do something just to do it.

We all have plenty of emotions running through our minds during this familiar time, from worry to anger to confusion. It's always important to let out our emotions, but especially now. Find a way that works for you to express what you're feeling. That could mean filling up the pages of a notebook you have laying around or even making a video diary if writing isn't your thing. Of course, friends and family are always there to listen and offer support. However, since this time is stressful for everyone, it might be useful to find some independent ways to cope with how you're feeling. Finding an outlet to vent your own emotions will help you to be a better support system for others in need. Just remember, we are all going through this together and you are never alone in how you are feeling. If you already struggled with your mental health and need some more professional support during this time, there are plenty of counseling resources to assist you remotely. For example, Students 4 Support is a peer counseling resource at CofC. They have a texting hotline Monday through Thursday from 12-9pm to offer support to students during this especially difficult time. Just text "4support" to 839863.
More than ever, it's important that we come together during this worldwide pandemic. We may be physically separated from one another, but it's important that emotionally, we offer support to one another during this season of confusion, anxiety, and loneliness. We're going through something now that most of us have never experienced in our lifetime. No matter how you are spending your time in quarantine, know that it is valid. Your mental and physical health is the most important thing. Find comfort in any way that you can, and as always, be a source of kindness and support for others.