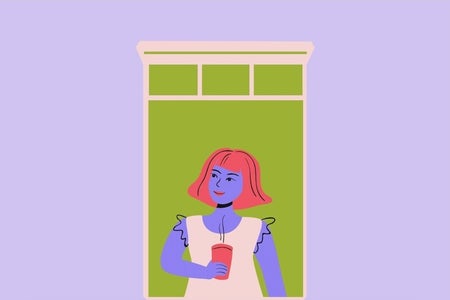 Original Illustration Designed in Canva for Her Campus Media
Things I'm Doing Differently This Year…
Let me take a wild guess at some of your New Year's resolutions. Mindfulness? Health? Wellness? These are all great things, don't get me wrong, but, welp, it is nearly three months into 2021, and it's safe to assume that most goals by this point have gone down the drain. Or maybe they're just being postponed until after that vacation, after this weekend, or whatever the excuse may be. Yeah, I can relate to a weirdly similar extent ("I'll start going to the gym tomorrow…"), yet this is the sole reason why I made some minor changes to my goals for this year.
For one, I didn't set any. Being the type-A, detailed Virgo creature that I am, this was a far stretch, but also put me outside of my comfort zone in the best way possible. Rather, I made the effort to make changes in my daily life as they came. For one, I downloaded the app "Mantra" with the sole intent of fulfilling a Communications assignment. I never did think much further into its use. Every day, the app wakes me up to an affirmation at 8:30 AM, which I never would've imagined to be so beneficial in kickstarting my day. Although this was never a goal of mine, it's now a daily habit that has, overall, benefitted me in terms of mindfulness. BTW -- I highly recommend it. Not to mention it's free on the app store!
Amidst the hectic schedule of a college student comes making time for family and friends -- especially those from home whom you don't see often. After a long winter break away from college, I realized that time at home was refreshing, or even considerably therapeutic. I am so guilty of not reaching out to these family members and friends as much as I should, therefore, I've made the conscious habit to call someone different every day. Was this a resolution I set at the beginning of the year? Most definitely not, but as I got back into the routine of things at school, I realized it's crucial for me to keep in contact with those I love. By doing this, my mood is almost automatically boosted after a good and hearty conversation.
In short, what I'm doing different is a simple concept -- demanding less of myself in order to expect and receive more, and it's paid off. After a stressful year, I find that being lenient with ourselves and one another is what matters most. Give it a shot. You (and your mental health) won't regret it!