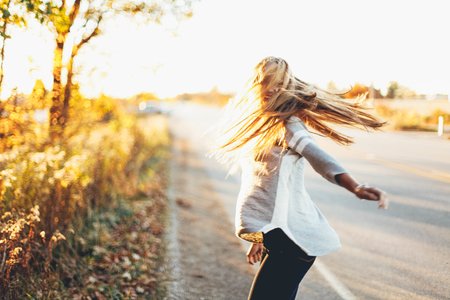 How I Changed My Mindset in 2020
Like most people, I've been guilty of looking at things with a pretty pessimistic outlook sometimes. As part of my New Year's resolution, I'm taking steps to be a more positive, optimistic person, and I've seen so many aspects of my life improve with just a small change in mindset. Here are five things I've changed as a result of realizing my negative mindset. These small lifestyle and mental changes have already helped me become a happier, healthier person in 2020.
1. I no longer dread doing my homework.
This may sound trivial since no one is ever excited about sitting in the library and writing a paper, but since it's something (most of us) do every day, tackling it with a negative mindset is the last thing that will help us have a positive attitude or a 4.0 at the end of this semester. Six months ago, I couldn't wait to be exactly where I am right now--at my top choice school, well-adjusted, with the best friends I've ever had--and I still feel so lucky to be here, so when I start to dread reading a few chapters for class, I remind myself I'm exactly where I wanted to be.
2. I am taking active steps to better the environment.
Like most people, I get pretty stressed out about the thought of rising sea levels and air pollution, but I was always just sitting around and waiting for legislation to be passed to alleviate my concerns rather than taking it upon myself to do something. Now that I've stopped eating meat and I'm gradually cutting down on my waste, I realize that while I may not be saving the world, I'm still preserving my little piece of it. That's enough for me right now.
3. I'm getting rid of my RBF.
I'll admit, this is something I'm still working on. Now I am making a conscious effort to smile at people on the street, or in my classroom. I've realized that once you start smiling at people, they'll start to smile back. Suddenly, everyone around you looks different.
4. I am becoming more "selfish."
While this may seem counterintuitive, I am now taking the time to focus on myself and do what is best for myself. Since I used to prioritize the needs of others and constantly worry about what people thought of me, I now find it so refreshing to say "no" to people, and take care of myself when I really need it.
5. I engage in positive self-talk only.
This one is pretty standard, but when you're not giving yourself the love you deserve, it's going to be really hard to feel happy overall. Once I started writing down three positive things about myself a day, whether it's unique traits, things I accomplished, or just something I did that made someone smile, I started to become a more confident, better version of myself.