Why I've Continued Ballet in College
Today, society puts a lot of emphasis on self-care. While traditional media portrays this as Netflix binging sessions, face masks, and bubble baths, I found this didn't do much to stop my mind from wandering to stressful places. 
The first few weeks of college were tough for me, and my new chapter of independence had a particularly rough start. Learning to adjust to a new environment separated from my home friends and family wasn't easy. While I had met some amazing people and loved my classes, I was overwhelmed by anxiety. As a result, I was desperately on the lookout for any means of relaxation.
Luckily, I had registered for a ballet class. I knew I would find comfort in a hobby I've participated in since I was three years old. Ballet had always held a special place in my heart. I remember dreaming of pink leotards, tutus, and pointe shoes, hoping one day I would be advanced enough with some practice. Most importantly, when I immigrated to the United States from France, it was the one activity that brought me comfort since my mom had told me ballet everywhere was taught in french. 
While I never got particularly good and have since developed a love-hate relationship with the art form, it is one of the things that most helped me get through college. 
People say if you get homesick, do things that remind you of home. That's exactly what I decided to do. I sewed a brand new pair of pointe shoes, grabbed my pink tights, a cute dance skirt, my favorite leotard, stuffed as many bobby pins as I could into my bun, and went to my first BU ballet class. 
Walking in, I was absolutely terrified because, as every dancer knows, if you haven't danced in a few months your first class back is going to be a rough one. I was weaker and not as flexible resulting in loads of pain and some pretty pathetic looking exercises and combinations.   
However, the best thing about ballet is it requires a distinct amount of focus. Your mind can't wander in class like it does in lectures as you'll miss the combination and make a fool out of yourself. Therefore, I was lazor focused on everything the teacher said and while I struggled, ballet was the only thing I was thinking about. I got through the two-hour class and was absolutely thrilled.
I walked out of that first class overjoyed. I called my mom sounding happy for the first time, explaining that I felt over the moon. I had found the one activity that could take my mind off everything else that was stressing me out. 
The true test was the pandemic. I couldn't go to a dance studio anymore. I was more stressed than I had ever been with a new method of learning and no normal social life. Luckily, the ballet community showed up and classes were offered online. I asked my dad to put a ballet bar in the basement and my sister and I took classes together. While it wasn't the same, it was a way to stop thinking about the roller coaster of a year we were all having.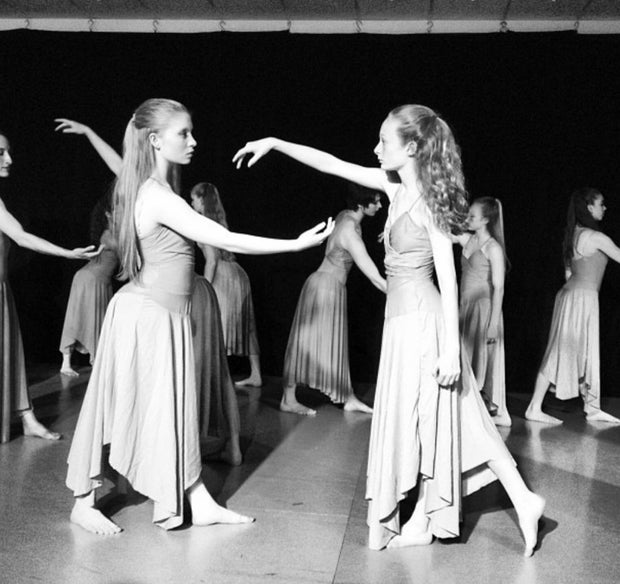 Grace Constable
Even now, as I decided to stay home during the first semester, I decided to take classes at my old studio. I look forward to every Tuesday, Thursday, and Friday because I know my mind will be able to rest from thinking about how much I miss campus and my friends.
For me, self-care is found in one of the most physically demanding art forms. The only way to get my mind to stop stressing over academics, personal issues, or the pandemic is to force me to think about other things. Are my feet pointed enough? Are my knees straight? Am I on the box of my pointe shoes? Am I leaning back too much? Are my shoulders too high?  How do I do this combination on the left? How am I ever going to be able to do this variation? 
Thanks to ballet, I can breathe. 
Want to keep up with HCBU? Make sure to like us on Facebook, follow us on Instagram, check out our Pinterest board, and read our latest Tweets!