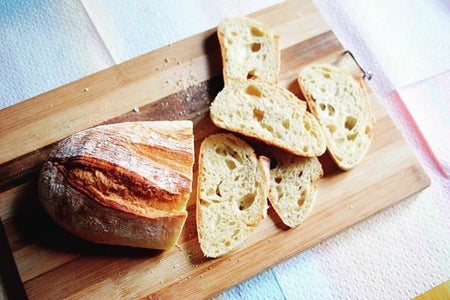 Jenny's Quarantine Cooking: No-Yeast Bread and Restaurant Olive Oil
For this week's edition of Jenny's Quarantine Cooking, I decided to make bread! However, I realized that many grocery stores have been out of yeast—as well as flour—which I discovered the hard way last week during my mad dash to find all-purpose flour. I'm not very experienced with making bread, but I knew that it would be difficult to make without yeast. Nevertheless, I continued my search for a bread recipe without yeast, and I stumbled upon this one for "emergency no-yeast bread." I am not sure what sort of emergency would require a loaf of homemade bread, but I was intrigued! This recipe, from fussfreeflavours.com, only uses four ingredients! I was doubtful that this bread would be very flavorful, so I decided to make an olive oil dip using a recipe from foolproofliving.com as well!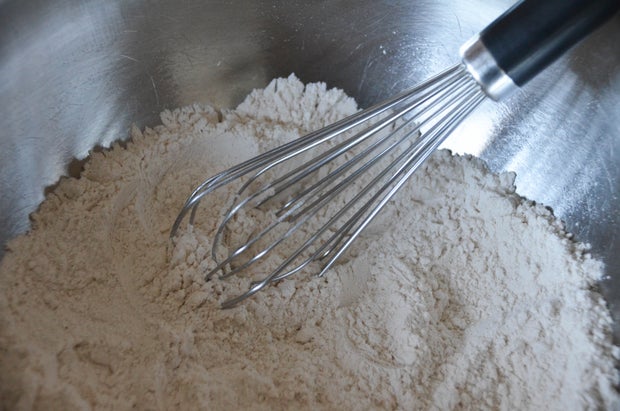 Jocelyn Hsu / Spoon
To start, the recipe states to put either a baking stone or baking sheet into the oven while it preheats at 375 degrees F. I don't have a baking stone, so I just placed a heavy baking sheet in the oven. Next, I mixed the three dry ingredients: flour, baking powder, and salt. The recipe notes that all-purpose flour works best, but cake flour also works! However, it warns against using whole wheat or bread flour. The recipe calls for 1 tsp of salt, but I added more around 1 ½ tsp of salt because 1 tsp didn't seem like enough to me.
Next, the recipe states to "stir in the milk," which I was a little confused about. I was not sure if it meant that I was supposed to pour all of the milk in at once or slowly pour it in, so I started pouring a small amount in and stirring it, but I ended up just pouring all of it in at once. The dough began to come together as I mixed, but it was still separating a little bit. In hindsight, I would have continued to pour in a small amount of milk then mix, as I think it would have made the dough come together a little bit better. When the dough was mostly combined, I placed it onto my counter, which I had already sprinkled a bit of flour onto. The recipe says to "knead briefly," but I wasn't sure how long that was, so I just kneaded the dough until it was a uniform consistency and wasn't breaking apart. I shaped the dough into a disk shape—about an inch to an inch-and-a-half thick. I cut a large 'X' into the dough to "score" it, then put it on the hot baking sheet. It baked for 35 minutes.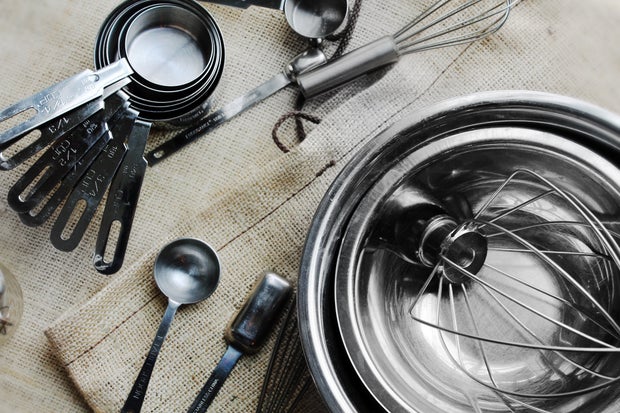 Ellen Gibbs / Spoon
When I took the bread out of the oven after 35 minutes, it was slightly browned on the top; however, when I tapped the bottom with a spatula, it sounded hollow. I ended up putting the bread back into the oven for another 5 minutes, just to get the top a little darker. I let it rest for about 20 minutes before cutting it into slices. It was pretty thick on the inside, but definitely cooked all the way through. It was not the most flavorful bread, and it tasted a little bit like Bisquick pancake mix, but it was pretty crunchy on the top!
For the olive oil dip, the recipe was pretty simple! It gave amounts for both dried spices and fresh herbs, but I opted to use dried spices since I had all of them in my kitchen. I combined the thyme, oregano, rosemary, and red pepper flakes (the red pepper flakes were optional). The recipe also called for dried basil, but I didn't have any. Next, I added the olive oil to the dried spices and mixed. I added in the minced garlic, lemon juice, and pre-grated parmesan cheese. The recipe called for three cloves of garlic minced, but in hindsight, I would have added two instead because the garlic flavor was very strong. To try to balance this out, I ended up adding more lemon juice than recommended. I added salt and pepper to taste, and served it with the bread!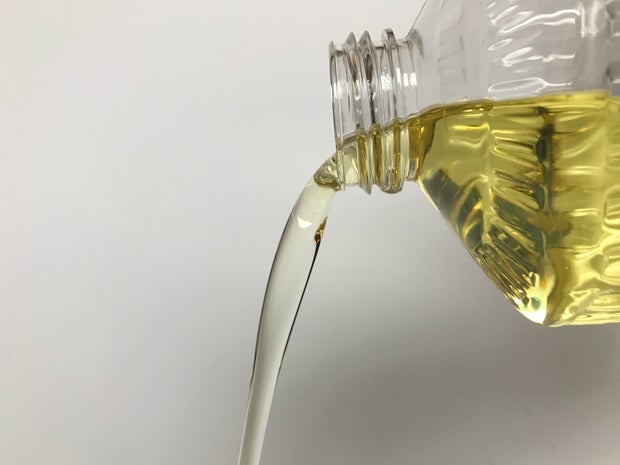 Alex Frank / Spoon
These two recipes were super simple and fun to make! The bread was a great, plain base for the olive oil dip, so they paired great together. I recommend both of these recipes!
Want to keep up with HCBU? Make sure to like us on Facebook​, follow us on I​nstagram,​ check out our ​Pinterest​ board, and read our latest Tweets​!