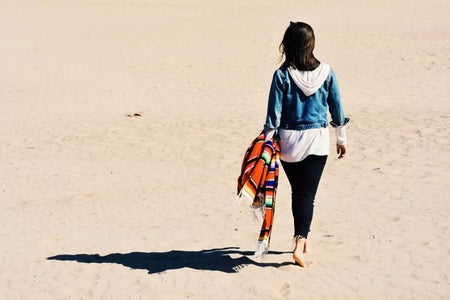 Anna Thetard / Her Campus
Considering Therapy? Your Questions Answered
For a while now, I have considered seeing a therapist. Recent events have put a strain on my life and I was struggling to understand how to deal with them and whether or not therapy would be a good choice. There were repeated questions I asked myself and I felt like I didn't really have any answers to them. Also, with these social distancing measures in place, I felt like there was more pressure to do well in classes and handle home life as well. With these thoughts in mind, I decided to interview some of my friends who have seen therapists about their experiences and these are the things that I have learned:
1.

You don't need to have a medical condition to go to therapy

I had always thought that I had to be currently suffering from mental illness to go to therapy, but that is not the case. Therapy can be for everyone, whether or not you are dealing with a mental illness or simply need to talk to a medical professional about the struggles that you have. There is nothing too big or small for therapy.

2.

Therapy can be used as a preventative measure

Kristen Bryant / Her Campus

Sometimes it is just as important to get a mental health checkup as it is to get an annual physical every year. Going to therapy early can help you see and realize any problems before they become bigger issues. This can help you feel more prepared for any future problems that arise.

3.

It's okay if the first session isn't what you expected

Kristen Bryant / Her Campus

Many strategies and activities take time to help. It may be hard to initially talk about your problems, but with time, discussing them with a therapist can help alleviate the burden. If you still feel like it hasn't helped, you can always try seeing a different therapist who may be more suited to your needs.

4.

You may still have unanswered questions

Some people go into therapy thinking that they know what to expect, but many times our expectations of therapy are not the reality. The therapist may not be able to answer all your questions, but they can help you find the cause of the problem or suggest a way to alleviate stress in a way that you may have not initially expected.

5.

Therapy is different for everyone

It's hard to know what to expect when you go into therapy because everyone's experience is different. This goes for therapists as well. If you find that the first therapist you see isn't a good match for you, it doesn't mean that all therapy is not good for you. You might just have to find a different therapist.
These discussions helped answer a lot of questions and insecurities I had about starting therapy. Talking about mental illness made me understand how important mental health awareness is and how everyone should be prepared to learn about it. Discussing these topics can help bring help to those who need it and it is important to keep doing so.
I'm not sure if I will go to therapy, but having these discussions has definitely opened my mind.
Want to keep up with HCBU? Make sure to like us on Facebook, follow us on Instagram, check out our Pinterest board, and read our latest Tweets!