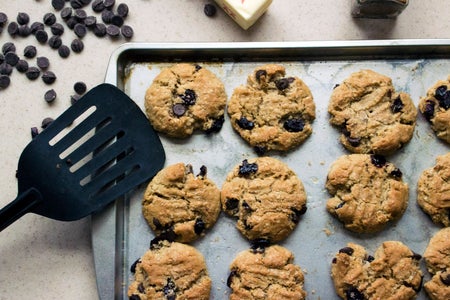 7 Desserts to Make While Self-Isolating
As I've adjusted to taking online classes and social distancing, one of the biggest blessings of being home has been having my kitchen. Over the past month, I have gone through countless batches of cookies (to the point where we almost ran out of flour, eggs, and milk a few weeks ago). Here are some of my favorite recipes from the past few weeks.
I made these delicious, buttery cookies the first week I got home, and I have since made them three more times. They are sugary and sweet, and they actually taste better cool, so you can keep munching on them over the course of a week! I followed this awesome recipe I found online; I prefer them with just a sprinkle of granulated sugar on top, but they are also delicious with browned butter frosting.

I got a cake pop maker off of Amazon a few years ago, and they have since become one of my favorite homemade treats. My favorite recipe requires using a cake pop maker, but there are also ways to make cake pops mixing cake and buttercream frosting. It usually takes about four hours of mixing, cooling, and decorating to create a few dozen pops, but the time is always worth it for the delicious results.

These soft peppermint cookies by Kitchn taste like Christmas and the log-rolling technique of mixing multi-colored dough makes for a fun afternoon pretending we're just on Christmas break.

5.

Peanut Butter Blossoms

These cookies—a delightful combination of peanut butter cookies and Hershey kisses—are my mom's absolute favorite. Follow the recipe or spice them up by adding colorful sprinkles or different types of Hershey kisses.

With temperatures in Nashville over 80 degrees the past few weeks, I've been in the mood for something cool, and these milkshakes absolutely do the trick. This recipe actually used to be on the back of Oreo packages, so you know it's the best for sunny spring days.

7.

Chocolate Chip Cookies

No article is complete without classic chocolate chip cookies. Honestly, I've been making them from frozen cookie dough from a fundraiser, but I also love to experiment by making cookie-bars in brownie trays and adding melted chocolate chip icing. There is really no way to go wrong with chocolate chip cookies, so try out a new recipe and let your imagination run wild!
Preheat your oven, melt your butter, and start baking! Remember to have fun and experiment with your baking, and send me your favorite recipes and pictures to try out!
Want to keep up with HCBU? Make sure to like us on Facebook, follow us on Instagram, check out our Pinterest board, and read our latest Tweets!