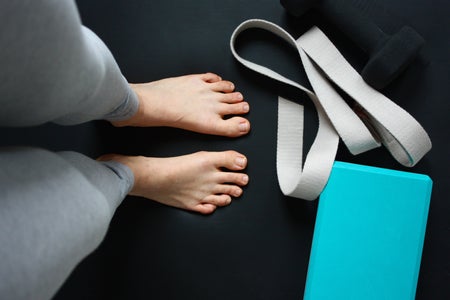 5 Fitness Items to Keep in Your Dorm Room
If you live far from the gym, or are generally a lazy person (like me), it can be hard to muster up the motivation to get a workout in. But despite what they say, you can have the best of both worlds. These next five items are my top recommendations for people who want to stay fit, but are sometimes reluctant to venture out of the confines of their dorm room.
When all you feel like doing is some squats or hip bridges before you go to bed, these will help you actually feel the workout. They'll keep you from cheating your way through your quick twenty reps, and will make you feel accomplished even if all you did was some clamshells on your bed.

If you're a beginner, I recommend getting a five-pack from a brand like Fit Simply, which has resistance levels ranging from extra light to extra heavy. This will allow you to work your way up at your own pace and vary the resistance depending on what workout you're doing.

While this and the next item don't technically add to a workout themselves, in my opinion they are absolute must-haves. With all the walking you do on campus, even if you don't realize it, the muscles in your legs are tight. Add on additional workouts with no foam rolling and you've got sorer muscles and longer recovery times.

A small foam roller is perfect to keep tucked away in your dorm, in a corner or under your bed. They really are the definition of "it hurts so good," especially if you've never foam rolled before. It will feel grueling on your muscles at first, but after doing it consistently, you will most definitely feel a difference and will never be able to go back. 

These are great for pretty much the same reasons as foam rollers, except I think they're better for targeting the muscles in your back and right below your neck. Another plus is that you probably have them lying around at home or can find someone to spare you an extra, so you won't have to go out and spend any money on a fancy new gadget!

This one is pretty self-explanatory. Working out in your room shouldn't be restricted to just doing crunches on the floor. If you have easy access to some weights, you don't have to feel guilty about not doing a "real" workout just because you don't feel like leaving your room.

I recommend having a pair of medium to light weights as well as a heavier pair, so that you can vary them with your workouts. You can use these for simple bicep curls or get creative with plank rows or other workouts.

This is important! No matter how much you vacuum, your dorm carpet is probably a little gross, and that's okay. Unrolling a yoga mat every time you want to work out or stretch may feel like a bit of a hassle, but trust me, it's worth it. Having one will make you feel more at ease when working out, and you'll be able to get into those deeper stretches without worrying about accidentally getting someone's hairball in your face. And of course, it will also give you a softer surface for floor workouts, which is always a plus.
While we're all trying to get outside and be active as much as we can, it's also perfectly valid to just want to stay in our pajamas sometimes. And with these five items, doing so doesn't mean compromising all our fitness goals!
Want to keep up with HCBU? Make sure to like us on Facebook, follow us on Instagram, check out our Pinterest board, and read our latest Tweets!