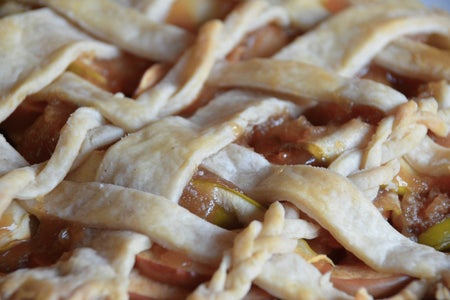 Betty Crocker Fall Themed Recipes to Try
Ever wanted to bake something new that's a little more exciting than your basic box of brownie mix but not sure you have the skills or dedication to make something completely from scratch? Well the Betty Crocker website is here to save the day! During my baking stint over the summer I discovered that as a way to promote their box mixes Betty Crocker writes up fun recipes that incorporate the box mixes and does not require that many other ingredients. These are some fun fall ones to try to get into the spooky spirit!
Snickerdoodle Apple Cobbler
This recipe has been on my list the longest because I think it is the best recipe for after apple picking when you have a ton of extra apples that you don't know what to do with. It is similar to apple crisp, but it incorporates the Betty Crocker sugar cookie mix and ground cinnamon. This means that it has a thicker pastry topping than apple crisp usually does.
https://www.bettycrocker.com/recipes/snickerdoodle-apple-cobbler/7d3c3402-5b02-4a99-814f-85d711d8bd1b
Blueberry Cobbler
This cobbler is probably the easiest recipe on the list. It only requires five ingredients, all of which you probably already have in your home even if you don't bake very often. It calls for butter, Bisquick, sugar, milk, and blueberries. This recipe will hit the spot on any blueberry pie cravings you may have before Thanksgiving comes around.
https://www.bettycrocker.com/recipes/blueberry-cobbler/081e1713-454d-4d2d-a54d-7ea9579d29b2
Pumpkin Patch Brownies
This one is for the child in all of us. However, it is a lot less exciting than it probably sounds and surprisingly does not call for any pumpkin flavoring. This recipe uses the Betty Crocker brownie mix to make traditional brownies, then adds green frosting, crushed up oreos, and those little pumpkin candies that taste the same as candy corn to make the brownies look like a pumpkin patch. This one is a bit more for show than taste but they do look adorable in the end!
https://www.bettycrocker.com/recipes/pumpkin-patch-brownies/af5b79df-e524-4891-972c-e962408fcfc2
Pumpkin Snickerdoodle Cookies
Another snickerdoodle recipe, but this one in the form of cookies with pumpkin and white chocolate added. This one is also super easy, calling for the snickerdoodle cookies mix plus flour, pumpkin pie spice, white chocolate, and canned pumpkin.
https://www.bettycrocker.com/recipes/pumpkin-snickerdoodle-cookies/ebace2bb-3f37-441d-836e-d861412a30c6
Pumpkin Swirl Brownies
These brownies are the most chocolate indulgent on the list and perfect for anyone who is not a huge fan of pumpkin flavoring. This uses the brownie mix again but then calls for canned pumpkin and cream cheese to add a soft pumpkin filling to the brownies. One of these straight out of the oven would be chocolate-pumpkin heaven.
https://www.bettycrocker.com/recipes/pumpkin-swirl-brownies/a04602d7-4c6a-4008-9224-9c76a5ccd4f7
Streusel Coffee Cake
Coffee cake is not the most closely associated with fall, but I feel that because of the brown sugar and cinnamon it has an honorary place on the list. This recipe calls for Bisquick as the base of the pastry and a few other ingredients to give it that coffee cake look and taste. A piece of coffee cake with a cup of hot coffee is the perfect breakfast for any fall morning.
https://www.bettycrocker.com/recipes/streusel-coffee-cake/6961f214-b8aa-480b-8cd5-d57ea4350757
Chocolate Chip Pumpkin Bread
The most traditional fall recipe ever  but make it a little sweeter and add some chocolate! This, unlike the other recipes, requires you to put in a little more work because it does not incorporate one of the Betty Crocker box mixes. But, I feel that when you put in a little bit of elbow grease you can taste the dedication in whatever you make in the end.
https://www.bettycrocker.com/recipes/chocolate-chip-pumpkin-bread/a99c894d-f7d2-40ef-ae17-4054f7e982be