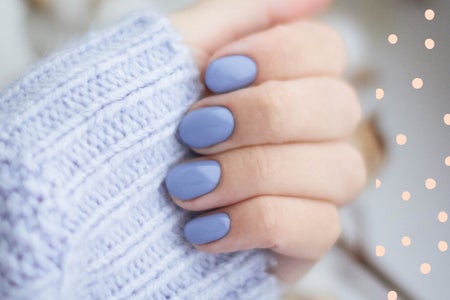 10 Manicure Ideas for Short Nails That I've Been Keeping in My Saved Folder
If you've ever tried to grow out your nails for a manicure only to have one single nail break and ruin all of your hard work, you know why it can feel way easier to just stick with short nails on a daily basis. You might think that you need extra long nails to create intricate nail art and designs, but short nails are a perfect canvas for all your mani dreams (plus, they are way less likely to break and become painful).
It can be challenging to find gorgeous designs intended for short-nail manicures, but I've been compiling some inspo of beautiful designs for short nails that are sure to influence your next salon visit.
I know it's still winter, but these adorable floral designs are sure to put you in a better mood and leave you looking forward to spring. Some of these flowers might seem tricky to paint, so here's a YouTube tutorial that will help you out if you want to do them at home instead of a salon!

I don't know if anything can beat a classic red mani. This look seems simple, but it's a bold color choice that instantly makes you feel confident and put-together. Try a red manicure with matte polish or add a little shimmer to make your nails pop.

It's never not a good day to add a bit of shimmer to your nails. I love this look because it's super easy to switch out for different shimmery polish colors depending on your mood. Your nails stay cute and sparkly no matter the color you choose. 

This look might feel like it's out of your comfort zone, but a simple YouTube tutorial  will definitely help you out! The swirls of color and slight touch of gold in this design are so unique, and you can be creative and use any polish colors you want!

Multi-colored nails are super on-trend right now, and for good reason. Adding contrasting colors is an interesting way to shake up your mani, and bold colors mix it up while coordinating colors add cohesion and style to your look.

I think there's something so pretty and simple about a nude manicure. To switch things up, try using different shades of nude nail polish for a unique monochrome mani, or add a bit of shimmery light pink polish over nude nails for a bit of shine. A nude mani is also a great option if you have an important interview or meeting coming up, because it's subtle and professional. 

If you're looking for a fresh manicure idea, try mixing bold colors with fun little polka dots. I love a good shimmery nail polish, but this design works for everyone, even if you're not a glitter fan, since it also looks adorable with matte polish.

French tips are timeless and elegant, and they look amazing with every outfit. If you want to spruce up traditional tips, try using different colors like black or fuschia, or create reverse French tips by painting a simple half-moon shape at the base of your nails instead of the top.

If you have some time on your hands (and a patient, steady hand), you can never go wrong with this night sky-inspired mani. Paint the moon, add some gold or silver foil constellations, and you're set to shoot for the stars. For a simpler take on this design, paint your nails a pretty dark blue and then use white or gold polish to add tiny stars by dotting the polish onto your nails.

This is the perfect mani for when you want subtle nails, with a pop of something unexpected. Mixing solid colors with a fun tortie accent nail is a great way to be a little bold with your manicure. 
Hopefully you've found some major inspo to make your short-nail mani dreams come true. Although some of these designs might seem tricky, remember that nail art is still art, so have some fun with your nails and don't worry about being perfect.