There's a reason collegiettes gain the infamous Freshman 15. Whether it's the stress of classes, the busyness of trying to balance a full course load and a social life, or the seemingly unavoidable late-night snack temptations, there are so many aspects of college life that can lead us to develop some pretty poor eating habits. And here's the kicker:  once we've started, it's not so easy to stop, especially when our schedules are as busy as ever. We talked to collegiettes to find out what bad eating habits you've picked up and got some expert advice from Vancouver-based nutritionist Elizabeth Campbell on how to turn these habits into healthier ones.
Bad Habit #1: Developing a dependence on coffee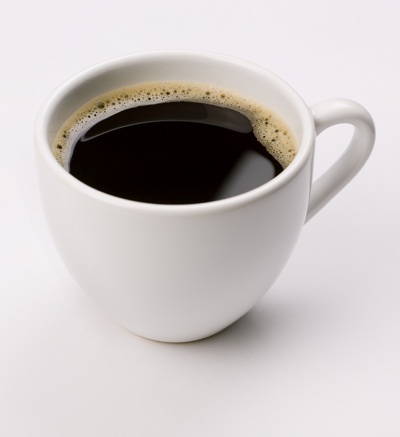 Many of us feel like we need coffee in order to keep us alert for our early morning classes. If you're relying on the caffeine in your coffee to get you through the day, you're not the only one.
Phyu-Sin Than, a sophomore at Mount Holyoke College, who recently bought a coffee maker for her room, also has a self-described dependence on coffee. "I've picked up drinking coffee a lot, which suppresses hunger, and that's not healthy. I'd be too busy to sit down and have a proper meal, so I usually end up snacking and having coffee a lot of the times."
According to the FDA, having one to two 5 oz. cups of coffee isn't very harmful (although some people are more sensitive to the effects than others), but if you're having four to seven cups of coffee a day, you're consuming too much caffeine.
Instead of reaching for caffeinated drinks, Campbell suggests starting your day with an antioxidant- and vitamin-filled green smoothie — made up of raw fruit and vegetables of your choosing. You'll get energy from the natural sugars, in addition to fiber. "[Fiber's] going to slow down the release of sugar into your bloodstream and keep you more at an even keel so that there isn't any spiking or crashing in your blood sugar — which is something that coffee would do."
Also make sure you're well-hydrated throughout the day, especially in the morning. Campbell suggests starting the day with a bit of lemon or lime juice in your water to help cleanse your liver. "When we're sleeping at night our liver is still cleansing all of our blood. A lot of times when we wake up in the morning and we're still feeling a little bit groggy or tired, it just means that our liver hasn't fully processed all the toxins out of our system."
Check out this article if you want more advice on how to get energy without caffeine.
Bad Habit #2: Skipping breakfast or other meals
For many of us, sleeping in sounds like a better option than getting up a few minutes earlier to have a proper breakfast.
"I'm, unfortunately, still on a dining plan, so it's hard to get to breakfast when it closes at 11am and I have class at 10 am. I just can't wake up early enough to get there," says Sonali Patel, a junior at Boston University. "More often than not I wake up late and then rush to class without any sustenance."
Now Sonali is making an effort to eat breakfast, starting with changing her schedule. "This year I scheduled a gym class from 9 to 10 am, so I have no excuse for not being awake for breakfast. Now I just head over to the D-hall [dining hall] after my weight training and have a bowl of oatmeal or some eggs or some whole wheat pancakes and it is AMAZING. Breakfast is the best meal ever; why is it so easy to skip it?"
Campbell recommends having some fresh food available that you can take with you on the go, such as nuts and seeds, fresh fruit or a healthy granola bar.
She shared a quick and easy way to put together a healthy breakfast granola cereal:
Put chia seeds in a bowl (about 2 tablespoons) — "The benefit of something like chia is when you add liquid to it, it expands but it also has all of your Omega-3s, which is good for grain stimulation and health," says Campbell.
Add some nuts and seeds — "[They] have your protein so that's going to sustain you a little bit longer."
Add slices of dried or fresh fruit — "Having your dry fruit or fresh fruit in there is going to give you a lot of your vitamins and minerals."
Add milk (about ½ cup)
If you're always rushing out the door in the morning, you can also prepare it at night and save it in a thermos in the fridge to grab in the morning.
Pages