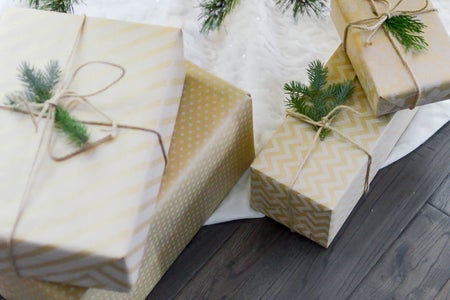 Perfect Personalized Christmas Gifts for Anyone on Your List
Thinking of good Christmas gifts for everyone on your list year after year can be tricky. For those of you that need some inspiration, no matter who you're shopping for, let me help add some items to your Christmas shopping list to include some personalized gift ideas to make anyone's heart melt! Whether it be for family members, friends, or your S.O., these ideas are inclusive and can be gifted to anyone you're shopping for!
It's vintage but it's timeless! A custom retroviewer allows you to personalize a photo reel for anyone on your list and allows them to look through a retroviewer to view photos with a 3D-like feel. You can upload seven pictures of your choice and design the center image as well. The website allows you to also insert text with a variety of available fonts and colours, and it also allows you to edit your photos with filters. The gift comes with the reel and the retroviewer itself that allows you to flip through the pictures in a unique and sentimental way! You can also order a reel individually if you would like to give the same person an additional reel in the future. This idea is customizable to anyone on your list. For your parents, you can include pictures of your family from when their children were young to the present day. For friends, you can include some of your favourite memories or pictures of one important event you experienced with them such as prom. The possibilities are endless with a custom retroviewer so be creative with it!

 

Price Range: Approx. $30 for retroviewer and reel

Where to Buy It: Image3D

2.

Adventure Challenge Books

This is perfect for that person who's outgoing, loves adventure and values time with others! Adventure books have been quite a popular gift item this year and the company offers three versions of the book to purchase: for couples, for family, and for friends- making it the perfect gift for anyone on your list! The book comes in a scrapbook-like design, as each page comes with ideas for adventures, as well as a space to add a picture taken during your adventure and  a spot to write a blurb about your experience. You have the option of purchasing the adventure book alone or buying a camera along with it to help capture your memories! This is the gift that keeps on giving through the form of experiences, memories, and time spent together. At the end of all of the adventures, the book allows them to look back at all of the fun times and relive them over and over. The Adventure Challenge Books are truly one of the best ways to give someone some guaranteed fun!

 

Price Range: $55 for book, $200 for book and camera 

Where to Buy it: The Adventure Challenge

A personalized Spotify song pane is a perfect gift for someone who you share a love of music with or a love for a specific song. Picking any song of your choice, Spotify song panes mimic the look of the Spotify layout, including the song title and the pause/play button and many other little details. You can choose any picture you like as the 'song cover', allowing you to personalize the gift in the most sentimental way! You can choose a song whose lyrics remind you of them or a song with significant meaning to you both- the possibilities are endless. Some sellers of this gift offer to include a scannable code on the gift as well. This allows you to scan the code with your phone, and it will automatically open up the song on your Spotify app. This gift is a great way to express your love for someone through music. 

 

Price Range: Approx. $20-50 

Where to Buy It: Etsy

4.

Initial-Engraved Clothing

This is a gift that kills two birds with one stone giving the recipient a great addition to their wardrobe, but with a twist- adding a sentimental aspect to it. This idea is most popular with sweatshirts and hoodies but can be done with any article of clothing. Whether you do it yourself or find a local business who can do it for you for a low price, you can add your initials or a small message to the hoodie to make it extra-special. This gift is especially common for couples, as you can get your initial and a heart sewn into the sleeve of the clothing. It helps remind them of you anytime they wear it, making it a perfect gift for your significant other! 

 

Price Range: Estimated around $30-80

Where to Buy It: Clothing store, local business

Once again, this gift is very popular to give to your S.O! This present is a framed image of the night sky the night you met, or the night of your first date- or any other important moment you would like to highlight. It includes not only the stars of the night sky, but also a sweet message at the bottom, such as "The Night our Stars Aligned" or "We got married under these stars"- the possibilities are endless and can cater to the specific moment you are using. It can also include the date, time and location of the moment, as well as your names. You can use this for your own S.O, or for other couples as well, such as your parents' anniversary. This gift is the perfect way to commemorate a special time shared together and to represent that time in a beautiful way. 

 

Price Range: Approx. $20-45

Where to Buy It: Etsy

6.

Personalized Family Name Sign

Guaranteed to be a cherished gift, this is a great idea for any member of your family- especially for your parents or grandparents. Personalized family name signs allow you to provide your last name as well as the year of establishment- which can be your parents' anniversary, or the year you moved in- and have it displayed on beautiful wood. There are also options to order it as a metal sign as well, which can be used for wall décor both inside and outside. This is also a great option for a couple that are newlyweds! It's a beautiful sentiment perfect for home décor and for warming their hearts with pride and love for their family. 

 

Price Range: Approx. $30-60 

Where to Buy It: Etsy
Personalized Christmas gifts add a new sense of appreciation and gratitude towards your gifts, as it represents the value you both hold to your relationship with each other, whether it be between friends, S.O's, or family members. Hopefully, these gift ideas help you add that sense of customization and sentimentality to your gift-giving to truly represent the care you have for others!