Seeing a Counselor was the Best Decision I've Ever Made: Here's Why It Could Help You Too
We live in a world of zoom calls, hand sanitizer and social distancing guidelines. It's difficult for us to be "out and about" and yet our to do lists are still a mile long. While we've been busy trying to adjust to our new "normal," medical professionals have shown evidence that the public health crisis, quarantine and unpredictability of the past six months has led to greater feelings of anxiety and depression. So, then the question is: where do we go from here?
For me, the best answer was to see a counselor. Although I'd begun talking to her before the pandemic, this strategic practice of not being in control has pushed me in ways I didn't think possible. For that reason, talking to her has become a regular increment in my schedule, and I don't know where I'd be without her.
I have a very strong type-A personality. Basically, I like to plan every detail. During high school, that often meant that my self care fell on to the backburner. Although it's typical for high school to have its ups and downs, I started to get to the point where my downs were no longer healthy. I wasn't coping with my emotions, playing them off as a normal part of being a teenager. Some of them were hormones, sure, but the reality of them went a lot deeper. It took me a long time to admit it. Even after having a panic attack, I thought that asking for help meant I lacked the tenacity to get through my challenges. Since I had a great support system, I thought admitting I needed help meant that I wasn't strong enough. What I have come to realize, though, is that the opposite is true.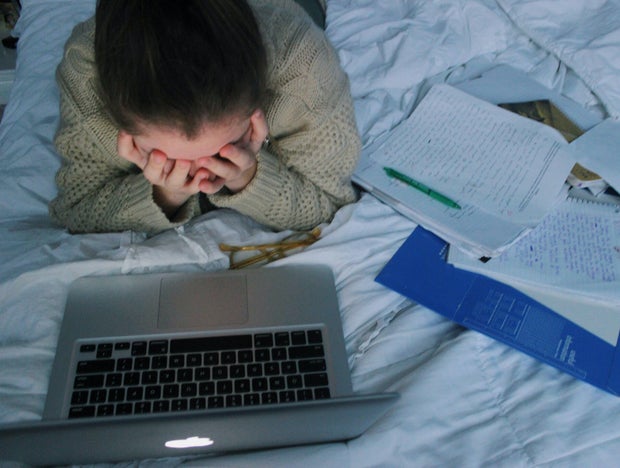 Anna Schultz / Her Campus
Anxiety is a build-up of fear that keeps us safe. It becomes dangerous when it goes unchecked and takes over, much like power. Since I started counseling, I've learned that some people are just hardwired to hold more anxious tendencies than others, but that they exist for everyone. In the past year and a half, I've really worked on taking back my power. I'm now in charge of my emotions, instead of them being in charge of me. 
There used to be one voice in my head. It would tell me to lift others up while simultaneously tearing myself down. It liked to compare me to my peers, and it liked to form unrealistic consequences of my actions. It was a lot of "what if this happens," or "if I do X then it will jeopardize Y." Now I've come to realize that it's more like the angel and the devil, and I've started to be able to switch my mindset to recognize when I'm acting on my anxiety rather than my reality.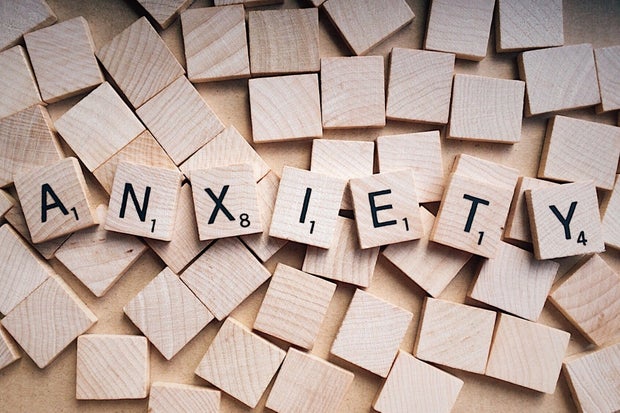 uploaded to Pixabay by Wokandapix, but credit/attribution not required.
That's not to say I still don't have my moments, but I've invested a lot into reevaluating how I handle them. Right now, the need to focus on mental health and self care has never been greater. Even if it's not talking to someone professionally, sharing and confronting your emotions goes a long way to helping you feel-- for lack of a better term-- better. It gives you a way to feel validated without feeling inferior. Parents and friends are great, but the objectivity of an outside source is productive in the way that it allows you to develop coping strategies for yourself. 
The great thing about talking to someone professionally is that the subject of the discussion is entirely up to you. There isn't a day that I've walked into a session thinking I was going to talk about one thing, and walked out talking entirely about something else. It always amazes me how much is really on my mind. It can be really intimidating opening yourself up to a stranger, but how much or how little you say is your choice. You can talk their ear off, you can cry, or you can just sit and find some peace. What you get out of counseling is up to you: it's your journey.
Professional help isn't feasible for everyone, and that's okay; there are a lot of other options that can help you when you feel overwhelmed and don't know what to do. Write it out. Unapologetically, write it out. There's something about putting thoughts on paper that is really clarifying, and it's 100% private. If that's not your speed either, exercise. Endorphins, at least for me, help me process. Take breaks-- take screenless breaks. Our lives are now online, so give your brain a rest from the light. You can also draw or color or just breathe. It's really easy to find one minute breathing exercises online: in fact there's one right here. Regardless, do something for yourself every day.
2020 has taught me a lot about myself, but I don't think I could've discovered it all without help. 
I'd recommend talking to someone to anyone who needs it. Professional or not, it's gratifying to know that someone hears you. It doesn't matter if your anxieties rarely bother you. Our lives are weird right now, and it's a strength if you can recognize that you're not yourself. We need to lift eachother up, and I hope you can find someone that will do that for you. An outside resource can be grounding, so if you are even a little bit curious about talking to someone, UHS mental health is a good place to start. Click here for more.