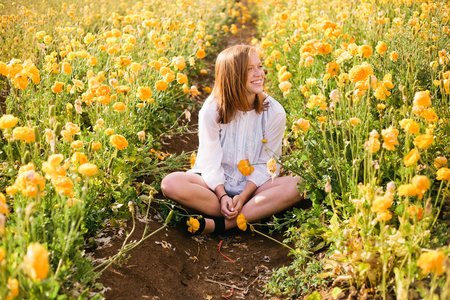 9 Ways to "Spring Clean" Your Mental State
In the chaos that is our everyday lives, our mental clutter often is left unorganized. It becomes so easy to push feelings aside, focusing on tasks that we can check the box next to in order to feel a sense of success. Here are nine things you can do this Spring for your mental wellbeing.
1.

Unfollow people on social media who don't spark joy

Social media has a huge presence in our everyday lives. We're constantly comparing ourselves to the lives we see led on Instagram, Facebook and Twitter. Recently, I've made it my mission to make sure that all of the content I see on these apps is positive. For me, that meant unfollowing dieting accounts and even some people in my life that are negative. By only seeing people that I care about and accounts which preach self-love and positivity as well as truth, I've found myself to feel better about myself when scrolling through social media!

This is a classic method of practicing self-love, but it can also be the hardest. This spring, get used to saying "no" to too many obligations. Stop stretching yourself too thin and give yourself a chance to breathe! Making too many plans and forcing yourself to follow through on commitments can have you feeling drained. Choosing one or two extra activities besides work and school will help you to balance your time, but also be present in all activities. 

This one can get tricky. I'm not saying that you should blow through your savings, but spending a little extra to make yourself happy is totally worth it. Small purchases or additions will motivate you to continue through your day as well as give a small boost of dopamine!

4.

Get some sunshine time

Get outside! Vitamin D is proven to elevate mood and push stress away. This can even mean doing your homework at a table outside rather than in your bed. Extra points for this if you're pairing sunshine with an athletic activity!

Breanna Coon / Her Campus

As tough as this can be, it's so important to allow yourself to feel blue. Pushing away stress or sadness will only allow it to build. Give yourself a moment to be sad and even cry if you need to. By acknowledging those emotions, you can process them and move forward with your day.

6.

Reevaluate your relationships, focus on how you feel around certain people

People are tricky. It's always tough to think about those around you and if they're still a good fit in your life. Really focus on how you feel when you're around them: are you constantly on edge? Do you feel inadequate despite not wanting to be in competition with them? Are there more bad moments than good? If so, it might be time to start distancing yourself. It might not be completely clear, so taking some time away from someone to clear your head could give you an answer.

7.

Spend some time with yourself

Tessa Pesicka / Her Campus

Plan an activity or day for yourself. This is especially freeing if you're in a public place, doing something you wouldn't usually be alone for. Becoming comfortable with yourself means appreciating your own presence. It might take some practice but it's all worth it on the journey of self-love.

The majority of this list is actively trying to sort through the feelings and emotions that come with interacting with people. Sometimes, it's too overwhelming to try and work through which is where a coloring book comes in! Focusing on a simple task is a great way to de-stress, and coloring can be extremely calming.

As you're practicing becoming more independent and self-reliant, it's also important to remember that you can't do everything. It's okay to ask for support from your friends and family!
Spring cleaning is typically used to describe the organization of most aspects of our daily lives. While trying to make sense of our chaos, it's important to take some time and focus on the clutter in our minds as well. Each of our mental spaces are unique and necessary for life, we might as well make an effort to keep them tidy.