How Food TikTok Taught Me To Cook
I hopped on to the TikTok train about this time last year. I downloaded the app because my friends had told me how entertaining it was and I just wanted to see what the hype was all about. My "for you" page (FYP) was filled with nothing but various dance trends and other amusing content. It wasn't until I stumbled upon what they call "Food TikTok" that my FYP was never the same. I found myself favoriting countless recipes and new things to try. Since then, my cooking skills have improved immensely. 
Thanks to TikTok, I've learned so many recipes to make during the week. This time last year, I was relying heavily on DoorDash and UberEats for fast meals. This semester, I decided to finally make an effort to use the recipes that I had been saving for so long. I was able to learn how to make homemade carbonara, chicken tenders, a spicy pasta dish, ranch seasoned chicken, multiple ways to cook potatoes, and more. These may seem like basic meals to some (stirring the egg in the homemade carbonara brings on a different level of stress though), but I've noticed a difference in the way I feel by eating homemade meals regularly.
The visuals that TikTok provides helps so much during the cooking process. For other text-dominated recipes, I always found myself wondering if my food was lining up with what the text described. With TikTok, there's no guessing because the visuals are right there on my phone screen. At times, I did have to transcribe the directions into my Notes app if I did not have the time to keep rewatching the video while my food was on the stove. The commentary from the content creators and the video clips helped me know when I was on the right path. 
Not only did I find so many useful and yummy recipes to save, but I learned cooking tips as well. It's the little things like how to best cut a bell pepper or the best way to roast broccoli. Honestly, I've never enjoyed eating vegetables so much before seeing the multiple ways to prepare them on TikTok. It's allowed me to try new things and has made me more of a confident cook than I was before.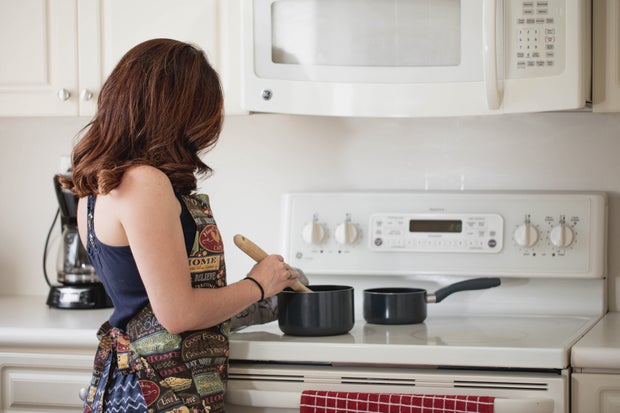 Photo by One Shot from Pexels
My three personal favorites are @jeremyscheck, @nutritionalsarah, and @theres.food.at.home. Of course, the Food TikTok world is vast and so many people have been sharing their recipes on the app. However, these three creators provide recipes and general cooking tips that have helped me feel more confident in my cooking skills.
Get yourself on Food TikTok. Start with a simple search for cooking videos or follow those people above. The rest will fill your page and before you know it, you'll have so many recipes in your favorites to pull from the next time you make a grocery store trip. If there's one big takeaway from Food TikTok that I need everyone to know: "Season with your heart."