Live Reacting to the Live-Action Kim Possible Movie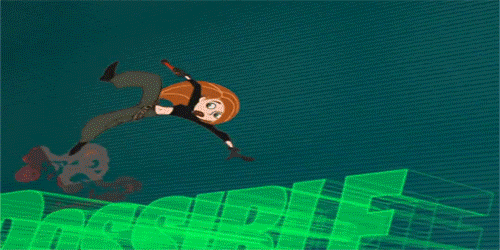 I've been waiting all week to watch the live-action Kim Possible movie that came out on Friday. I was intensely fanatic about Kim Possible growing up and the ~possibility~ of this movie potentially being good has kept me on an excited buzz all week. Quick movie review: does it deserve the 4.5/10 stars it has on IMDB? Probably. Was the acting pretty cringy? Yes, though Sean Giambrone did kill it as Ron. Did I know that Sean Giambrone is actually 19 years old and is 5'5''? No. I didn't. I thought he was 14 and 5'5''. Did I still love this movie? YES. I. DID. I LOVED IT. I watched it with our lovely senior editor and my dear friend Maria, who wrote this article about the movie, and we had a total blast. While Maria put together a more coherent and teachable takeaway from the movie, I wrote down all of my feelings in an abstract way that I think many of y'all will be able to relate to (though it's probably best to read this while you're watching the movie, like one of those programs you get at a school play). Oh, and duh, spoilers ahead! 
Okay, first thing I notice is that Kim is extra with every grappling hook and cartwheel and flip.
Why is she just standing there with her jetpack and not running away??
WADE!!!
The German guy just called her Fraulein which is not okay to say to women anymore…
When Kim let that guy use the jetpack to escape and she said, "Ron and I will just share one," and then held hands when they jumped off… I am SQUEALING
Kim is so organized… she totally binged "Tidying Up" on Netflix like the rest of us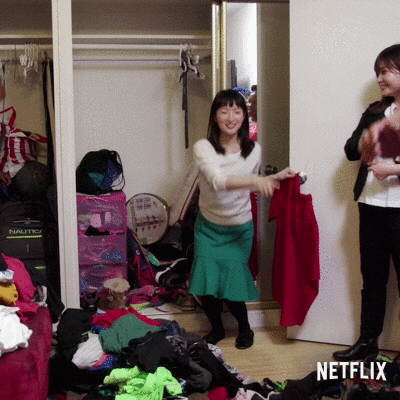 Actually, this is kind of annoying now… Kim's being a little presumptuous about her first day of high school… girl, it's NOT easy.
She's back to being extra and FLIPPING out her window for NO reason when she could have just stepped out of the window or used the stairs like a normal human.
Why is she running to the bus? It's really not that far away? And why did she feel the need to catch that baby with a grappling hook? Couldn't she just have said "Hey, your stroller is rolling away" and kept walking??
RON. IS. VLOGGING.
Kim just went ON THE ROOF to get to class, and she STILL GOT THERE LATE. Why are you on the roof? Everyone else in your class was able to make it there in time. If anything, going on the roof just WASTED time.
I love Ron. Sean Giambrone is KILLING this role!!
OMG Ron just said he lost his pants on the first day of 6th grade
Ron. Is. So. Supportive.
Okay, so Kim's amazing at soccer and deserves to be on the team… but Kim... YOU DON'T HAVE TO ACCEPT THE EQUIPMENT MANAGER ROLE. IF YOU DON'T WANT TO DO THAT, DON'T DO IT! STAND UP FOR YOURSELF!
This wouldn't even be a problem if Kim could just still be a cheerleader like she was in the show!! She was KILLIN' it on the cheer squad. 
Kim just said that she's having the worst first day ever, when RON JUST TOLD HER THAT HE LOST HIS PANTS ON THE FIRST DAY OF SCHOOL IN 6TH GRADE
Oh my God, who is this crying girl and why does her hair look HORRIBLE?
Kim doesn't need to flip all over the place to get to Athena on the ground… she's crying… leave her alone…
Athena, brush your hair ugh
BUENO NACHO LOOKS SO GOOD OMG… TACO BELL, WHO???
Why did Kim and Athena BOTH just order their burritos with NO SOUR CREAM? I'm lactose intolerant and I still order it… just take a lactase, y'all.
Athena just said that she cosplayed as Kim…. and dressed up her dog as Ron… Ron Stop-Pit-Bull. I'm floored.
Ron just said he WANTS TO BE A DOG WHEN HE GROWS UP. I love him so much
Ew they started barking at each other
This dancing/best friend scene is a lot… and how can you just IGNORE the fact that RON is your best friend and you LOVE HIM.
Also, where is Monique??? You got rid of her?? In Black History Month?? She was an iconic character and I lived for the Monique/Kim scenes in Club Banana
Side note: Drakken has an Instagram, except it's called "Villainstagram," which is the best thing I've heard all day.
Update: Athena is also good at doing flips?
I love Ron but can he calm down?
So… Athena finally figured out that her hair is hideous… and Kim just LEAVES her at the hair salon!
Wow Athena is serving a lot of looks right now with her Kim Cosplay (Kosplay? Kimsplay?)
Omfg Christy Carlson Romano cameo… her use of "teen slang" is so cringy. "On point!!!"
RUFUS!!!!!!!!!!!!!!!!!!!!!!!!!!!!!!!!!!!!!!!!!!!!!!!!!!!!!!!!!!!!!!!!!!!!!
Wow, Athena… we get it...you're smart…
Shego!! Looking hot!! Scary as ever!!!
KIM. YOU'RE NOT SPECIAL FOR BEING AFRAID OF EELS. WE'RE ALL AFRAID OF EELS.
I was mistaken. Ron loves the eels.
Woooooowwwww Athena can fight with a stick… can she stop flexing already???
Ok, so where did this footage come from? How does the whole school have a video of their mission?
OKAY, I UNDERSTAND THAT THIS IS SUPPOSED TO BE AN EXAGGERATED WAY OF SAYING THAT ATHENA IS BECOMING BETTER THAN KIM BUT… BEST FRESHMAN AWARD? A NEWSPAPER ARTICLE ABOUT HER? THE SOCCER TEAM?!
Ron is being so supportive through all of this and I just want them to fall in love already (but I also really love their friendship and I just love everything about them and now I'm emotional...)
YO KIM'S GRANDMA IS COOL
Wait, how big is her Grandma's house????
This seems like an abnormally large martial arts room for one house.
TLDR: Everyone thinks Kim needs to calm down about how she's no longer the best at everything (but I actually totally feel for her and I also struggle with perfectionism and comparison. Girl, come to my next therapy appointment with me, we both need it).
Kim failed a geometry test which is the most relatable thing to ever happen.
WHY IS THERE AN ASSEMBLY FOR ATHENA?! This nonsense wouldn't have happened if Monique was here.
OH SHIT, SHEGO IS HERE (and Drakken, but he's not as cool)
Oh my god, Athena just got Taken.
WHY IS THE WHOLE SCHOOL MORE FOCUSED ON KIM'S FAILED STICK FIGHT THAN ON THE FACT THAT THEIR FELLOW STUDENT JUST GOT ABDUCTED INTO A UFO-LOOKIN'-SPACESHIP THING?????????
Oh my god, Athena is EVIL, no wonder she's so WEIRD
I'm against the whole "save Athena" plot that's happening, but I'm here for this line of strong redheaded women saving the world together! Okay Nana! Go! Off!
What do you mean Drakken wants to "steal Kim's spark" ?????? He wants to take away her happiness, purpose, and drive??? Through a machine? That doesn't sound scientifically possible? Doesn't he know that society is set up to enable men to take all of those things from women with no machinery required? Seems like an unnecessary expense.
ATHENA IS A ROBOT.
DRAKKEN IS A CHILD.
SHEGO IS STILL HOT.
Rufus!!!! He snapped!! Go off, lil' buddy!!!! Saving the day!!!
Of course, everything is going to explode…
KIM. NO. ATHENA ISN'T YOUR FRIEND. SHE'S A ROBOT. DO NOT. TRY. TO. SAVE. HER. SHE CAN'T EVEN DIE BECAUSE SHE'S. NOT. ALIVE!!!!!!!!!!!!!!!!!!!!!!!!
Oh
My
God
Kim just picked up Athena's disembodied robot hand.
OH
MY
GOD
KIM JUST PICKED UP ATHENA'S DISEMBODIED ROBOT HEAD.
Oh my god, Kim's dad fixed her. She's not a human, she's a ROBOT. YOU FIXED A ROBOT SO THAT YOUR DAUGHTER COULD BE FRIENDS WITH A ROBOT.
What happens to Athena now?? Who does she belong to? Who is going to take care of her? Where is she going to live? Can she vote in 3 years? Is she a citizen? Does she have rights? For the same ethical reasons we don't clone people, we SHOULDN'T SAVE EVIL ROBOT TEENS EITHER.
I'm glad Kim and Ron are still besties though… God, I just love them together SO MUCH.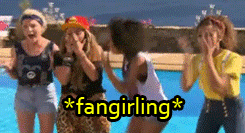 I think my main take away from all of this is that every single character was portrayed poorly except Ron, who was portrayed IMPECCABLY. Sean Giambrone deserves an OSCAR for that role!