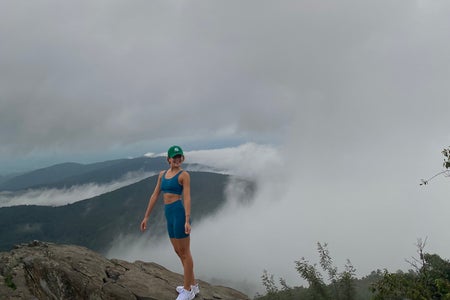 Original photo by Julia Cloppse
This whole "being the main character" idea has become so trendy, especially on TikTok, but it's something I never considered as applying to me. In the past year, my life has definitely changed for the better; and although a lot of concrete, easily identifiable shifts have happened, the one thing that I have realized most is that I am the main character. For me, this is no longer some abstract figure of speech, but something we all can apply to our lives in little ways. Overall, it's just about putting yourself first and listening to and loving yourself. You can't pour from an empty cup. Become your own best friend. 
    In compiling this list of ways to "main character yourself', I have included some quicker, everyday fixes and practices and some other more general overarching mentalities that are so important to implement in your life. TikTok isn't just fun and games after all. 
Original photo by Julia Cloppse

This one seems simple, but just leaving your room, avoiding studying in bed, taking your work to a coffee shop, and treating yourself to an overpriced latte every now and then is a game changer. Maybe even go off grounds a little to be surrounded by "real people" and not students. Ultimately, this is a great way to just romanticize writing that paper you've been putting off. Find yourself a cozy spot, look around at your surroundings and just spend a few hours lost in academia. I promise this will be so refreshing, and you'll feel like being much more productive.

Original photo by Julia Cloppse

 Social media scrolling just feels like the opposite of main character energy. Instead, fill your mind and gain inspiration from unconventional and more original sources. Taking a book outside somewhere or reading before bed or when you wake up avoids you feeling like you're in a never ending cycle of watching everyone else's lives through your screen. Instead, dedicate a few hours to stimulating your mind and spending your time enriching yourself. Find a genre you're into and start reading for fun. 

This one may seem overly simple, but squeezing some lemon into a mason jar with ice water has boosted my water intake so much and makes me feel like I'm at some fancy restaurant or on a beach somewhere. Why not fancy up your hydration game? 

4.

Take long walks and listen to music

Whenever I'm in a funk or feel like I've been indoors for way too long, I grab my sneakers and air pods and spend a half hour by myself just walking around the neighborhood. I blast a good playlist, walk, observe my surroundings, sort through my thoughts, and just let myself breath. You can even pretend you're in a music video, which I have to admit, I often find myself doing.

Recognize your needs in every moment and do your best to meet them. Always listen to your intuition. This could mean taking a break from studying because your brain feels close to exploding or saying no to friends because you have a test coming up and want to spend more time on the grind. It could mean resisting watching Netflix for the night because you know you could use some social time with friends. It looks different for everyone and in every moment, but never ignore that inner voice. Put it first because it knows best. 

6.

Prioritize your mental and physical health

Take exquisite care of yourself. Physically, this could mean yoga or pilates, finding a skincare regimen or taking time to lotion up after a nice, long shower. It could mean making yourself nutritious meals that fuel your body, drinking enough water, or stretching at night and in the morning. Never ignore the basics. Mentally, journaling has been a game changer. Self reflection and awareness is one of the biggest ways to change. Stay in touch with yourself and with your feelings. Whether it be taking time in the morning to write out some intentions or reflecting on your day at night, living more intentionally changes everything. 

7.

Make monthly playlists

Make a playlist for every month and add the songs you're currently loving. Not only does this give you a constant list of songs to play from, but they're so great to look back on. It's so true that songs remind you of different seasons of life, and it's like with these compilations of tunes you create overtime, you will always have a "playlist to your life". I cannot wait to look back on my playlists when I'm older and just be reminded of the good old days. Lastly, playlist curating is just so therapeutic and a very calming way to spend some free time. Adding cute emojis to the titles or playlist cover pictures are added bonuses!

8.

Take lots of pictures and make a monthly pinterest board

Take more pictures to capture the little moments. I find myself always snapping photos of beautiful skies, my satisfying cup of coffee, or happy, random moments with friends. I love having constant reminders of these little pockets of peace in my camera roll. I want to remember all of it! (Using disposable cameras is a fun, added bonus too.) What I like to do with my pictures is put them onto a monthly pinterest board, which also includes different inspiring quotes and pictures that I pin. This becomes like a monthly mood board and I love that it combines moments from my own life with other pictures that inspire me that I find from others. Another really great thing to have to look back on in the future :) 

9.

Set goals and visualize your future

Know what you're working towards and the life you're trying to build for yourself. Make them daily, weekly, and more long term. What habits can you cultivate everyday to make them happen? What kind of person do you have to become or show up as to make them happen? Live in the now and do things for yourself today but think long term and stay motivated. Never give up on the vision you have for yourself because only you can make it happen. You have so much power. You're the main character!