The Easiest Banana Bread Recipe Ever
Banana bread is one of the easiest and most convenient things to make. Chances are you'll already have most of the ingredients in your pantry and it gives you an opportunity to use those ultra-ripe bananas that have been sitting on your counter for days. I'm a real sucker for banana bread and after trial and error, I have figured out the perfect recipe. Luckily, this recipe for banana bread can be modified to suit your preferences and is seriously one of the simplest things to follow.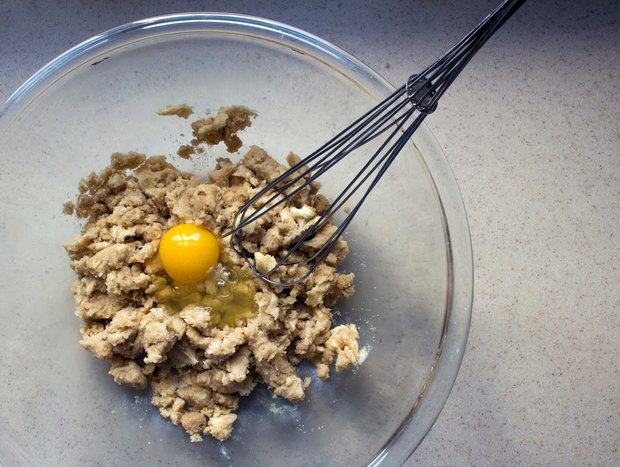 Brooke Buchan / Spoon
Ingredients: 
2-3 very ripe bananas 

1/3 cup melted butter 

1 tsp baking soda 

Pinch of salt 

¾ cup sugar (if you want it less sweet, use ½ cup) 

1 large egg beaten 

Splash of vanilla extract 

1 ½ cups all-purpose flour 

Chocolate chips (as much as you want) 

Walnuts (optional) 
Directions: 
Preheat oven to 350 degrees. If necessary, grease your 4x8" loaf pan. 
Mash ripe bananas in a bowl until they are smooth. Mix in the melted butter. 
Mix in the baking soda and salt. Stir in sugar, beaten egg, and vanilla extract. Then, mix in the flour.  
Add in chocolate chips and walnuts, if you choose to use them. Fill the loaf pan with the batter. 
Bake for 50 minutes – 1 hour. 
One thing I've noticed when baking banana bread is the difference in both taste and texture when using frozen bananas instead of regular bananas. There is absolutely nothing wrong with using frozen bananas for this recipe; in fact, it's a great way to use what you've already got sitting in your freezer. I do prefer, however, the taste and texture of banana bread that's been made with regular, room temperature bananas. The difference is very subtle but noticeable. I'd recommend making this recipe twice—once with frozen and once with regular bananas—just to test them out and see what you like better. The only real difference in the processes between the two is thawing the frozen bananas. Before mashing them, you'll need to leave them out until they've thawed completely. That way, you'll be able to mash them and mix in the other ingredients and it'll combine evenly while baking. 
This banana bread is truly one of the easiest things to make. Even if you think you're a horrible baker, I'm sure that this is one recipe you'll be able to make with no problem!