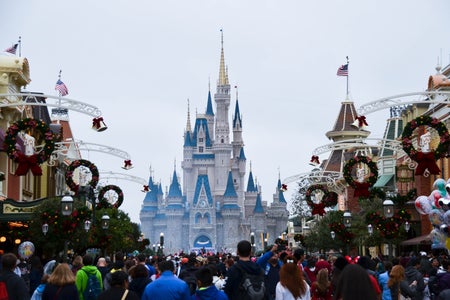 I Dressed Up as a Disney Princess, and You Should Too
A few years ago, I decided that it would be fun to start my own business and give back to the community in a creative way. I brainstormed all of my favorite things with my parents and BOOM – the perfect idea sparked! What if I did something crazy? Like dressing up as a Disney character and visiting in-need children at nonprofit organizations and military facilities? This idea stuck, and I was so ready to begin practicing my princess voice and autograph.
Frozen was brand-new at the time, and "Let it Go" had been permanently engrained in my head for weeks. Obviously, Queen Elsa would be the perfect princess to dress as. Just an FYI, I don't look much like the typical Elsa. I have dark hair, dark eyes and tan skin – aka not really "snow queen" material. However, with a custom-made wig, a sparkly dress and momma's help with my makeup, my transformation was crazy (and took forever to wash off).
By reaching out to numerous local organizations to see if they would be interested in partnering with me, I was able to score some solid connections. I volunteered with organizations such as The Fisher House, Habitat for Humanity, Eglin Air Force Base (AFB) Give a Child a Christmas, Children in Crisis and the Children's Advocacy Center.
Something I learned from working with these nonprofit organizations is that the volunteers and board members are so willing to help, and they have such big hearts for their mission. As a full-time student, the members in charge were very accommodating with my schedule. These members were also very welcoming and were willing to assist in any way to make sure my visit went smoothly, especially because the children always outnumbered me.
One of my favorite memories was volunteering with the Eglin AFB Give a Child a Christmas event at the Eglin base exchange in my hometown. This event provides gifts for local families in need of a little extra support over the holidays through a partnership with the Eglin Company Grade Officers' Council and the rest of the Air Force community. Each child has the chance to specifically request what they wanted for Christmas on a wish ornament that will be placed on decorated trees on base. The children involved have a planned six-hour day full of activities such as visiting the Air Armament Museum, watching a Christmas movie, shopping and enjoying a provided lunch.
As Queen Elsa, I got to hang out with Santa Claus (still fangirling, TBH), his elves, Mrs. Claus, the Grinch and a few other Christmas characters before the children arrived to shop. When they arrived, I had the privilege of chatting and taking pictures with them, but the most fulfilling part was taking them out shopping. I helped them pick out stylish outfits for school and new toys to take home. It was so rewarding getting to see the children so happy and in the Christmas spirit despite their underprivileged conditions at home.
Another memorable moment was working with the Fisher House's Festival of Trees charity event. The Fisher House acts as a "home away from home" for military families with loved ones receiving medical treatment. It is free of charge and is in walking distance (or provides transportation to medical facilities) to check in on loved ones. I was invited to attend their annual gala as a VIP guest and bring my family as well. From there, we were able to announce the theme for our Christmas tree that would reside with the other charity trees at the Festival of Trees fundraiser. Our theme was the "Wizard of Oz" because there is no place like home at the Fisher House.
I had worked as Queen Elsa at previous events with this organization, but I showed up as Dorothy for this to help spread the word and get people excited. I walked around and interacted with families by spreading awareness about the Fisher House's mission statement. We ended up winning third place and receiving $1,000 for our home on Eglin AFB.
My experience as Queen Elsa was so much more than just a game of dress up; it gave me the opportunity to put a smile on children's faces. After all, my ultimate goal for this was to make children smile and leave them with a warm, happy feeling. I was able to do so by mashing my love for Disney princesses, Frozen (obviously) and nonprofit organizations (especially military-affiliated ones) together. Talk about a real dream come true!
All in all, this was such a memorable experience, and I am so thankful for having such a supportive community to help me make a positive impact in children's lives. There is no better feeling than doing something that you love and making a difference while at it. Sometimes, you just have to "Let it Go" and do what makes you the happiest in life!