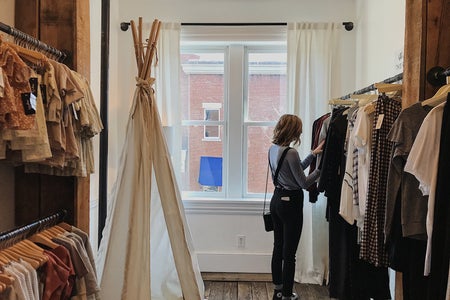 Cindy Crawford Is My Current Style Inspo
We all know her from the famous Pepsi commercial released in 1992. Yes, I am referring to the queen herself, Cindy Crawford. Her ability to effortlessly pull off a white tank and mom jeans, flawless hair and simple makeup makes me extremely jealous. Oh, what a life it would be to have Cindy Crawford's style. Oh, wait, it really can be that easy! Her look is so simple and something we can all accomplish with just a few pieces we probably all have in the back of our closets. Her minimalistic yet vintage style is something that I look to for inspiration every day when planning my outfit. She is my current style inspo, and I am obsessed with the countless number of outfits she can pull together with such few pieces.
There has been a term going around otherwise known as Cindy Crawford's "winning formula" which is her go-to outfit combination consisting of a bunch of basic pieces that can easily be mixed and matched in many ways. It can be used when running errands, hanging with your best girlfriends, going out for drinks or visiting that special someone.
Her laid-back outfit choices are both comfortable and remain polished, which is the ultimate goal when piecing them together. Crawford absolutely excels when it comes to staying chic and put-together despite how cozy some of her outfits may seem.
Some call it "off-duty chic," and I could not agree more. Crawford has been modeling since the '90s, and she is still able to look the part when she isn't in the midst of a shoot or runway show. TBH, she could be grocery shopping or running errands and still look like a queen. After scrutinizing almost every one of her outfits from multiple occasions, her secret formula is clear.
Her signature look includes a pair of classic jeans and a leather jacket. This simple "fit" can be modified in numerous ways in order to keep it in rotation for the whole season. It is easily customizable to fit your style preferences and is one that never goes out of style. Whether you prefer a pair of disco flared jeans or straight-legged pants to show your curves, the combinations are endless. Crawford pairs this simple go-to outfit with oversized hoodies, turtleneck tops or crew neck tops depending on the occasion. When it comes to shoes, pumps, sandals, sneakers or chic booties are all perfect ideas for a night out with friends or going for a casual coffee date with a significant other. Of course, accessories are a must and can be customized for either a minimalistic look or glam "vintage Hollywood" vibes.
If you are looking to dress down, go for a pair of slim-fitting jeans with any top that fits your style and, of course, a sleek leather jacket. Her shoe choice runs between flats, booties, sneakers or any other classic '90s shoe. Obviously, the choice is up to you and whatever layering you prefer for your personality, but Crawford's addition of a leather jacket is essential and embraces the nostalgia of it all us all. Whether it be an oversized leather jacket to add dimension or a fitted jacket reminiscing of Harley Davidson biker chick vibes, any look will be fierce.
Now, if you are aiming to dress up, darker washes are Crawford's go-to with a mix of black skinny jeans or leather pants. They add in another layer of fierce especially when paired with a silky glamorous top and strappy sandals or pumps. She is able to pull off this classic supermodel look so effortlessly, and I'm sure we all can, too!
We can thank Cindy Crawford for her constant look that never goes out of style despite being a model in the ever-changing fashion industry. Her simple formula is something we should all experiment with at least once, but for me, it is a classic combination that never gets old.