I often get asked how I fit so much into my busy college schedule. I work 30 to 35 hours a week, am enrolled in college full time, participate in extracurriculars, and somehow manage a social life in between. Having been someone who has done this for four years in a row, I have managing a busy schedule down to a science. But in all of my clever organization, I never realized how inactive I was throughout my day. While at work I am constantly on my feet chasing customers or walking 20 minutes for a 50 minute class, I decided this was not enough for the lifestyle I wanted to have in college. Having strategically carved out free time during my days even before class and work, I thought rather than doing absolutely nothing, I would go to the gym. And now that I live on campus, I am a five-minute walk to my village gym. And so, for about a month, I challenged myself and dedicated myself to going to the gym three to four times a week for an hour as a lifestyle experiment. 
Week one was a challenge. It had been a while since I had gone to the gym, but I had my cute workout leggings with side pockets and Adidas sports bra and was ready to go. I knew it was going to take some time for my body to get used to a new routine, but I was so excited to start improving upon my body. On the first day, I went before my class, which started at 12:30pm. On the days I had work, I would wake up around seven in the morning and head over to the gym. I would start with some stretches to warm my body up for about ten minutes and then the next thirty consisted of some intense ab work and booty work with resistance bands and a squat rack. I mainly just go off workout videos I find on Youtube and just choose whatever I'm in the mood for. And while that first day was rough, the next couple were definitely easier. I would mix it up with running a mile on the treadmill and then proceeding with some weight exercises to keep it interesting. I enjoyed switching up my workouts and trying new machines. This week was definitely an experimental week.
Week two was off to a tragic, yet exciting start. Our weight room had been closed due to maintenance and sprinkler issues, so I was forced to do workouts in the dance studios. I thought this was it for my fitness journey, however, I decided to experiment even further by following a specific workout program. Namely the Chloe Ting 2 Week Shred Program. Chloe Ting is a Youtube and fitness guru that definitely knows a thing or two about creating short but intense workouts for those that don't have a lot of time in their schedule but want a good burn. And so, I started her program and boy do those workouts burn. In ten minutes, I would be on the floor about to pass out from exhaustion, but I never felt so good after a workout. I personally work better when my workout is planned out beforehand, so starting this free program held me accountable to do all the workouts for each specific day.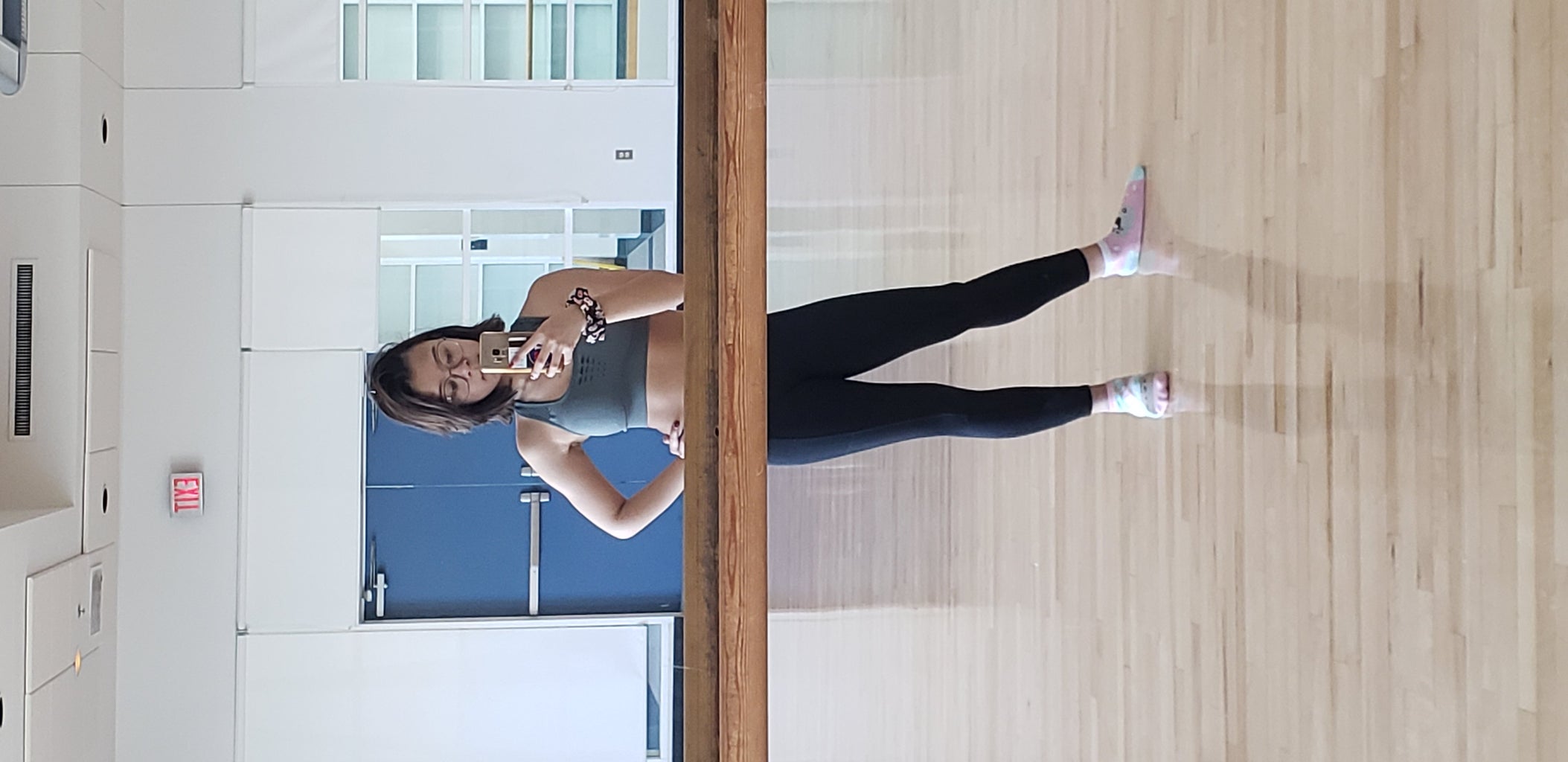 Photo Cred: Loralyn Narvaez
Week three had me super dedicated. Those four days in the gym had me feeling strong and energized, and after being so consistent, I found that even if my body wasn't changing too much, I still felt good physically and mentally. Having those endorphins released so early in the morning really increased my productivity and how much energy I had throughout my day. Even on days when I knew my shift would be eight or nine hours, I would consistently wake up at seven in the morning (because of my alarm/body clock) and leave my apartment around 7:30am just to get an hour in at the gym. Just getting that hour in and giving myself time to eat, get ready for work, and relax before leaving made getting through my long day so much easier. I did notice that at some point during my shift, I would feel really exhausted and drowsy. But that midday crash would pass after I had a snack or my lunch break, and I'd be back in action. 
By week four, the thought of not going to the gym in the morning felt odd. While the program I was following had rest days included, I noticed that I didn't feel as energized or mentally prepared for what I had going on the rest of the day. And while resting was nice, I guess I had just become fully accustomed to just going to the gym. Even if I decided to do a small at home workout, I noticed that even that didn't feel the same as actually going to the gym. I'm assuming it's a psychological thing, but I guess when I work out at the gym, I feel more accountable and committed to getting my workout done. This week was the end of the two-week shred program.
Deciding to dedicate myself to a month of exercise immensely changed the way I view fitness for myself and why now it has become so important to my lifestyle. When I originally started working out, I thought it would be healthy for me to be active and to achieve my ideal healthy body type. However, even if my body hasn't visibly changed much, I feel more energized and motivated throughout my day. I find that I love the way I feel after a good workout and find its beneficial for my physical and mental health. So, if you ever feel like you want to incorporate more exercise into your day, start small and commit to an amount of time that is ideal for you and your schedule and work your way up. Adjust as you want. It's all up to you to decide how you want exercise to change your life. Happy exercising!