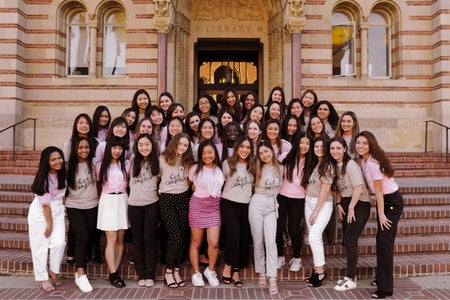 An Open Letter To UCLA: Bruins Reflect On The Ups & Downs of 2019
Dear UCLA, 
2019 has been a wild ride of a year and you are responsible for most of the crazy ups and downs of the past year for many Bruins. This fall quarter started with the smoky devastation of the Getty fires, the emergence of the beloved UCLA Housing Twitter account, a brand new season at Her Campus at UCLA, the labor strike demanding no more outsourcing of university workers and the promise of a fresh new quarter. Whether or not it was a successful year is up to the individual Bruin. However, I can personally say that fall quarter for me was a different kind of hell. 
Generally, a quarter at this institution means late night at De Neve, countless all-nighters at Powell, tearing yourself out of bed for your 8 AM, cheering for your fellow Bruins during sports games and the casual midnight yell during finals week. ​Although some people may consider these aspects of student life at UCLA as something negative or as a part of undergrad life that is inescapable, we know that the best and worst moments are what make the UCLA experience truly unique to the Bruins that are part of this community. With that being said, here are what some Bruins have to reflect on the past year at the #1 public university in the US:
An anonymous Bruin says, "It's always uplifting and motivating to be around some of the brightest, most intelligent people at UCLA! I love that everyone is doing something, whatever it may be, and it continuously inspires me to reach for what I want to go after. With that said, one can't really avoid the constant pressure to always be productive or to always be doing something. We go to a school where history happens every day and legends are made left to right, and if you're the type of person who wants to make their mark, it's hard to take rest or breaks sometimes​."
Arshdeep Kaur, a third year sociology major, keeps it candid with the difficulty of finding classes at such a big institution: "It is really hard to find decent classes with a good professor! Classes fill up really fast and I often end up with classes I don't really want or need." Despite this, Kaur finds that there are many benefits of the vast Bruin network, "There are so many resources to take advantage of on campus. There are several jobs, internships, people with connections, etc. It is a great place to network and meet new people. Also, the campus is really clean and beautiful."
"My first quarter went better than I expected. I had great professors and met some amazing people, and I'm looking forward to the rest of my time at UCLA!" remarks Sydni Brown, first year sociology major. 
Trinith Radhakrishan, a neuroscience major, simply says, "I would say that my overall experience at UCLA has been positive. There is always something to do and the food is great."  
"One of the things I noticed about UCLA and the student body was the knowledge they had, which led to a a lot of people being very stubborn and refusing to admit that they are wrong," remarks Michael Yang, political science major, "Many of the discussions within classroom settings led to arguments and students trying to outdo each other."
The UCLA experience is what the individual Bruin chooses to make of it. There are definitely things the institution itself can improve, but there is also so much to love and to be grateful for. 
To UCLA, thanks for the positives and negatives you have given us during this past year. As 2020 approaches, we hope to grow with you, to better ourselves with you and to work for a better future. And as always, go Bruins!
Sincerely, 
Esther Kang