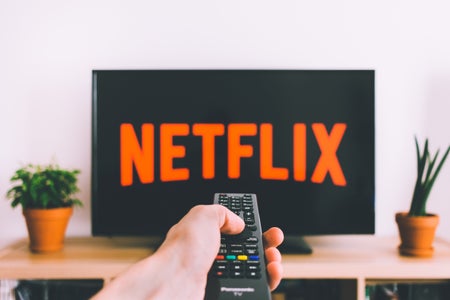 7 Feel-Good Movies & Shows To Watch And Where To Find Them
Let's be real. As much as it can be great taking advantage of this time to be productive, it's also crucial to relax and give yourself a break. There are a ton of things happening this year that are causing many people a lot of stress and worry. Don't force yourself to feel like you have to accomplish a bunch of things during this time. Relax and breathe. Take care of yourself. Here are seven films and TV shows to get your mind off of anything that might be stressing you out:
1.

"Ferris Bueller's Day Off"

Honestly, I would describe myself as someone who is risk-averse and has high self-control, so I was STRESSED watching this classic movie. But, I came to realize that this movie was basically made for people like me - to remember that life can go by without you noticing unless you pause to appreciate the present. Follow Ferris Bueller and his two friends as they skip school and try to make the most out of their skip day in Chicago.

Where to find it: Netflix and Amazon Prime Video

This is another classic movie that is so fun to watch and truly takes you back to California in the 1990s through the fashion, gossip, style, culture and just about everything to make you nostalgic. The main character, Cher, is a popular, gorgeous and wealthy high school student who appears to be super self-absorbed. Watch as Cher plays the matchmaker at her school and learns about love along the way!

Where to find it: Netflix and Amazon Prime Video

Hospital Playlist is a South Korean drama that came out this year that follows five doctors who have been best friends since medical school. This heartfelt and sometimes heart-wrenching drama will literally make you cry and laugh every single episode. Something special about this dysfunctional group of friends is that they form a band together. Unfortunately, the first season ended quickly with only 12 episodes, but a new season will be back in 2021.

Where to find it: Netflix

This is a romantic musical film about two aspiring and passionate people struggling to pursue their dreams in Los Angeles. Emma Stone and Ryan Gosling star as the love interests who attempt to balance love and career. The cinematography and the music are both so beautiful, and it is truly a film worth watching. So please, do yourself a favor and watch it on a big screen if you're able to.

Where to find it: Amazon Prime Video, Hulu, HBO Go

I'm sure a lot of people have seen this TV sitcom by now, but if you haven't, you are truly missing out. I have friends who have rewatched this series more than five times - it's that good. This sitcom follows six friends in their 20s and 30s as they live out their lives in New York City filled with misadventures in love, career and life in general. Get ready to experience secondhand embarrassment, joy, grief, shock, love and so much more. 

Where to find it: HBO Max, Vudu, Google Play and Amazon Prime Video

Honestly, when I first started watching this TV series, I was a little put-off by the humor. But trust me - this is truly one of the best shows I've ever watched. It is a mockumentary that looks at the workdays of ordinary office workers who sell paper at a firm called Dunder Mifflin Paper Company. It's a little chaotic, but don't we all need a little chaos in our lives from time to time? You will NOT regret watching this show!

Where to find it: Amazon Prime, NBC, Netflix, FandangoNow, Google Play and iTunes

This is an animated fantasy film by Hayao Miyazaki, whom you may know as the founder of Studio Ghibli. I saw this film for the first time two years ago, and not going to lie, I was a little confused. You'll know what I mean when you watch it. But besides that, it was such an interesting film that tells the story of a young fish girl named Ponyo and her life after being found by a 5-year-old boy named Sosuke. 

Where to find it: Amazon Prime, Microsoft and Google Play
Hopefully, these films and TV shows can give you a short break from whatever you're dealing with. Take a deep breath. Remember that life is short and beautiful. Let's get through 2020 together. You can do it!