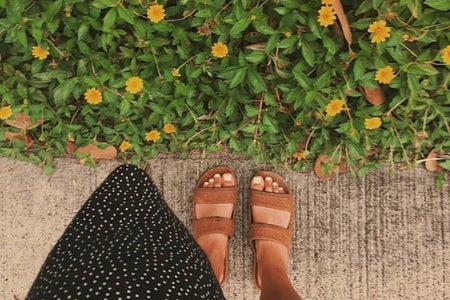 Tessa Pesicka / Her Campus
Being on campus right now, there isn't much that we are able to do if we are looking to relax. During these times, it feels like the only thing that we can do is do school work, giving ourselves no time for breaks or for fun. It feels somewhat wrong for us to relax or just do something we find fun around these times. With so much going on in the world, you begin to feel selfish for wanting to take a break. This is a bad mindset to have. Your own mental health is very important, taking breaks and doing what makes you feel relaxed is necessary for keeping us sane in these times, so please allow yourself to take the breaks when you deem them necessary.
I have been living on campus for two whole quarters now. With less socializing and events than we all expected at college, I have found different ways to "treat myself" and give myself the breaks that I need. 
It doesn't seem like much, but going outside and having as little as a walk around the dorms has been very beneficial for my mental health while on campus. Being constantly cooped up in our dorm rooms, it can make your entire being feel exhausted and cramped. Going outside once or twice a week allows you to get the Vitamin D we are all lacking at the moment and time to take in the world. UC Riverside has lots of nature around it, so you feel more at one with nature as you take your walk. I have also noticed that I think more about myself while I'm on these walks, taking the time to learn about myself and what I want. Nature walks can turn into a time of reflection that can be helpful in organizing your thoughts or even just being able to think about something that isn't school related.

2.

Watching my favorite movies and TV shows

I'll admit that I do this one quite often, but with our inability to go outside and do more, staying inside and watching shows and movies has been a great comfort to many of us. I've been rewatching some of my favorite movies from Studio Ghibli, such as From Up on Poppy Hill and Whisper of the Heart. Some of my favorite shows also include Criminal Minds, Love 020, Avatar the Last Airbender, and Soul Eater. This is also a great time to get into shows and movies that you've never seen before but have always said you wanted to watch. Now is the perfect time to start binge-watching shows.

3.

Treating myself to takeout

Many businesses have suffered during this pandemic, many shutting down and going out of business. WIth some of them reopening and many trying to get back on their feet, now is a good time to treat yourself to some quality food. During the pandemic, I felt myself making a lot of the same recipes, making the same meals so often that I almost got sick of them. If you can go out safely and get the food from local businesses that need help, I highly recommend treating yourself.

I have seen so many people have amazing skin glow-ups over the last few months, finally taking the time to take care of their skin. Skincare is a great form of self-care that can also help you become more comfortable with your skin and learning what breaks you out. Taking the time to care for your skin is very therapeutic not only for your mental health but your physical health. I've adopted a new skincare routine that I have been following religiously and I have seen such a great improvement in my skin. Now is the time to experiment with products to see what works for your skin!