Let's Start This School Year Off Strong
You know that feeling when you are bored, but the type of boredom that situates itself beyond the present moment. Sometimes, I find that I'm bored with how my life is going. When I've been uninspired or unproductive for an entire summer while everyone else seems to be having the time of their lives and moving forward in their personal and professional development, I start to feel very stagnant and unimpressed with myself, like I'm stuck and I can't take myself to the next level.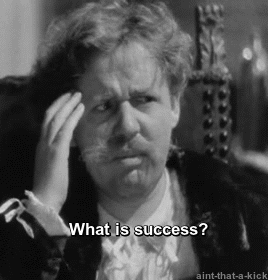 Well, school is starting again, so that feeling will probably go away as I drown in homework and get to see my friends again. However, it's easy to get distracted by these routine responsibilities that keep your life busy and forget that you need to move forward so you don't regress into a creative or emotional slump again. If you can relate and you feel like you're not succeeding enough in some aspect of your life, I'm going to share with you how I work my way out of slumps like these.
First, apply for something, anything, and everything.
The best way to improve your skills and be successful is to get involved in things related to your major. Find a club or organization that focuses on activities that can help you improve the skills you need to be successful in your career life. Most colleges have a club for almost anything, so you can easily find one catered to your interests. If you want to be a writer, join Her Campus and publish your own articles. If you want to work in politics, join SGA. There is something for everyone. Not only will you have the opportunity to practice your skills in organizations like these, but you can network within a targeted group of people to lead you to more opportunities.
Once you find an organization that makes you feel useful and productive, dedicate yourself to it and try and apply for leadership positions to get more experience. Beyond making connections and self-improving your abilities, now you are building your resume too!
Okay that's great, but what if you don't know what field you want to work in? Or you have too many interests and you can't pick just one?
A great way to explore your options is to get an internship. Talk to your advisors and professors, and I can guarantee someone will almost always have the right connections to lead you in the right direction. You just have to look in the right place and ask everyone you can think of. Even directly emailing the company or person you want to intern for and asking if they could make an internship position for you couldn't hurt.
Interning will provide all the benefits and practice joining a club provides in addition to giving you real world experience so you can really get a feel for what it is like to work in a specific field. It can help you determine if your chosen major is really right for you before you spend all your time and money in school. I say, you should try and get as many internships focusing on your different interests under your belt before graduation so you can feel confident that your chosen career path is for you with no regrets.
Hopefully, by getting involved in clubs and interning in real-world settings, you can see how you are improving and progressing in your personal journey. It's easy to feel like you aren't moving forward when everything around you seems to move so fast, but remember not to compare yourself to others. You are unique, and so is your path. So maybe your friend has joined 20 different clubs and looks like she has her life together, but you are going to find the best intern or shadow position that fits your needs and it will open up a whole other world of opportunities for you.
It's okay to take a break and just breathe from time to time, but when you feel like your in a rut, the power is your own to be a self-starter and seek out your own chances for personal growth.