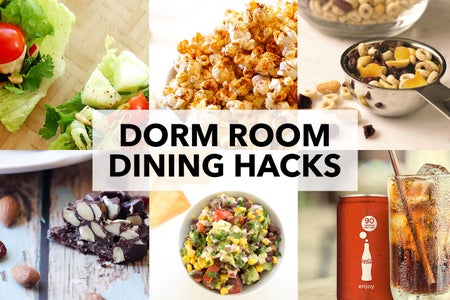 Chef it Up! How to Cook Delicious Recipes in Your College Dorm Room
As the spring semester gets closer and more students make their way to campus during the COVID-19 pandemic, easy do-it-yourself in-dorm dining has become more critical than ever. Here's a wide range of recipes to help you chef it up in your dorm room!
As they say, breakfast is the most important meal of the day, and that fact isn't any less true in college!

Oatmeal

An easy, healthy classic that never goes out of style. Make your instant oatmeal extra special by adding some peanut or almond butter, fruit, and even some chia seeds! 

(requires microwave)

Bagels and Lox

Having a toaster isn't actually necessary for this recipe; the classic NYC Jewish deli bagel and lox is fresh and never toasted. Just grab some schmere and some lox, and, before you know it, you have the best deli right in your dorm room.

Eggs in a Mug

I know – if you love your fluffy scrambled eggs as much as I do, this sounds sacrilegious – but trust me, this is an underrated recipe to say the least. All you need is an egg, milk (can be substituted with water), and salt and pepper.

Grease your mug, then mix the egg and the milk, and finally add your salt and pepper –– make sure to break the yolk. Microwave the egg in increments, stirring each time. 

Grilled Cheese

This is especially good in a waffle iron! Just take two pieces of your favorite bread and add as much cheese as your heart desires. Grease your waffle iron, and, before you know it, you have an amazing, restaurant-quality grilled cheese.

(requires microwave or waffle iron)

Nachos

Don't forget about this simple and easy dish! Nachos are a microwave favorite. Just add some shredded cheese, store-bought salsa, guacamole, and perhaps some sour cream on top of tortilla chips, and you have some fantastic five-minute nachos that will make your whole floor envious! 

(requires microwave)

Sandwich or Salad

No microwave, no problem! Both a sandwich and a salad can be made without any heat at all; of course, a fridge might be useful, but it still isn't necessary. Either buy some dressing to keep in your dorm fridge or just combine olive oil with a little red or white wine vinegar for a simple salad dressing! 

Mac and Cheese in a Mug

SOOO much better than your classic boxed macaroni and cheese! Mac and cheese in a mug allows you to add whatever cheese YOU love and as much as YOU want. All you need is cheese, milk, salt and pepper, and, of course, macaroni! For detailed instructions and fun twists on the classic, check out these recipes!

(requires microwave)

I know this might sound odd, but I promise it's great – don't knock it till you try it! If you're craving some protein, this is the way to go. It only takes five minutes, so if you want a home-cooked meal without the hassle and without the home, this is the way to go. It's easier than you think to cook your next five-star dish. 

(requires microwave)

Ramen

Now you can't make a dorm room recipe list without including the OG of college foods – ramen! Of course you're familiar with Top Ramen, but how do you take it to the next level, you ask? Of course, using a stovetop pot to make ramen on your own is the ideal method, but if all you're working with is the microwave, try cracking an egg in your ramen or adding some soy sauce or scallions to make it more flavorful. Some people even add peanut butter, but it's obviously your pick!

(requires microwave)
Remember, although you don't have your own kitchen, that doesn't mean you can't still be an excellent cook. Even in a dorm, you can make simple, easy recipes that taste great, instead of breaking the bank by going out to eat every night!