Welcome to a new semester! You're in a new environment with a new routine. You're trying to balance going to class, spending time with friends, finding a seat in the dining hall, and keeping on top of your workload. The hustle and bustle of everyday life paired with long days of mask wearing can lead your skin to react poorly. So on top of everything else on your plate, you have to worry about your complexion too! What can you do?!
First, take a deep breath. Skin problems can be stressful, but you don't have to attack your face with the harshest scrubs and ointments you can find. Skincare is self-care. Your approach to skincare should reflect that.
There are different mantras that I believe can aid in creating a positive skincare routine. My skin philosophies aim to promote realistic and healthy skincare that can put your skin and mind at ease.
Simplicity is key
Simplicity is often the answer to a complicated-looking skin problem. A simple routine is easier to carry out each morning and evening, especially on days when exhaustion can get the best of you. I know the struggle of getting home after a long day and feeling too lazy to get out of bed to wash my face! When it comes to building a routine, products with a simple ingredient list can be extremely effective. Look for ones that lack irritants or fragrances that can create an unwanted reaction on the skin. Novelty in products can be fun, but for those with a specific skincare goal in mind, sticking to a bare-bones routine and adding additional products only when necessary may be the best bet.
Less is more
When it comes to applying product onto the skin, it may appear that product effectiveness increases with mass. This is not usually the case. A thin layer is more easily absorbed into the skin, appears more cosmetically elegant, and saves more product (and money) overall. For most products, add a pea sized amount to your fingertips and pat it into your skin. Remember, it's easier to add more product as necessary than trying to take away excess!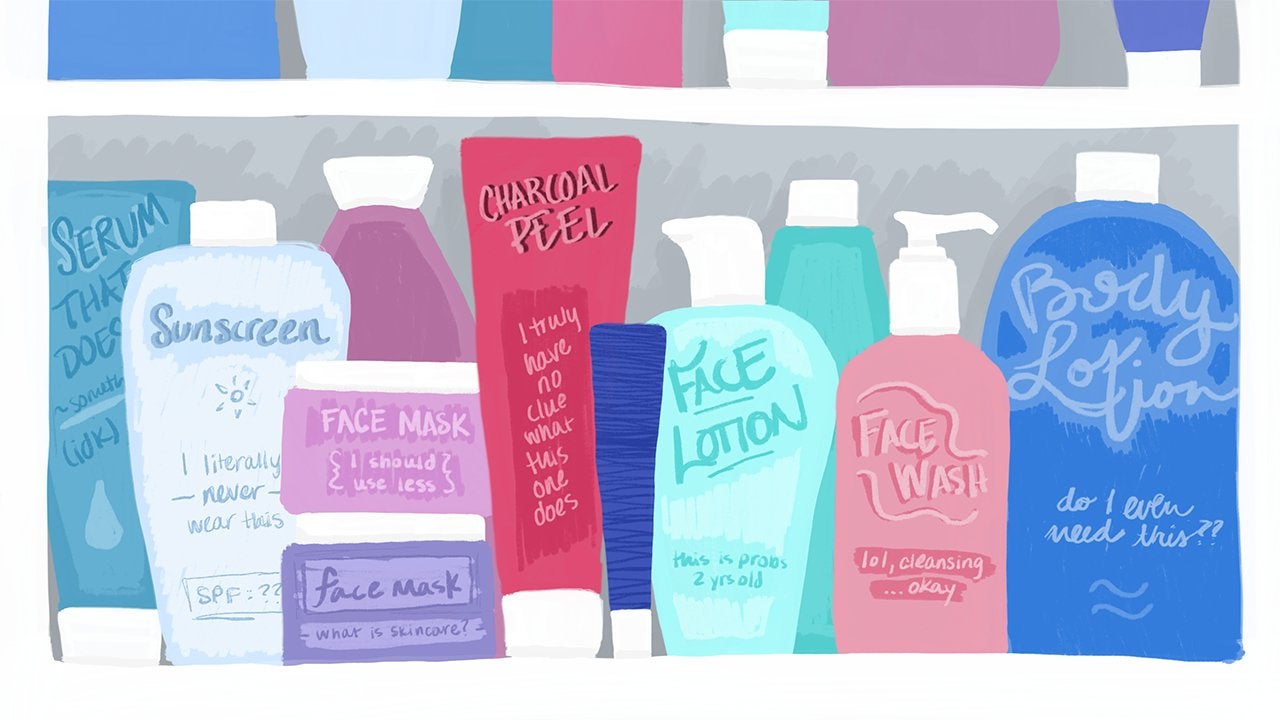 Prevention is the best cure
There are many procedures and products that claim to solve skincare issues from scars to dark spots. However, the best way to avoid these skincare issues is to prevent them from occurring in the first place. Sunscreen, moisturizer, and not picking at the skin play a major role in keeping skin looking pretty and fresh. Acne patches (also known as hydrocolloid patches) can be great tools to keep active acne spots protected from picking. They can absorb sebum and serve as a reminder to not pick at your skin!
Be gentle
Be gentle with your skin and with yourself. When applying products, don't vigorously rub and pull at your skin. Instead, gently pat and lightly massage them in. This goes for drying your face as well. Pat a towel on your face to absorb water without tugging at the skin. It's also important to be patient with your skincare journey and to not beat yourself up over breakouts or beauty standards. At the end of the day, your glow comes from within.
Skincare is a journey. It isn't always easy to take care of your skin, but going through your skincare journey mindfully can help make your skin happier, healthier, and wiser.
Can't get enough of HC UMass Amherst? Be sure to follow us on Instagram, listen to us on Spotify, like us on Facebook, and read our latest Tweets!