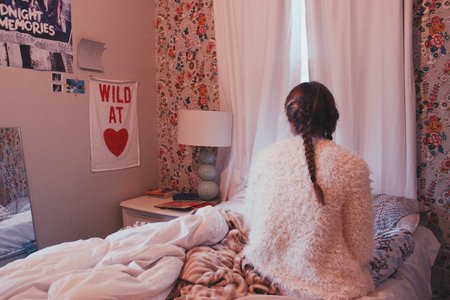 Anna Schultz / Her Campus
9 Ways to Gap the Social Distance
Being an introvert has prepared me for this exact moment. As the world slowly shuts down their normal routines, trading them in for extended family time and telling their friends good bye for what could be a very long time to stop the spread of this virus, my routine hasn't changed very much. 
When I wasn't at school or at my job, most of my days consisted of hiding away in my room and bingeing the newest season of whatever show I happened to be watching that week (yes I did watch whole four season shows in one week, I have too much time, okay?). But, this isn't the case for a lot of my more extroverted friends. Many people are struggling with learning how to stay in their house for days at a time.
While this can be insanely scary, all this free time can be used to do a variety of things. Even with being used to having alone time, I've still had days where I've felt bored out of my mind and didn't know what to do with myself.
So here's some ways you can use your time having fun, learning new things, and still being able to keep your social connections all from the comfort of your home.
Being away from friends is really hard, especially when you usually see them multiple times a week. Well, distance never stopped me from making friends halfway across the world with online gaming. Whether through PC, Xbox, Playstation, or Switch, they all have online services that allow you to play games with your friends without being in the same room. Some of the most popular online games are: Fortnite (it may be basic, but it's FREE and available on all platforms with crossplay available), Stardew Valley (pc and switch), Call of Duty (all platforms except switch.. I think), Warzone (free and available on most platforms), League of Legends (free on pc), and RuneScape (free on pc).

The best thing to be productive while you are home alone? Learning a new hobby through youtube! Some highlights include knitting, painting, digital art, embroidering, sketching, sewing, making music, and even gardening. Even if you can't leave the house, a lot of these materials can be ordered online!

3.

Netlfix Party (chrome extension)

Miss movie nights with your besties? Download this new extension from chrome where you can watch Netflix with all your friends through one account! This includes a stop and start button available to everyone so you can all be in sync and a chat box!

I know how hard it is for me to go without seeing my friends faces, and especially my boyfriend's face. Services like FaceTime and Skype allow you to video chat with your friends! If you have the latest Apple phone, you can FaceTime up to THIRTY-TWO people at once and with free Skype you can call up to two people and with premium up to twenty-five.

What better way to spend a day at home, than by spending it in a whole other world? School and work constantly get in my way when I'm trying to get into a new book series, but FINALLY with all this free time I can sit down and enjoy a new series without having to put it down for extended periods of time. The Nook and Kindle apps are a great way to read books without having to go out and buy them!

So you won't be seen by another human except your family or roommate… well looks like it's time to spontaneously chop off your hair, give yourself bangs, or go wild with a new color. Will it end up looking bad? Who cares, nobody will see it!

7.

Perfect Your Make-Up Skills

Afraid this new make-up look will make you look like a drag queen who left their rooftop window open while going through the carwash? Well you're in luck, you don't have to worry about wasting make-up while trying out new looks, your house is practically empty. Own that new look and get to perfecting it and then when the social distancing is over you'll be a whole new you.

Let's face it, some of us aren't the best at keeping a clean house, but what else do you have to do with all this extra time? Organize your closet! Clean out your fridge! Completely rearrange all the rooms in your house or apt. You may not be able to control how messy the world is becoming, but you can control how messy your house is.

9.

Home Workouts and Yoga

Gyms and yoga studios may be closed, but youtube never closes. There are plenty of free workouts and yoga instruction videos all at the touch of your fingers! Along with that, I've seen a ton of posts on social media about many professional teachers making usually expensive online instruction free while we are all going through this tough time!
I hope one or more of these things helps you cope with these trying times. Remember that you cannot control everything that happens around you, but I promise you can all get through this. Don't forget to reach out to your friends frequently, take care of yourself, and most importantly, stay inside as much as you can! Use this time to learn all those things you promised yourself you'd learn, but couldn't because time got in the way.