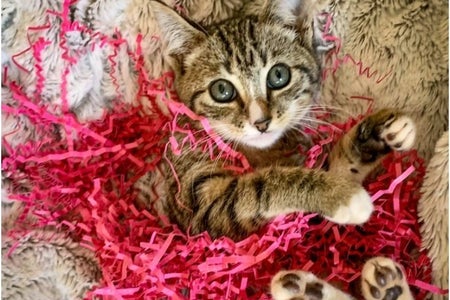 Original photo by Juliette Kimmins
Adopting a Kitten Improved My Mental Health Dramatically
One month ago, I thought I was that last person in the world who would want to adopt a kitten. Juggling six classes, a part-time job, and multiple extracurricular activities is enough to keep my plate full. Not to mention, I am very allergic to cats. 
And yet, the way I became a proud cat owner was not necessarily by choice. One sunny September afternoon, I received a call from my mom that there was a little kitten loose in my grandmother's backyard. Over the next few days, we managed to capture a mother cat and three kittens. Our next step was to see if any shelters would be willing to take the cats in. 
Their mother was deemed too wild to try and domesticate, so she was spayed and released into a local park frequented by neighbors that leave cat food. Thankfully, a family friend was willing to adopt two of the kittens, leaving us with one scared little female tabby that looked to be skin and bones. Every shelter we called said that they were overrun with kittens. Fearful that she may be put down, my family took her in. 
My brother developed an immediate bond with her and stepped up to take care of the general day-to-day responsibilities of feeding her and cleaning out her litter box. He named her Houdini due to her proclivity to escape and hide. My mom and I were more fond of the name Celestine.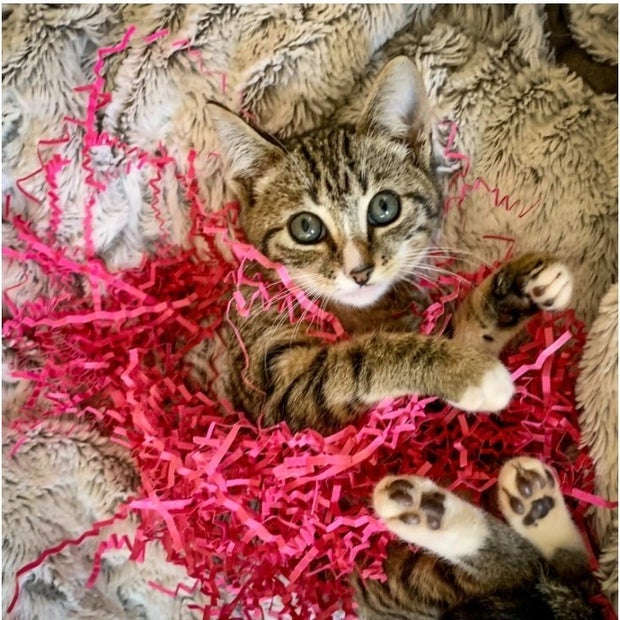 Original photo by Juliette Kimmins
Despite my sneezing and itchy nose, I couldn't resist spending time with Celestine. She sat in on my lectures over Zoom. She slept next to me belly-up with her paws dangling limply in the air. She attacked my knitting projects with all the ferocity a kitten can muster just to get a chance to play with some yarn. 
During particularly stressful weeks, Celestine was a loyal companion, allowing me to snuggle her between study breaks. She acted as a constant reminder for me that whatever stress I was feeling at that very moment was only temporary. Anxiety, while never totally gone, subsided when having a kitten to cuddle. The rhythmic purr of a cat as you hold it close is an exchange of dopamine and love.
Kittens by nature are so easily entertained by the mundane as if validating a larger message about appreciating the small, mundane things in life. If they can bring that much joy to a kitten, why not to you? Celestine in particular will find as much fun playing with my hair as she will with any of the multitudes of toys we've bought for her. 
It seems only fitting that Celestine's name (at least according to me,) is actually a mineral known for its properties to strengthen mindfulness and meditation. While my family didn't go seeking out a pet, she now plays an indispensable role in our family. Of course, consider what works for you and your family and be sure you are adopting a pet for the right reasons and have the means to take care of them properly.