Staying Active During a Pandemic
When gyms closed in March I knew it was important for my mental health and physical well-being that I continued to stay active. Now with gyms reopening, I find myself hesitant to return as the pandemic continues. If you're like me or don't have access to a gym yet, I've put together some of my favorite online resources that I've been using to stay active during this time. I've included some of my favorite instructors whose resources vary from YouTube videos, online subscriptions, and free apps. Hopefully, one of these suggestions will speak to you!
If you know me, you know I love a good spin class. Kristina is the owner of Power and Flow, a gym based out of Scottsdale, Arizona. At the start of COVID-19, her gym was shut down but she continued to support her "family" and reach thousands of people through free YouTube videos and her On-Demand access ($20 a month). Kristina has the best energy and spirit. One of my favorite quotes of hers is "you can do hard things." She's a great person to watch if you want an intense, inspirational, and high energy class with great music. Kristina posts weekly videos on her YouTube that vary from spin classes to upper and lower body workouts. You can check Kristina out on Instagram @thekristinagirod and on YouTube channel Kristina Girod.

2.

Melissa Wood- Tepperberg

Melissa is the creator of the Melissa Wood Health Method which emphasizes the "building of a better, stronger relationship with yourself." After completing some of her workouts I can attest to the fact that you end each workout feeling stronger and more at peace with yourself. Melissa has a calming effect to her that has been extremely beneficial during a time when there is so much chaos in the world. Melissa teaches you to achieve long, lean lines, but also how to be kinder to yourself. Can't recommend her more if you are looking for a challenging but rewarding workout. Membership to Melissa Wood Health workouts cost $9.99 a month or $99.99 a year. If you aren't sure you're ready to commit try the 7-day free trial, look her up on YouTube where she has free videos posted to her account. You can find her on Instagram and YouTube @melissawoodhealth.

Rachel is a fitness trainer who hosts the BEST Instagram live workouts. Rachel is super motivational through the screen and has great energy. Rachel describes her approach to fitness as "not only about changing the body but really changing the way you feel inside," focusing more on the "feeling of accomplishment rather than the body." Rachel hosts Instagram Lives free of charge (you can still support her on Venmo!) Monday-Friday at 8:30 am EST and also a YouTube Live Saturdays at 9 am EST. She is an awesome person to check out if you want a workout that will leave you feeling super strong (and sore). While Rachel's videos require minimal equipment it does help if you have access to resistance bands and dumbbells. Don't forget there are everyday items that work as great replacements such as water bottles or even a bottle of laundry detergent! You can check Rachel out on her Instagram @ rachel_fitness and her YouTube channel Rachel Fitness.

I'm sure you have heard all the rave about Chloe Ting, and I'm here to tell you her full access YouTube channel is such a great resource for a variety of different workout videos spanning from just a few minutes in length to close to an hour. Chloe posts videos regularly and offers low impact versions throughout the workout. This may be an ideal option for college students living in a dorm who don't want to disrupt their neighbors with lots of jumping, but still want to get a workout in. Chloe is super sweet and her workouts are fun and challenging. You can keep it short and just do one video or combine a few videos aimed at different parts of the body for a full-body workout. Of course, you could join everyone in trying one of the many challenges that she offers through her free workout plans on chloeting.com as well. You can check Chloe out on her Instagram @chloe_t and her YouTube channel Chloe Ting.

Maddie or MadFit is another great resource to check out on YouTube! She has super fun and short workouts available on her channel ranging from dance episodes to crazy intense core workouts, and a variety of beginner or advanced options. Maddie also has low impact videos like Chloe Ting's that are perfect for a dorm room or apartment setting. I personally love her dance party videos and the energy she brings to every workout. Maddie also has a main channel where she provides awesome vegan recipes that I highly suggest you check out! You can check out her Instagram @maddielymburner or her YouTube channels MadFit and Maddie Lymburner.

This is a free app that has a ton of different home workouts, fitness plans, and trainer-led programs. The options are endless with classes ranging from yoga to kickboxing. There is also a variety of video lengths with some starting at just a few minutes long and others lasting up to an hour. I personally have been getting into the yoga videos but I've tried some of the HIIT workouts and they are the perfect level of challenging yet fun. Another feature I like is that each class will tell you what the challenge level is, any equipment you might need, and the body focus before you even start the workout. The app is available on the app store and there is also an Instagram page @niketraining.

Original photo by Moira Hogan

One of my favorite things to do to stay active is just getting outside and going for a walk. Whether it's by myself, with my dog, or socially distanced with a friend. The health benefits of walking every day are amazing and it's a great alternative to doing a workout class.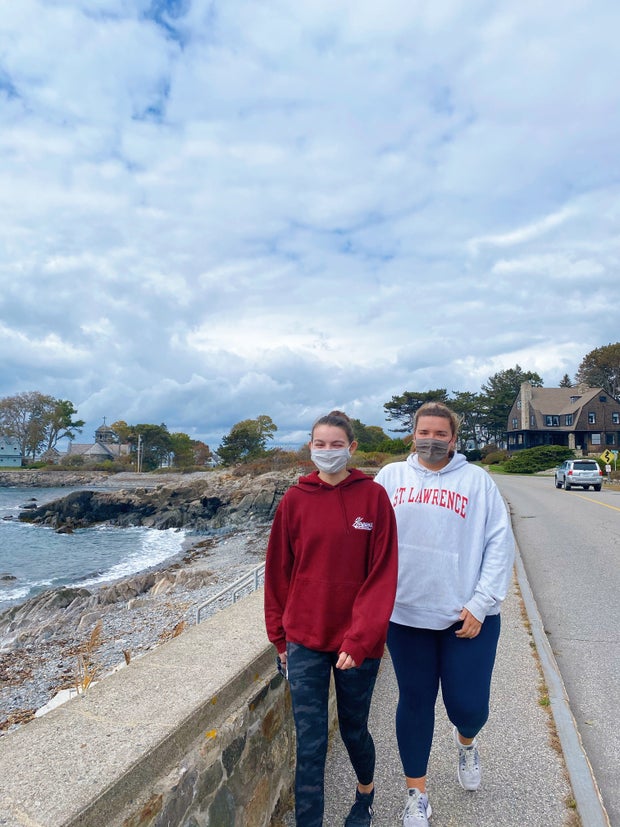 Original photo by Moira Hogan
Taking time each day to move your body is so important for both your physical and mental well being. I hope you find these resources useful and try them out for yourself! 
Disclaimer: Her Campus at St. Law U is neither sponsored by nor affiliated with any brands or companies mentioned in this article.
Did you enjoy this article? Are you interested in joining? Be sure to reach out to us on our platforms here!